printer friendly version
New patent affords more accurate video detection
May 2016
CCTV, Surveillance & Remote Monitoring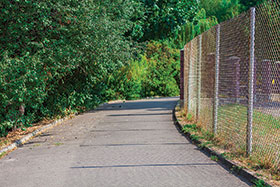 PureTech Systems, an Arizona-based geospatial video analytics company, has announced the issuance of a patent by the United States Patent.
Within the field of video analytics, 'background modelling' refers to the ability to understand normal movement that may occur in a scene, such as vegetation movement, lighting changes, flowing water or even the passing of a subway train. Having a keen understanding of the changing background, allows for more accurate target detection, and more importantly, a reduction in false alarms. One significant claim of the new patent is that no assumption about the nature of the background is required. The software and/or installer does not need to concern themselves with the type of scene for which the algorithm will be utilised.
More specifically, the pixel-based multimodal background model makes no assumption about the number of modes or functional forms of the underlying distributions while exploiting radiometric information along with gradient magnitude and orientation through one, or a host, of such models to adapt to backgrounds that change with multitude of periodicities over the same or different regions of the scene while remaining geospatial-aware.
An additional, and perhaps more important, aspect of the patent is that it lends itself to deployment on PTZs, and video cameras mounted on mobile platforms including, ground vehicles (trucks, trains, AGVs-Automated Guided Vehicles), waterborne vessels and aerial platforms (including AGVs, aerostats). The act of steering a PTZ camera, or the movement of a vehicle or platform on which a camera is mounted, results in a constantly moving background, for which this patent applies. In the same manner as the patent provides claims for a fixed scene with a changing background, it also applies to background movement induced by changing the position of the camera.
Notes Larry Bowe, president of PureTech Systems. "As the demand for intelligent video increases, so does the complexity of the scenes and the variety of methods and platforms used to collect video data. These new market demands require continued research and development; which PureTech Systems continues to pursue."
Find more information at www.puretechsystems.com
Further reading:
Qognify VMS adds support for Pelco IP camera series
CCTV, Surveillance & Remote Monitoring Products
The latest IP camera series from Pelco can now be used with Qognify's advanced video solution for corporate and enterprise projects, increasing the overall number of camera models and third-party devices supported in Qognify VMS to more than 6 500.
Read more...
---
VIVOTEK launches VAST Security Station
CCTV, Surveillance & Remote Monitoring Products
VIVOTEK officially launched its AI security system, VAST Security Station (VSS), in March, available to users in three flexible tiers: VSS Lite, VSS Standard, and VSS Professional.
Read more...
---
Keeping students, staff and communities safe
Vumacam News CCTV, Surveillance & Remote Monitoring Security Services & Risk Management
South African schools are facing increasing security challenges, making effective surveillance systems more important than ever. To address this issue, Vumacam is offering advanced security solutions with security partners, aimed at keeping students, staff, and the community safe.
Read more...
---
Helping to care for zoo animals
Hikvision South Africa CCTV, Surveillance & Remote Monitoring
Zoo keeps an eye on the safety of animals and visitors through the installation of Hikvision 4 MP turret, 12 MP Fisheye cameras, as well as PTZs, NVRs and central management system.
Read more...
---
Boosting digital-intelligent transformation and AI applications
Dahua Technology South Africa CCTV, Surveillance & Remote Monitoring Products
2022 has been a year full of development and innovation for Dahua. The company has launched various upgrades to its existing product portfolio as well as an artillery of new products and solutions that address specific needs/problems in society.
Read more...
---
Arcules and IMMIX announce integration
News CCTV, Surveillance & Remote Monitoring Products
Arcules has announced that its integration with Immix Central Station and Guard Force is available. The integration provides Central Station and Guard Force users a way to manage, verify, and respond to security events, while using Arcules-managed video feeds.
Read more...
---
Developing an effective CCTV control room culture
Leaderware Editor's Choice CCTV, Surveillance & Remote Monitoring Training & Education
Organisational culture in organisations can be seen as the set of values, practices, focus, standards and behaviours, and ways of interacting with others that are accepted and subscribed to by the people who work there.
Read more...
---
Eagle Eye Networks releases 2023 Video Surveillance Trends Report
Eagle Eye Networks News CCTV, Surveillance & Remote Monitoring
Eagle Eye Networks has released the 2023 Trends in Video Surveillance ebook, identifying five trends that will have the largest impact on businesses around the globe in 2023.
Read more...
---
Stainless steel 8 MP dome
Axis Communications SA Products CCTV, Surveillance & Remote Monitoring
Enclosed in marine-grade stainless steel (SS 316L) and DNV-certified, the AXIS Q3538-SLVE can withstand the corrosive effects of seawater and cleaning chemicals.
Read more...
---
Enhanced image clarity and enriched AI functions
Dahua Technology South Africa CCTV, Surveillance & Remote Monitoring Products
The IPC WizMind S series is equipped with multiple intelligent functions, offers adaptability, and comes in plastic-free packaging, enabling better image performance, promoting environmental sustainability, and providing global clients with smarter vision with a stronger surveillance shield.
Read more...
---