printer friendly version
Test your surge
May 2016
IT infrastructure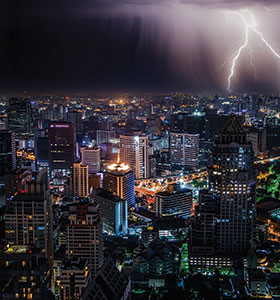 Lightning strikes, which are categorised into distant, nearby or direct lightning strikes, may cause transient over voltages. Even if the point of strike is several kilometres away, the energy entering the buildings via the conductors might still destroy electrical and electronic consumer devices. Lightning current arresters provide protection by safely
conducting this high-electric energy to the ground via the equipotential bonding system of the building.
Transient over voltages are not only caused by lightning strikes. Switching operations in high, medium and low-voltage systems are a more frequent cause. They electromagnetically inject interferences into data lines such as those of measuring and controlling equipment. This means that failure may occur even if the conductors are not directly or galvanically connected. These interferences do not present a problem for surge protective devices, which reliably discharge these over-voltages.
As with all electrical and electronic devices, components of surge protective devices are also subject to ageing. In information technology systems, faulty surge protective devices normally interrupt information transmission and the availability of the system to be protected is immediately compromised. Therefore, it is vital to monitor the status of surge protective devices to ensure protection and availability of the systems and to reduce maintenance expenditure.
Future-oriented surge protection technologies in conjunction with adequate testing and monitoring strategies are an important factor for efficiency.
Event based maintenance
This maintenance strategy accepts failure of surge protective devices. The relevant measures are only taken after the device has failed. This is therefore called event-based maintenance or in some sectors, corrective maintenance. To prevent long system downtime, it is important that surge protective devices have the following three features.
• Fail-safe:
Fail: If a surge protective device is damaged by ageing or overload effects, it typically causes a short circuit and thus interruption of the signal transmission.
Safe: Although information transmission is interrupted and system availability is limited, the system is protected.
• Separable surge protective device consisting of protection module and base part:
A separable surge protective device consists of a pluggable module comprising all protection components, and a base part establishing the connection between the protection module and the data lines.
• Make-before-break switch contact in the base part:
If no protection module is plugged into the base part, the integrated switch contact connects the input side of the base part to the output side. Thus, data transmission is also possible without a plugged-in protection module.
Periodic inspection with LifeCheck
The surge protective devices are inspected at regular intervals to detect imminent faults, thus preventing system downtime. Surge protective devices already previously damaged are recognised and can be replaced.
Condition monitoring
The highest degree of protection and permanent availability of systems and installations is indispensable where a relatively high threat to the life or physical condition of persons and high economic risks are present (e.g. nuclear power plants, chemical plants, railway systems, air traffic control, highly modern production facilities).
The more complex and important companies are, the more protected and reliable should the technology be.
For more information contact DEHN Protection South Africa, +27 (0)11 704 1487, alexis.barwise@dehn-africa.com, www.dehn-africa.com
Credit(s)
Further reading:
Accelerating global IoT deployment
October 2019 , IT infrastructure
Upcoming suite of Eseye products will deliver global IoT connectivity with near 100% coverage, automated onboarding and data provision into AWS IoT Core.
Read more...
---
Digitising Maslow's Hierarchy of Needs
October 2019 , Integrated Solutions, IT infrastructure
Mobile technology has the potential to change how Africa approaches patient and healthcare, says Phathizwe Malinga, managing director, SqwidNet.
Read more...
---
Edge computing ? drivers and benefits
September 2019 , IT infrastructure
Edge computing brings bandwidth-intensive content and latency-sensitive applications closer to the user or data source.
Read more...
---
Advanced connectivity enables fast and flexible networks
September 2019, Ruckus Networks , IT infrastructure
Advanced networking is the unsung hero of our digital future, offering a continuum of connectivity that can drive the development of new products and services and transform operating models.
Read more...
---
A platform approach to innovation and value
CCTV Handbook 2019, Technews Publishing , Editor's Choice, CCTV, Surveillance & Remote Monitoring, Integrated Solutions, IT infrastructure
Moving to the platform model of doing business holds tremendous advantages for end users and smaller developers, but also for the whole technology supply chain.
Read more...
---
Selecting the right surveillance storage
CCTV Handbook 2019, Capsule Technologies, Technews Publishing , Editor's Choice, CCTV, Surveillance & Remote Monitoring, IT infrastructure
Storage is an integral part of a surveillance installation and the solution chosen can make or break the success of your project.
Read more...
---
The NUUO storage solution
CCTV Handbook 2019, Forbatt SA , CCTV, Surveillance & Remote Monitoring, IT infrastructure
A stable NVR should maintain a consistent data throughput unaffected by user actions such as querying or playback.
Read more...
---
Keeping your things to yourself
October 2019, Technews Publishing , Editor's Choice, Cyber Security, Integrated Solutions, IT infrastructure
Three experts spoke to Hi-Tech Security Solutions to offer advice on keeping your IoT working for you and not for cyber criminals.
Read more...
---
IoT in security
October 2019, Duxbury Networking, Technews Publishing , Editor's Choice, Cyber Security, Integrated Solutions, IT infrastructure
Using the Internet of Things is not really optional these days, but securing the Internet of Things is compulsory, no matter what industry you operate in.
Read more...
---
The future of connectivity in South Africa
September 2019 , IT infrastructure, Products
Next-generation technologies will drive real transformation in companies. Organisations across all industries must prepare to enter the next phase of the digital future, says Matthew Hall, product director at Rectron.
Read more...
---