printer friendly version
Disaster recovery not a sideline
May 2016 Security Services & Risk Management, IT infrastructure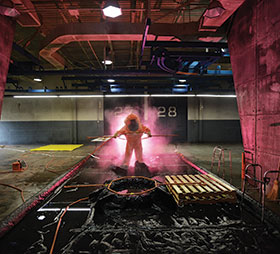 Organisations need to move away from treating business continuity and disaster recovery as isolated IT conversations. Unless businesses ensure they also take people and processes into account when planning for disasters, they run the risk of not surviving them.
This is the view of Sakkie Burger, managing executive at Business Connexion. "Most companies prioritise the need for restoring IT in the event of a system breakdown," he says. "What they do not focus on, however, is what processes are in place to ensure the business can continue when automated or digital processes fail and specifically the role that employees have to play as they are ultimately the custodians of the processes that drive operations.
"It's easy to, for example, provide a company with 10 seats to go and restore their IT systems and get them up and running again, but how do you accommodate a company with 100 employees that have just lost their premises in a disaster? This poses a different challenge and there are not many companies, providing disaster recovery in South Africa, that have the luxury of having that amount of space available waiting just to be occupied when there is a need for disaster recovery."
Burger says that although most companies are going the route of digitisation, manual processes still have a fundamental role to play. "Take an airline, for example. If their electronic system for checking passengers onto the plane goes down, they have to have a manual back office process in place to perform this function. They cannot just ground the aircraft until the electronic system is restored. And herein lies the challenge: not many companies have these contingencies in place and they are putting themselves, their businesses and most important, their customers at risk."
He adds that while many organisations have these failover processes in place, they either do not test them regularly enough or their testing practices are inadequate. "Many organisations have testing in place, but they perform a paper-based test. They see that there's a manual process in place, the configur-ation is there and that it is documented, but that is where it ends. There is no actual testing from end-to-end by recovering on a piece of hardware and making sure it works, that the network is connected and that users can actually sign in and check the data," says Burger.
"People tend to do disaster recovery tests to satisfy their auditors rather than making sure the business can continue to run in the event of a disaster."
There are a number of challenges in adopting an adequate disaster recovery strategy. "The biggest challenge is the cost. You know you have to have it, but also that you might never need it," he says. "The second challenge is distance. What distance is the correct distance for you to have a disaster recovery site, particularly when you take incidents that could affect a broader geographical area into account? Here connectivity also comes into play, because the further away your disaster recovery is from your main site, the more expensive network constituencies become."
Burger believes that possibly one of the biggest risks companies face is that, while they have disaster recovery processes in place, they tend to set it up on equipment that has become redundant or obsolete. "In these cases companies have had to upgrade their equipment, so they use the new technology for their production line and then run their disaster recovery on the old machines. The challenge with this is that when they do need to do a recovery, they find that it's not compatible or supported anymore, which means they are not capable of recovering core systems in reasonable timeframes."
He adds that DR often does not get the attention it deserves because it is an expenditure that is not really productive. "That is why there is a trend to outsource their disaster recovery to a third party, where there is an agreement that they have to have the necessary equipment in place to ensure they can run your disaster recovery effectively and efficiently".
Burger advises companies that are either relooking their disaster recovery strategy or implementing it for the first time, needs to ensure that they understand which of their applications are the most critical as a first step. "Some applications don't need disaster recovery contingency and you can run your business without them. Interestingly though, between 5 and 7 years ago mail wasn't deemed a high priority application. Today, that is deemed the first thing companies want to have recovered, because it has become mission critical to the running of their businesses. Times have certainly changed"
He adds that companies must also understand the technology that is involved. "You can't just move a workload from a Unix platform to a Microsoft platform. You must ensure that the work breakdown structures and standard operating procedures and processes are documented, tested and updated at least twice a year. It's easy to just write a process and file it away in a cupboard and do nothing further with it. It needs to be tested vigorously and on a regular basis. It is not just about testing it, it's about change management and fixing problems as and when you are presented with them."
Burger says that often change management is the biggest problem in disasters. "A disaster happens because something changed and a change request didn't notify the disaster recovery process of this change. If your disaster recovery manual is not up to date, it could significantly increase the amount of time spent to fix the problem," he concludes.
Further reading:
Off-grid power solution for residential estate
Editor's Choice Security Services & Risk Management Residential Estate (Industry) Products
Coral Beach Estate, an upmarket residential estate based in East London, has been struggling with load shedding and power outages due to South Africa's energy crisis, as well as the vandalism of its power infrastructure.
Read more...
---
SafeCity Guarding rolls out across 14 suburbs in Johannesburg
News Security Services & Risk Management
In a major drive to provide communities across Johannesburg with additional safety, Vumacam, in partnership with Fidelity ADT and other security providers across the region, rolled out the innovative SafeCity Guarding initiative in 14 suburbs.
Read more...
---
FleetDomain underpins Afrirent's value proposition
Logistics (Industry) Security Services & Risk Management
Afrirent, a 100% female black-owned fleet management company, has been relying on FleetDomain software for a number of years to help it deliver outstanding service to a growing number of clients.
Read more...
---
Choosing an inferior lithium battery can be detrimental and unsafe
Uniross Batteries Security Services & Risk Management Products
South Africans looking to mitigate the impact of load shedding by installing a solar system for their home must do so through an accredited installer or electrician to avoid insurance claims being rejected.
Read more...
---
Employee screening, a hiring necessity or an invasion of privacy?
Security Services & Risk Management
There is a fine line between checking a potential employee's qualifications and references, and investigating aspects of their lives that have nothing to do with their job application.
Read more...
---
Blurring the lines between data management and cybersecurity
Cyber Security IT infrastructure
In the past, data management and cybersecurity would fall under separate domains, but with more organisations making the shift to the cloud, data management and data protection have merged, essentially blurring the lines between the two.
Read more...
---
Keeping students, staff and communities safe
Vumacam News CCTV, Surveillance & Remote Monitoring Security Services & Risk Management
South African schools are facing increasing security challenges, making effective surveillance systems more important than ever. To address this issue, Vumacam is offering advanced security solutions with security partners, aimed at keeping students, staff, and the community safe.
Read more...
---
Technology is key to securing physical and cybersecurity
Education (Industry) Security Services & Risk Management
The interpretation of security in educational institutions depends on whom you are talking to and whether their focus is on the physical security of the institution, its assets and its people, or its information and communication technology perspective.
Read more...
---
Recession? Do not skimp on cybersecurity
Cyber Security Security Services & Risk Management
While economists are studying their crystal balls, businesses have to prepare for the worst, and preparing for a recession means cutting costs and refocusing resources; however, they must ensure they do not end up creating an enormous risk.
Read more...
---
Security versus functionality: avoiding end user revolt
Business Connexion t/a BCX Security Services & Risk Management
When the business puts mechanisms in place to secure its infrastructure, but these hinder users from being productive, users will always find a way around them, inadvertently creating security risks.
Read more...
---