printer friendly version
Panasonic invests in SA
May 2016 News, CCTV, Surveillance & Remote Monitoring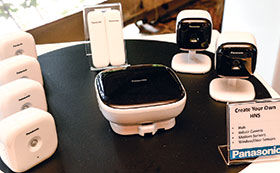 Having strengthened its foothold in the South African market in the past year, Panasonic South Africa began trading as an independent company on the 1st of April 2016. Backed by the support of Panasonic global management, this move is intended to send out a strong message of confidence in the company's position in South Africa and its intention to become a leading electronics giant in South Africa.
Operating as an independent company, Panasonic South Africa has the freedom to tailor its product offering to the local market. Following a successful year in the South African market, Panasonic hosted the Panasonic Senseperience 2016. This prestigious event was organised to showcase not only some of the company's recent successes over the past year, but also Panasonic's vision for the year ahead in the South African market – including its drive to regain ground in the consumer and commercial surveillance market.
The Senseperience 2016 event – an expo demonstrating Panasonic's extensive product range - reflected the coming year's marketing direction by focusing on sensory experiences. Visitors were given the opportunity to experience, first-hand, how Panasonic's world-class products enable consumers to see more, hear more, feel more, and taste more.
Panasonic's product expansion will be supported by accompanying marketing campaigns planned for the year ahead. This year's marketing will draw strength from the values already associated with the Panasonic brand.
Panasonic is also focused on offering a high level of service and has already built an extensive network of Authorised Service Agents throughout South Africa. The company continuously invests in resources to improve the service experience. By creating more personal touch points and by anticipating customers' needs, Panasonic wins customer trust and loyalty.
Staying true to its Japanese legacy of craftsmanship, Panasonic looks forward to continuing its journey in South Africa in the year ahead. By bringing high quality products, built with world-class technology, Panasonic enables greater sensory experiences and fosters life-long relationships with the people whose lives are touched by this global brand.
For more information contact Panasonic South Africa, +27 (0)11 312 7015, j.david@za.panasonic.com, www.panasonic.com
Further reading:
New hires at iPulse
Issue 7 2020, iPulse Systems , News
iPulse has welcomed two new employees into its ranks. Shai Weil has been appointed as operations director, while Corneli Botha is the new customer sales liaison.
Read more...
---
HID Global acquires Access-IS
Issue 7 2020, HID Global , News
HID Global acquires provider of miniaturised reader devices that combine key technologies for mission-critical markets.
Read more...
---
Securing digital transformation
Issue 7 2020 , News
Schneider Electric partners with Fortinet to strengthen ability to secure operations across the business lifecycle and unlock the advantages of a secure IIoT.
Read more...
---
Suprema integrates with Paxton's Net2 access control
Issue 7 2020, Suprema , News
Suprema has announced it has integrated its devices with Paxton's access control system, Net2.
Read more...
---
Free cybersecurity courses
Issue 7 2020 , News
Check Point Software partners with Harvard and MIT-founded edX to deliver free online courses to help close the cybersecurity skills gap.
Read more...
---
Fidelity partners with Auto & General Insurance
Issue 7 2020, Fidelity Security Group , News
Fidelity Services Group in partnership with Auto & General Insurance has launched Fidelity InSure, a comprehensive vehicle, home, and building insurance offering.
Read more...
---
More apps for open camera OS
Issue 7 2020 , News
The App Challenge will result in 21 new apps running on the Security & Safety Things' camera OS, based on the Android Open Source Project.
Read more...
---
Milestone Systems announces Thomas Jensen as new CEO
Issue 7 2020, Milestone Systems , News
Milestone Systems announced that its board of directors has appointed Thomas Jensen as chief executive officer. Jensen will assume the role on October 1, 2020.
Read more...
---
Suprema announces its first virtual event
Issue 7 2020, Suprema , News
Suprema will be hosting its first virtual event, Suprema Connect 2020, which is scheduled to take place over one month from September 15.
Read more...
---
From the editor's desk: Waiting for PoPI
Issue 7 2020, Technews Publishing , News
A while ago we heard of yet another cyber breach, this time from Experian.
Read more...
---