printer friendly version
Huawei goes H.265
May 2016 News, CCTV, Surveillance & Remote Monitoring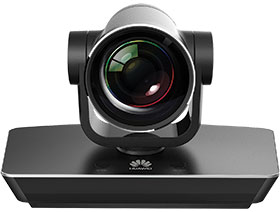 Huawei unveiled its range of H.265-enabled video products for the first time in South Africa at its CCTV and Video Conference New Product and Solution launch. The event was held at The Venue on the 20th floor of the World Trade Centre in Sandton.
H.265 or HEVC (High Efficiency Video Coding) is a video compression standard, a successor to H.264 or AVC (Advanced Video Coding), that was developed by the Joint Collaborative Team on Video Coding (JCT-VC) organisation. It produces video streams of the same quality as H.264 yet provides a higher compression efficiency ratio which is capable of reducing bandwidth by up to 50% and therefore, requires less storage on the back-end. In turn, it can help businesses by preventing the overburdening of their network equipment, reduce maintenance costs, and bring about a higher efficiency in handling archives for video analysis or trending.
Additionally, this significant reduction in bandwidth will allow Ultra High Definition Video (UHD) to become more affordable, paving the way to give more companies the capability to host Ultra HD video conferences.
To this end, Huawei introduced its H.265 CCTV cameras and equipment, which forms part of the intelligent video surveillance range (IVS) within the unified communication and collaboration (UC&C) portfolio. These cameras boast of built-in intelligent features, such as loitering detection, intrusion detection, tripwires and abandoned object detection, together with object removal detection. This means that the cameras themselves can now perform many intelligent functions which were traditionally only available on costly video analytical systems.
To complement these cameras, Huawei also unveiled the TX50 Video Conference Endpoint Codec with the New VPC800 Ultra HD 4K Video Conference Camera. Together, these can provide point-to-point Ultra HD, giving an output resolution of 3840 x 2160 @ 60 fps. The TX50 features SiteCall, voice dialing, triple view, VGA bypass, Wi-Fi access, and air content sharing functionalities, while the VPC800 incorporates industry-leading advances in motion-based 3D noise-reduction algorithms, using motion estimation to deliver sharper images with accurate colours. The system's compatibility with a variety of protocols enables interoperability with Unified Communications (UC) systems, IP Multimedia Subsystems (IMSs), and other third-party devices.
"H.265 is predicted to replace H.264 as the global major compression standard," says Rodger van den Berg, UC&C senior solutions manager for Huawei Enterprise Business Group of Eastern and Southern Africa. "With its ability to support 4K and UHD contents to deliver crisper network video contents at much lower bandwidth requirements, we foresee that it will revolutionise the security and surveillance industry."
All products from the CCTV H.265 range are available immediately from all Huawei-accredited distributors such as Pinnacle, Mustek, First Distribution and Drive Control Corporation.
For more information contact Huawei, +27 (0)11 517 9800, sophias.liu@huawei.com, www.huawei.com/enterprise
Further reading:
UJ and Schneider Electric launch 4IR Experience Room
News
Schneider Electric and the University of Johannesburg (UJ) Faculty of Engineering and Built Environment (FEBE) have officially unveiled the 4IR Experience Room, a first for UJ and situated at the university's Auckland Park Campus.
Read more...
---
SafeCity Guarding rolls out across 14 suburbs in Johannesburg
News Security Services & Risk Management
In a major drive to provide communities across Johannesburg with additional safety, Vumacam, in partnership with Fidelity ADT and other security providers across the region, rolled out the innovative SafeCity Guarding initiative in 14 suburbs.
Read more...
---
Providing an interactive branding platform
Securex South Africa News Conferences & Events
Now in its 30th year of providing security technology and services providers with a platform for increasing their brand exposure, Securex South Africa will be held at the Gallagher Convention Centre in Midrand, from the 6th to 8th June 2023.
Read more...
---
ALX sponsored learning programmes for 2023
Training & Education News
With a mission to harness Africa's abundant human capital by developing two million ethical and entrepreneurial young leaders from the continent by 2030, ALX has launched four fully sponsored (at no cost) tech programmes for 2023.
Read more...
---
LockBit ransomware gang most apt to leak stolen victim data
News
Trellix has released The Threat Report: February 2023 from its Advanced Research Centre, combining telemetry collected from the world's largest network of endpoint protection installs and its complete XDR product line with data gathered from open- and closed-source intelligence reports.
Read more...
---
Schneider Electric is looking for your bold idea
News
Schneider Electric has launched this year's Schneider Go Green, an annual competition that invites university students from across the globe to share their ideas for innovations that can help make the world cleaner, more inclusive, and more sustainable.
Read more...
---
Paxton Introduces new rewards programme to South African installers
Paxton News
Paxton has launched Paxton Rewards, offering the first opportunity for installers in South Africa to earn rewards by participating in training, installing Paxton solutions, and completing activities or achievements. The programme is available via the Paxton Installer app.
Read more...
---
Keeping students, staff and communities safe
Vumacam News CCTV, Surveillance & Remote Monitoring Security Services & Risk Management
South African schools are facing increasing security challenges, making effective surveillance systems more important than ever. To address this issue, Vumacam is offering advanced security solutions with security partners, aimed at keeping students, staff, and the community safe.
Read more...
---
Arcules and IMMIX announce integration
News CCTV, Surveillance & Remote Monitoring Products
Arcules has announced that its integration with Immix Central Station and Guard Force is available. The integration provides Central Station and Guard Force users a way to manage, verify, and respond to security events, while using Arcules-managed video feeds.
Read more...
---
From the editor's desk: Drive to survive
Technews Publishing News
Nobody is surprised by the horrible driving habits of many people on South Africa's roads. Lack of policing, except when collecting money, and the related overall acceptance and encouragement by government ...
Read more...
---