printer friendly version
Pyrotec launches Pyrotec PackVerifi
April 2016 Products, Security Services & Risk Management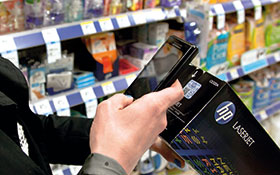 Pyrotec, a product identification solutions provider, is well known for its three established brands – Pyrotec PackMedia, Pyrotec PackMark and Tower, which includes Tower Kids. Now, Pyrotec is launching a new brand, Pyrotec PackVerifi, to deliver comprehensive brand protection, track and trace, and consumer engagement services to the South African marketplace.
To provide these services, Pyrotec PackVerifi has partnered with Hewlett-Packard Enterprise (HPE) to resell the Global Product Authentication Service (GPAS).
"It's estimated that 64% of all counterfeit products are sold at legitimate retail outlets, and that 700 000 people die each year from counterfeit tuberculosis and malaria drugs. Counterfeiting is one of the fastest growing economic crimes of modern times. Besides devastating health and safety risks, counterfeit products devalue corporate reputations and bottom lines, hinder investment, fund terrorism, and cost hundreds of thousands of people their livelihoods every year," explains Pyrotec's managing director, Rowan Beattie. "GPAS is more than great technology, it is a world-leader selected by numerous companies across a range of market sectors to provide an ease of integration and rollout that is second to none."
Service capabilities provided by GPAS include:
• Product identification and serialisation.
• Product traceability.
• Supply chain visibility and monitoring.
• Business intelligence and analytics capabilities.
For more information, contact Rowan Beattie, Pyrotec, +27 (0)11 611 1820, www.pyrotec.co.za
Further reading:
The benefits of Managed File Transfer
IT infrastructure Products
Blue Turtle Technologies looks into how a Managed File Transfer platform benefits businesses, as opposed to the usual FTP or SFTP suspects.
Read more...
---
Protecting yourself from DDoS attacks
Cyber Security Security Services & Risk Management
A DDoS attack, when an attacker floods a server or network with Internet traffic to prevent users from accessing connected online services, can be costly in both earnings and reputation.
Read more...
---
Crossing the chasm
Editor's Choice News Security Services & Risk Management Training & Education
Industry reports suggest that in the next ten years, millions of jobs could go unfilled because there simply are not enough people to fill them.
Read more...
---
Records in place now, not later
Editor's Choice Security Services & Risk Management
It is important, after an incident, to have records in place as soon as possible. Too often the matter is left for the day when the company is going to court, or a disciplinary hearing is scheduled.
Read more...
---
Hikvision unveils first 'True 8K' NVRs
Hikvision South Africa CCTV, Surveillance & Remote Monitoring Products
The new M-Series NVRs can be used with a host of Hikvision cameras, and are ideal for environments where a wide field of view and extremely high image resolution are needed.
Read more...
---
Manage energy usage with Paxton access control
Paxton Access Control & Identity Management Products
Paxton provides access control systems that can integrate with existing infrastructure and manage a building's energy-consuming activities to save energy and costs.
Read more...
---
Considering cloud downtime insurance?
Arcserve Southern Africa Cyber Security IT infrastructure Security Services & Risk Management
Byron Horn-Botha, business unit head, Arcserve Southern Africa, reveals three vital steps that you must consider to ensure business continuity before you buy insurance.
Read more...
---
The $600 000 question
Cyber Security Security Services & Risk Management Financial (Industry)
Usman Choudhary, chief product officer of VIPRE Security Group, advises companies to do the basics to protect themselves before looking for cyber insurance.
Read more...
---
Axora launches Metals and Mining Innovation Forecast 2022/23
IT infrastructure Security Services & Risk Management
Miners making super-slow progress towards digital transformation despite universally designating it 'critical to survival', with cybersecurity one of the concerns hindering progress.
Read more...
---
The next generation of Point of Sale
Commercial (Industry) Security Services & Risk Management Products
New digital point-of-sale (POS) platforms are gaining traction, which means payment providers and investors should take note.
Read more...
---