printer friendly version
Targeted security training
April 2016 Conferences & Events, Security Services & Risk Management
The security industry is continuously changing in terms of new trends, technologies, services and products. Focused, targeted training is the most effective method of addressing the required needs of one's business in the security trade.
Electronic security system installers will find having a certificate that shows you to be a certified installer to be beneficiary as your clients will have more faith that you are competent in your profession and thus increase the possibility of obtaining their business.
For people that want to enter the world of electronic security, educating yourself is a vital first step and cannot be skipped. You will require guidance and expertise in your journey to become an expert installer of CCTV cameras and access control systems as well as support once you start working on sites.
SCW Training Academy has numerous training courses available that focus on specific product areas and the correct installation and application thereof. Furthermore, it is geared to equip the student with the theoretical background as well as practical skills – from introductory to specialised level – to sell and maintain products and solutions across a vast spectrum. The academy provides technical support to the students once they have completed their training, and might require some assistance with their first installation on site.
The SCW Academy is accredited by:
• PSIRA Security Service Provider 1994864
• SASSETA Accreditation no 111924045007.
Some training courses on offer include: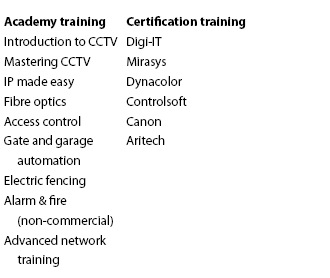 For more information contact Marelize Deysel, SCW Training Academy, +27 (0)12 653 1005, [email protected].
Further reading:
Is AI the game-changer for streamlining anti-money laundering compliance?
Financial (Industry) Security Services & Risk Management
In the aftermath of South Africa's recent grey listing, companies are now confronted with the imperative to address eight identified strategic deficiencies, while simultaneously reducing their financial crime risk through anti-money laundering compliance processes.
Read more...
---
Client satisfaction boosted by 85% at Thungela Mine
Thorburn Security Solutions News Security Services & Risk Management Mining (Industry)
Thorburn Security, a division of Tsebo Solutions Group, has announced its recent collaboration with Kwa-Zulu Natal security company, Ithuba Protection Services, as part of its Enterprise Supplier Development (ESD) initiatives across Africa.
Read more...
---
Migrating to the cloud? Beware the many hurdles
IT infrastructure Security Services & Risk Management
While there are undoubtedly many benefits, there are also numerous hurdles to cloud adoption. Some of the biggest challenges revolve around managing cloud spend, understanding the cost components of cloud infrastructure, and how those costs can scale.
Read more...
---
Key strategies for businesses in the face of cyber threats
Cyber Security Security Services & Risk Management
Businesses face severe financial and reputational consequences due to data breaches and daily website hacks, and not all organisations are adequately prepared to combat these escalating threats.
Read more...
---
Protecting South African systems through XDR cybersecurity
Cyber Security Security Services & Risk Management
Carlo Bolzonello, Country Lead for Trellix South Africa, discusses how the country can protect its valuable digital assets through the artificial intelligence-enabled Extended Detection and Response (XDR) cybersecurity approach.
Read more...
---
SMART Surveillance Conference 2023
Technews Publishing Editor's Choice CCTV, Surveillance & Remote Monitoring Conferences & Events
Some people think the future is all about cloud technologies, but the SMART Surveillance conference demonstrated that AI is making edge surveillance much more attractive, over distributed sites, than ever before.
Read more...
---
[Sponsored] Protecting Against Ransomware Attacks: Lessons from Recent POPIA Fine
Cyber Security Security Services & Risk Management
According to Sophos' most recent ransomware report, an alarming 78% of the South African organisations that Sophos surveyed experienced ransomware attacks in the past year.
Read more...
---
Kaspersky launches Professional Services Packages for SMBs
News Cyber Security Security Services & Risk Management
Kaspersky has announced the launch of a range of Professional Services Packages for SMBs, offering tailored support products that help customers get the most out of their cybersecurity resources.
Read more...
---
AI-driven drones unleash new opportunities and risks
IT infrastructure Security Services & Risk Management
As AI-driven technologies continue to evolve, the incorporation of AI in drone capabilities has become a significant point of interest for many drone operators.
Read more...
---
Six cybersecurity mistakes to avoid
Cyber Security Security Services & Risk Management
Safeguarding sensitive data and maintaining robust cybersecurity practices has become paramount for businesses of all sizes, with the global costs of cybercrime expected to reach US$13 trillion within the next five years.
Read more...
---