printer friendly version
Targeted security training
April 2016 Conferences & Events, Security Services & Risk Management
The security industry is continuously changing in terms of new trends, technologies, services and products. Focused, targeted training is the most effective method of addressing the required needs of one's business in the security trade.
Electronic security system installers will find having a certificate that shows you to be a certified installer to be beneficiary as your clients will have more faith that you are competent in your profession and thus increase the possibility of obtaining their business.
For people that want to enter the world of electronic security, educating yourself is a vital first step and cannot be skipped. You will require guidance and expertise in your journey to become an expert installer of CCTV cameras and access control systems as well as support once you start working on sites.
SCW Training Academy has numerous training courses available that focus on specific product areas and the correct installation and application thereof. Furthermore, it is geared to equip the student with the theoretical background as well as practical skills – from introductory to specialised level – to sell and maintain products and solutions across a vast spectrum. The academy provides technical support to the students once they have completed their training, and might require some assistance with their first installation on site.
The SCW Academy is accredited by:
• PSIRA Security Service Provider 1994864
• SASSETA Accreditation no 111924045007.
Some training courses on offer include: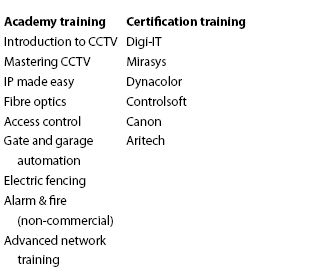 For more information contact Marelize Deysel, SCW Training Academy, +27 (0)12 653 1005, [email protected].
Further reading:
Top fraud trends to watch in 2023
News Security Services & Risk Management
Even though financial concerns remain a significant obstacle for companies in implementing new anti-fraud technologies, 60% of businesses expect an increase in their anti-fraud technology budgets in the next two years.
Read more...
---
Be cautious when receiving deliveries at home
News Perimeter Security, Alarms & Intruder Detection Security Services & Risk Management
Community reports of residents being held up at their gate when collecting fast food deliveries at home are once again surfacing.
Read more...
---
Sasol ensures Zero Trust for SAP financials with bioLock
Technews Publishing Editor's Choice Cyber Security Security Services & Risk Management
Multi-factor authentication, including biometrics, for SAP Financials from realtime North America prevents financial compliance avoidance for Sasol.
Read more...
---
Protecting yourself from DDoS attacks
Cyber Security Security Services & Risk Management
A DDoS attack, when an attacker floods a server or network with Internet traffic to prevent users from accessing connected online services, can be costly in both earnings and reputation.
Read more...
---
Crossing the chasm
Editor's Choice News Security Services & Risk Management Training & Education
Industry reports suggest that in the next ten years, millions of jobs could go unfilled because there simply are not enough people to fill them.
Read more...
---
Records in place now, not later
Editor's Choice Security Services & Risk Management
It is important, after an incident, to have records in place as soon as possible. Too often the matter is left for the day when the company is going to court, or a disciplinary hearing is scheduled.
Read more...
---
Considering cloud downtime insurance?
Arcserve Southern Africa Cyber Security IT infrastructure Security Services & Risk Management
Byron Horn-Botha, business unit head, Arcserve Southern Africa, reveals three vital steps that you must consider to ensure business continuity before you buy insurance.
Read more...
---
The $600 000 question
Cyber Security Security Services & Risk Management Financial (Industry)
Usman Choudhary, chief product officer of VIPRE Security Group, advises companies to do the basics to protect themselves before looking for cyber insurance.
Read more...
---
Axora launches Metals and Mining Innovation Forecast 2022/23
IT infrastructure Security Services & Risk Management
Miners making super-slow progress towards digital transformation despite universally designating it 'critical to survival', with cybersecurity one of the concerns hindering progress.
Read more...
---
The next generation of Point of Sale
Commercial (Industry) Security Services & Risk Management Products
New digital point-of-sale (POS) platforms are gaining traction, which means payment providers and investors should take note.
Read more...
---