printer friendly version
The future of commercial security
April 2016
Integrated Solutions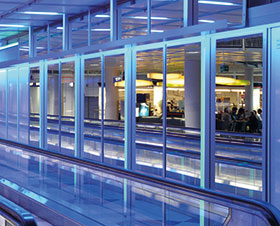 The nature of commercial security is changing, with a growing number of companies looking for integrated security solutions to meet their unique needs. "The age of individual security solutions operating in silos may be over," says Gus Brecher, managing director of Cathexis Africa and group marketing director of Cathexis Technologies. "Now clients are looking towards systems and solutions that will assist them in the seamless integration of multiple solutions from multiple suppliers."
One of the reasons for this shift in focus are the challenges associated with creating silos of the separate elements in a security system. The separate elements do not communicate effectively, limiting the functionality of the whole. "Integrated systems consist of elements that talk to each other," says Brecher. "This way, the quality of the security system is never compromised."
Integrated systems also significantly improve the control room environment. With a surplus of events all happening at once, it can be difficult for control room operators to perform their roles effectively. "An integrated solution can make automated decisions, enabling the operator to take fast and decisive action," says Brecher. "It also makes it much easier to retrieve forensic information from the system for later use."
Brecher believes that the biggest challenge in implementing an integrated system is acquiring buy-in from all stakeholders. In other words, the suppliers or manufacturers of all the equipment to be integrated; the end-users, managers, IT managers as well as the system integrators.
Within every organisation, the various third-party systems are usually controlled by different divisions. For example, the time-and-attendance system may be controlled by HR, while the surveillance system and alarms panels are overseen by the security department. In a typical banking environment, the money counters fall within the realm of the bank managers, while the surveillance system is under the jurisdiction of the security team. The solution is to introduce an integrated system that optimises the effectiveness and efficiency of all these third-party solutions through seamless integration.
Among other things, the system needs to facilitate video verification of events from the various systems and provide business intelligence. To achieve this, the system needs to provide a user-friendly interface with automated actions, easily retrievable information and control room operator notifications. The key to this integrated solution is to adopt software that is geared towards pulling all the elements together and providing management with the facility to mine data that will benefit the organisation as a whole, and not just one department.
"For example, one may want to switch a camera to a selected monitor in the control room, send an SMS to a security manager, play an audio clip to a speaker in the field or send an alarm to an off-site control room," says Brecher. "With this system, there are several possible options."
Commercial security will also soon be affected by the introduction of the new Protection of Personal Information Act (PoPI) and companies will do well to ensure that they are compliant and educated in the implications of it.
"You need to be able to tell a customer what their information is being used for, where it is being stored, whether it is secure and whether it will be deleted," says Brecher. "Video surveillance footage is just as heavily protected by the Act, changing the way office parks and corporations will handle their security systems in future."
The PoPI Act affects all areas of an organisation where personal information is processed and it places specific obligations and duties on organisations. This is because it gives effect to the constitutional right to privacy, which includes a right to protection against the unlawful collection, retention, dissemination and use of personal information.
"For small businesses, their choice in technology solutions will make or break their compliance with the Act," says Brecher.
"It states that responsible parties must take 'appropriate, reasonable technical and organisational measures to ensure the integrity and protection of information'. So business owners no longer have any excuse for not taking electronic security seriously."
In line with PoPI requirements, the latest CathexisVision 2016 software includes additional protection of video surveillance footage. This is done in two ways. Firstly, via visible watermarking to enable source identification of the archived video, and secondly through password protection of the archived footage. "We have realised that the nature of commercial security is changing and we've had to adapt to meet shifting needs," says Brecher. "One needs to evolve in this business if you plan on sticking around," he concluded.
For more information contact Cathexis Africa, +27(0)31 240 0800, sales@catafrica.co.za, www.cathexisvideo.com.
Credit(s)
Further reading:
Building a nervous system for smart cities
Issue 1 2020, Pinnacle Instruments SA , Integrated Solutions
Build a central nervous system for smart cities, by employing real-time situation reporting and analysis that unites the powers of cloud computing, AI, IoT and big data.
Read more...
---
The secret to 5G security? Turn the network into a sensor
Issue 1 2020 , Integrated Solutions
We are about to make the leap from being a civilisation that uses networks to one that runs on them in a fundamental and inextricable way.
Read more...
---
The move to services and RMR
Issue 1 2020, Merchant West, G4S South Africa, Technews Publishing , Integrated Solutions
Project work used to be the staple diet for system integrators, but that was before the services model changed the way businesses buy and use their security systems.
Read more...
---
Global security industry adopts servistisation models
Issue 1 2020 , Integrated Solutions
New as-a-service business models are gaining traction because they reduce capital expenditure and cost of ownership, finds Frost & Sullivan.
Read more...
---
Cathexis specialises in integration
Issue 1 2020, Cathexis Technologies , CCTV, Surveillance & Remote Monitoring
The integration of multiple systems is intrinsic and essential to the goal of creating an effective and efficient operational environment.
Read more...
---
Looking ahead with mobile access technologies
Access & Identity Management Handbook 2020, Technews Publishing, HID Global, dormakaba South Africa, Salto Systems Africa, Suprema, Gallagher , Access Control & Identity Management, Integrated Solutions
Given the broad use of smartphones around the world and the numerous technologies packed into these devices, it was only a matter of time before the access control industry developed technology that would ...
Read more...
---
Scalable access solution
Access & Identity Management Handbook 2020 , Access Control & Identity Management, Integrated Solutions
Bosch Building Technologies makes access management simple, scalable and always available with Access Management System 2.0.
Read more...
---
Securing perimeters of secure locations
November 2019, Axis Communications SA, Modular Communications, Hikvision South Africa, Nemtek Electric Fencing Products, Technews Publishing, Stafix , Government and Parastatal (Industry), Perimeter Security, Alarms & Intruder Detection, Integrated Solutions
Hi-Tech Security Solutions asked a number of companies offering perimeter security solutions for their insights into protecting the boundaries of national key points.
Read more...
---
The safe city and its need for interoperability
November 2019 , Integrated Solutions, CCTV, Surveillance & Remote Monitoring
Interoperability continues to present one of the greatest challenges, particularly with video management systems, video recording devices and cameras.
Read more...
---
Analytics-driven solutions for smart infrastructure
November 2019, Bosch Building Technologies , Integrated Solutions
Video analytics technology can bring intelligence to infrastructure by delivering solutions for traffic flow, improved safety, smart parking, and data collection.
Read more...
---