printer friendly version
Smart digital enterprise
April 2016
Integrated Solutions
Jasco has launched its Smart Digital Enterprise, a combination of technologies that is challenging the status quo and enabling companies to disrupt their business. Jasco Smart Digital Enterprise comprises converged communications, IT infrastructure and security solutions designed to help customers realise the benefits of digitisation and assist them on their transformation journey in order to heighten competitiveness.
This offering is aligned with Jasco Enterprise's business model of using technology to bolster a company's competitive advantage and drive business growth through optimised business processes. Jasco's role is to deliver the transformation platforms, allowing companies to leverage the benefits of the digitisation of customer and consumer behaviour.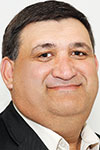 Andre Deetlefs
Says Andre Deetlefs, Executive: Lines of Business at Jasco Enterprise, "We are entering the fourth industrial revolution and business is changing rapidly due to technology. We are seeing the emergence of disruptive technology that introduces new, innovative ways of doing business. In order to keep abreast of this shift, companies need to engage with partners that understand 'moon shot' thinking where the goal is to aim for a tenfold improvement of what currently exists. This requires a new mindset in order for business to survive and thrive.
"Our unique approach to customer engagement through smart technologies allow our customers to optimise and evolve their approach to bottom line growth, affording enhanced services through agile and resilient solutions."
The net benefits
A collaborative and cross-channel engagement in enterprise applications and solutions lead the way for customers to reap the benefits. Jasco strives to deliver extensive solutions with a key focus on moving from the complexity of the old, to the simplicity of a newly unified virtual realm. A good example of this approach is a single, flexible network, providing the foundation for simplified deployment of smart digital services. Deetlefs explains, "Once this is in place, it is easy to roll out services – from enterprise applications to CCTV, contact centres and converged communications solutions. It is also far more simple to add features and functions on top of those services and solutions within the network, leveraging the benefits of digital to deliver the 'smart' in a Smart Digital Enterprise."
Security video surveillance and video analytics layered on top of security systems add immense functionality and mitigates risk. Adding voice analytics to the contact centre solution supports the drive in sales whilst assisting in the elimination of fraudulent transactions and enhancing compliance. Furthermore, the network is now able to link building management systems to access control and the lighting systems which improves control, tightening security and driving down costs.
With a flexible policy-driven network in place, a smart digital plug-and-play network becomes a reality. Auto provisioning for new equipment connected to the network means simplified ease of deployment, faster rollout of services and a reduced requirement for specialised staff and niche skills. Instead of months of planning, and implementation, the network is deployed within a few hours, creating a seamless digital enterprise characterised by ease of integration and connectivity. Transformation is simplified.
For example, using leading networking solutions, Jasco can implement a single self-learning policy for network components, automating optimised responses and self-provisioning for prioritised applications. Jasco Smart Digital Enterprise can help businesses identify and implement these wins.
Notes Deetlefs: "Businesses are re-visiting their strategies, and infrastructure and services are key areas where advances in technology and approaches can add efficiencies, take out cost and facilitate the development of new business models. We are not advocating rip and replace strategies, we are saying 'take your business into the future' by leveraging new approaches."
For more information contact Jasco Enterprise, +27 (0)11 266 1500, [email protected], www.jasco.co.za
Further reading:
Smart car parking solution eases traffic flow
Dahua Technology South Africa CCTV, Surveillance & Remote Monitoring Integrated Solutions Products
Ethiopia's first smart parking lot, designed to improve traffic flow and management efficiency, has been built and installed using Dahua Technology's smart parking solutions.
Read more...
---
VMS 7.2 supports the investigation process and adds cloud capabilities
CCTV, Surveillance & Remote Monitoring Integrated Solutions Products
Qognify has launched the second release of its VMS, including extended support for body-worn video, additional functionalities to support investigations, and a new web client architecture. VMS 7.2 addresses the increasing use of body-worn video (BWV) across many sectors.
Read more...
---
Hytera and KZN Police Service roll out digital call handling system
Government and Parastatal (Industry) Asset Management, EAS, RFID Integrated Solutions
Hytera Communications announced that the municipality of Ray Nkonyeni in the KwaZulu-Natal province of South Africa is now using its digital call handling system for the reporting and recording of crimes.
Read more...
---
Cyber resilience is more than cybersecurity
Technews Publishing Editor's Choice Cyber Security Integrated Solutions IT infrastructure
Hi-Tech Security Solutions held a round-table discussion focusing on cyber resilience and found that while the resilience discipline includes cybersecurity, it also goes much further.
Read more...
---
Johnson Controls releases IQ4
Perimeter Security, Alarms & Intruder Detection Integrated Solutions
New lower cost panel leverages Qolsys IQ Platform targeting residential, SMB, builder, MDU/multi-family and wellness market segments.
Read more...
---
SuperVision biometric access control
Integrated Solutions Access Control & Identity Management Products
SuperVision is a time & attendance (T&A) biometric access control system Fourier IT has been developing and enhancing for 18 years.
Read more...
---
Shift to online driving retail transformation
Retail (Industry) Integrated Solutions
There is a growing demand from retail for an end-to-end solution that helps their digitisation process, integrating finance, procurement, warehouse management, pricing, stock management, point of sale and more.
Read more...
---
AI in video analytics
CCTV, Surveillance & Remote Monitoring Integrated Solutions
AI (artificial intelligence), has been developed and debated ever since the first computers were invented, and while the most revolutionary incarnations are not yet here, AI-based technologies are widely used today.
Read more...
---
Complete solutions, delivering complete protection
Gallagher Access Control & Identity Management Integrated Solutions Commercial (Industry)
The recent release by Gallagher of Command Centre v8.80 and Command Centre Web enables all organisations to make security easier, faster and more efficient.
Read more...
---
Cathexis demonstrates its 'effective innovation'
Cathexis Technologies Technews Publishing Editor's Choice CCTV, Surveillance & Remote Monitoring News Integrated Solutions
Cathexis Africa recently held a roadshow with a stop in Johannesburg where Hi-Tech Security Solutions was invited to attend, along with many of the company's partners and users.
Read more...
---