printer friendly version
Get to grips with Wi-Fi and hotspots at IP-CON
April 2016 News, IT infrastructure
MiRO's IP-CON events focus on wireless convergence solutions for various customer applications. According to MiRO CEO, Bertus van Jaarsveld, the goal is to help current and potential customers understand what can be achieved with the latest technology and how to identify the best solution for each application.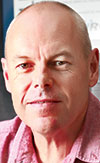 Bertus van Jaarsveld
"MiRO is looking at the bigger picture. We won't be spouting rhetoric on individual products. We will use IP-CON to enable customers to grow faster by delivering more value to their customer through selection of the best products for each scenario."
The first series of IP-CON sessions will focus on Wi-Fi and Hotspots (this year the IP-CON has been divided into quarterly events each focusing on a specific sector: Wi-Fi and hotspots, IP video; fixed wireless broadband and VoIP). Wi-Fi has become ubiquitous, carrying the bulk of Internet traffic to end-user devices. For something that is so simple to use, it is surprising to see how many different options are available to build the perfect Wi-Fi network. Attendees will learn about the various types of Wi-Fi networks, best practices, pitfalls and much more.
Hotspots are simply Wi-Fi networks that are not closed for personal use – but made available to the public on either a free to use, or paid-for access model. Industry experts believe that the meteoric growth of Wi-Fi and hotspots will continue, with the number of global hotspots anticipated to increase over the next three years by over 340 million, according to research conducted by iPass. This equates to nearly one Wi-Fi hotspot for every 20 people on earth by the end of 2018.
Companies like Purple Wi-Fi have made the transition to private business hotspot commercialisation as easy as purchasing one of their business plans. The advantages for hotspot owners in providing Wi-Fi to customers go beyond the obvious, with the harvesting of valuable social demographic data such as the user's age and gender, when they connect and how long they stay connected.
"We will be discussing the various applications and scenarios related to Wi-Fi and hotspots, what attendees should expect when deploying Wi-Fi hotspots and what is required to operate a successful hotspot venture. Ultimately, we will be sharing what is considered best practice for each situation, by introducing the various products and providing differentiation between each product type to ensure that the solution is fit for purpose," says Van Jaarsveld.
The IP-CON events are not only aimed at people who are already active in the industry but they will also be useful for newcomers to the industry, whether the Wi-Fi is for commercial or private/residential use. The IP-CON Wi-Fi and Hotspot event aims to improve visitors' knowledge of: the industry, of the various solutions available for different applications, best practices, and provide a better understanding of the products they work with. The first sessions will be held on Wi-Fi and hotspots in Gauteng on 19 April, Nelspruit on 21 April, Cape Town on 4 May and Durban on 10 May.
More information on the IP-CON training sessions can be found on MiRO's website at www.miro.co.za and www.ip-con.co.za
Credit(s)
Further reading:
Online fleet management system
Issue 1 2020 , News
Fleet Domain's online Fleet Management Information System is reducing operating costs and improving safety for South African logistics firms.
Read more...
---
Digital insurance bundle for assets and devices
Issue 1 2020 , News
My CyberCare is a specialist provider of personal, and SMME online cyber insurance, cyber detection and cyber monitoring solutions for both local and global consumption.
Read more...
---
IDEMIA to supply Morocco's national electronic ID cards
Issue 1 2020, IDEMIA , News
IDEMIA will supply Morocco with national electronic ID cards and introduce a secured digital identity online services platform.
Read more...
---
Rockwell Automation to acquire Avnet
Issue 1 2020, Rockwell Automation , News
Rockwell Automation announced it has signed an agreement to acquire privately held Avnet Data Security, an Israeli-based cybersecurity provider with over 20 years' experience providing cybersecurity services.
Read more...
---
Do we really want simplicity?
Issue 1 2020, Technews Publishing , News
Everything today has to be simple, easy and fast. Even access to your bank account has to fit these adjectives and banks spend significant time and money trying to ensure their web and mobile interfaces ...
Read more...
---
Longse Distribution to become LD Africa
Issue 1 2020, LD Africa , News
Brendon Whelan, sales manager for Longse Distribution, announced that the company officially changed its name to LD Africa as of 20 January 2020.
Read more...
---
Three expos in one
Issue 1 2020 , News
Looking ahead to 2020 Vision: combined Securex South Africa, A-OSH EXPO and Facilities Management Expo 2020 promises to be even bigger and better.
Read more...
---
Security events you can't miss in 2020
Issue 1 2020, Technews Publishing , News
Hi-Tech Security Solutions will host a number of focused events in 2020 to highlight the latest in security technology and the operational benefits they deliver.
Read more...
---
David Shapiro to chair ESDA
Issue 1 2020, ESDA (Electronic Security Distributors Association , News
The Electronic Security Distributors' Association (ESDA), established in 1989, has elected David Shapiro as its chairperson for 2020.
Read more...
---
Dimension Data debuts fifth business
Issue 1 2020 , News
Dimension Data has launched its fifth business in the MEA region, Dimension Data Security, aimed at helping organisations in the region address the challenges of today's rapidly evolving threat landscape.
Read more...
---