printer friendly version
ViRDI expands its focus
April 2016 Editor's Choice, Access Control & Identity Management, News
ViRDI Distribution South Africa held a launch function in Midrand in March to announce a number of new products and an expanded focus for the group. Hi-Tech Security Solutions was in attendance.
Deon Janse van Rensburg hosted the event and introduced various speakers. First off, Jonathan Kahn explained that ViRDI was changing focus to provide full solutions to customers that would be managed from a single platform. To facilitate this, ViRDI equipment will use the OSDP protocol as a standard for communications.
Open Supervised Device Protocol (OSDP) is a communication protocol that expands the functionality of the widely used Wiegand standard and adds functionality such as bi-directional communication. This means new ViRDI controllers will be connected by 4-core RS-485 cables able to transmit data in the form of transactions and templates, as well as power. The latest controller can manage up to four doors with eight readers, as well as an eight alarm zone.
The new controller is also TCP/IP capable and has an onboard web server which allows for direct management from a web browser and not only from the ViRDI management platform.
ViRDI is also making its own branded DVRs available under the Tron brand. This will allow users to manage their compatible surveillance cameras from UNIS, ViRDI's management platform – reinforcing the single solution approach the company is taking.
New management platform
ViRDI has also updated its UNIS management platform to include a new, more user-friendly interface and now allows for biometric as well as username logons. An additional 26 administrative tasks have been included in the software to broaden the scope of operations and include more functions that users required. In addition, users can now install different language packs on ViRDI machines if required.
In UNIS 4, the data management capabilities have been expanded to allow for customised reporting, and batch editing is also available that allows settings to be assigned to groups of people instead of having to do it one user at a time. The system's time and attendance and meal management functions have also been expanded with a broader range of reports available.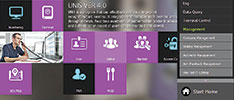 ViRDI UNIS 4.0.
ViRDI has also ensured rules wizards are available in UNIS 4, which guide users through setting up rules, ensuring that every rule is properly defined and accurate before it can be enacted.
UNIS 4 has also updated its duress finger functionality. Users can enrol 10 fingers and select one as a duress finger. When the user scans this finger, entrance will be granted as normal, but an alert will be raised to indicate there is a problem.
To cater for CCTV footage, UNIS also allows access information to be overlaid onto mapping software which will zoom in on areas where a transaction or event occurred. By clicking on an event, the operator will be shown the footage around that event, time and date stamped in case the footage needs to be used as evidence.
A new web-based version of UNIS is also being introduced. This provides users with the functionality of UNIS, but via a web interface. Companies can purchase the system and host it on their own infrastructure, or it can be hosted at an ISP. Users can also access it via a mobile web browser. There is no limit to the number of clients that can connect to Web UNIS.
Janse van Rensburg notes that while five of the most popular browsers are supported, enrolment can only be done via Internet Explorer 9 and above.
New devices
ViRDI also announced a range of new products, some available now and others in the pipeline.
The AC7000 is ViRDI's newest high-end biometric terminal. This is a multi-modal device that supports both fingerprint and facial biometrics. It also supports smartcards (Mifare and RFID) and PIN entry, or a combination of these authentication methods. It is also voice over IP (VoIP) capable, supports up to 250 000 users and is FBI FIV certified.
The AC7000 sports a colour camera and an IR camera. The colour camera is used in displaying the person requesting access while the IR device is used for facial recognition. To speed the process of facial authentication, the IR camera starts lining up the user's face from about three metres away so that access can be granted as soon as the individual is in front of the device.
The AC2200 is an IP65-rated outdoor fingerprint reader with a camera built in to allow the system to take a picture of people as they authenticate. It also supports smartcards and RFID, and is available in two versions supporting either 1000 or 5000 users. It also supports IMKey access.
The FMD10 is a standalone, Bluetooth-enabled fingerprint and smartcard reader that has no network connection, although it is OSDP capable. The system is managed via UNIS-B, an Android-only management platform that supports up to 1000 users, 1000 templates and 10 000 transactions.
All ViRDI fingerprint readers are equipped with the company's fake finger detection technology, which detects both fake fingerprints and 'liveness'.
IMKey is a smartphone-based access credential that can be provisioned and deprovisioned over the Internet. It uses Bluetooth to communicate with terminals to grant access to individuals when they press a button on the application when close to a terminal. Because the control is hosted on a server and controlled by UNIS, visitors can also be granted access (if they have downloaded the application) on a temporary basis and there is no concern (or cost) when people walk off with an access card. IMKey will be launched at the end of 2016 and works on all Bluetooth-enabled ViRDI terminals.
ViRDI will also be launching a new card terminal which supports IMKey. The terminal has a camera and flash built in and offers face detection (not recognition). This means that even if a user has the right access credential, they will only be granted access if the system detects their face in front of the terminal. It also offers VoIP support for making IP phone calls or to use as an intercom.
Finally, 2017 will see a new door lock from ViRDI. This is a keyless lock that runs off four AA batteries and can be accessed via a PIN/password or IMKey. The device puts itself to sleep when not in use to conserve the battery, but wakes up immediately when touched.
For more information contact ViRDI Distribution, +27 (0)11 454 6006, deon@virditech.co.za, www.virditech.co.za
Credit(s)
Further reading:
Key criteria in the selection of CCTV control room operators
Issue 5 2020, Leaderware , Editor's Choice
Some people are better at aspects of the job of CCTV operator than others, and some companies put in a lot more effort in choosing their operators than others.
Read more...
---
Leaders in risk and security: As long as there are people, there will be risk
Issue 5 2020, iFacts, Technews Publishing , Editor's Choice
Jenny Reid is a self-made success, focusing on people, the risks they create and the potential they have.
Read more...
---
XProtect available on AWS
Issue 5 2020, Milestone Systems, Technews Publishing , Editor's Choice
Milestone recently announced the availability of XProtect on Amazon Web Services. Hi-Tech Security Solutions asked Keven Marier for more information.
Read more...
---
From data centre to edge, from one source
Issue 5 2020 , Editor's Choice
First Distribution (FD) is better known in South Africa as an ICT distributor with an enterprise focus. Its offerings in this regard range from client solutions through to hosted solutions, data centre ...
Read more...
---
Paxton launches access and video management
Issue 5 2020, Paxton Access , Editor's Choice
Paxton's next-generation access control and video management system, Paxton10, officially launched in South Africa on 2 July 2020. Paxton10 is the next step in complete security solutions and combines ...
Read more...
---
The evolution of security in residential estates
Residential Estate Security Handbook 2020 , Editor's Choice, Integrated Solutions, Security Services & Risk Management
Two large estates discuss their security processes and the ever-expanding scope of responsibilities they need to fulfil.
Read more...
---
The COVID test for estate business continuity planning
Residential Estate Security Handbook 2020, Technews Publishing , Editor's Choice
Many estates were caught unaware when the COVID-19 pandemic and subsequent lockdown hit. Helderberg Village was ready for the challenge.
Read more...
---
Bang for your security buck(s)
Residential Estate Security Handbook 2020, Alwinco , Editor's Choice, Security Services & Risk Management
Hi-Tech Security Solutions asks how estates can maintain a good security posture in the time of the ever-shrinking budget.
Read more...
---
Local or remote management
Residential Estate Security Handbook 2020, Xone Integrated Security, Vox Telecom, Fidelity ADT , Editor's Choice
Hi-Tech Security Solutions asked three companies well versed in offering control room services – either remote, local, or both – what's happening in the estate monitoring and/or management market.
Read more...
---
Residential Estate Security Conference 2020
Residential Estate Security Handbook 2020, Technews Publishing , Editor's Choice
Back in the old days when conferences that people attended in a single location were a thing, Hi-Tech Security Solutions held its Residential Estate Security Conference 2020 at the Durban Country Club.
Read more...
---