printer friendly version
Cable security with RMACS
April 2016 Editor's Choice, News, IT infrastructure, Products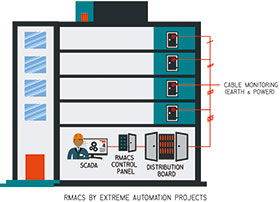 Extreme Automation Projects' locally manufactured Reticulation Monitoring and Control System (RMACS) provides South African businesses and building owners a reliable and cost-effective cable theft detection solution.
Copper cable theft is having a devastating effect on the South African economy, resulting in indirect costs of an estimated R5bn for the country's fixed line operator Telkom and parastatals Eskom, Transnet, Prasa and Metrorail alone.
This crime not only costs state enterprises billions annually in damages due to the destruction of essential power and telecommunications infrastructure but the costs associated with power outages and telephone communication interruptions for private entities can be crippling.
The Reticulation Monitoring and Control System is locally designed, engineered and assembled by Extreme Automation Projects – a Johannesburg based engineering solutions company.
The core function of the RMACS is to provide reliable earth cable monitoring and thus prevent or deter cable theft. RMACS operates in standalone mode but can easily interface and enhance the functionality of any existing building management system using modbus. Although RMACS is modbus based, suitable drivers can be made available to interface with other building management systems.
RMACS provides various purpose-made input/output modules to monitor and control MV and LV voltage main and sub distribution boards. RMACS monitors events such as power supply failures, earthing abnormalities or any other equipment typically found in large buildings. RMACS is well suited for office buildings, shopping centres, hospitals or any other complex.
RMACS' scada-based graphic user interface provides for the easy viewing of system events with full data logging and provides security graded access levels for management, maintenance personnel and operators.
Features include:
• Cost-effective way of monitoring electrical reticulation of buildings, shopping centres.
• Locally engineered system and installation teams.
• Protection of all major cables through the building.
• The RMACS monitors powered and unpowered cables.
• The system is scalable and can connect to existing building management systems.
• The system is based on reliable module communication.
• Security personnel viewing screen on entire building displaying events.
For more information contact Paul, +27(0)82 577 3047, info@extautoproj.comor
Further reading:
Five ways to reduce your cyber insurance premiums
Security Services & Risk Management News
With the global costs of cybercrime expected to soar to $13 trillion within the next five years, cyber insurance is booming as organisations try to mitigate the risk of financial losses.
Read more...
---
What South Africans need to know about smart devices
Technews Publishing Editor's Choice
We live in a world surrounded by smart devices, from our pockets to our driveways and living rooms.
Read more...
---
The state of edge security report
News IT infrastructure
Edge computing has grown from being a niche use case in a handful of industries to offering a major opportunity for enterprises across industries to spread computing power around the world.
Read more...
---
Long-distance connectivity with Simplex ES Net Life Safety
Johnson Controls Global Products Fire & Safety Products
ES Net Network Bridge allows fire alarm system data to be transmitted across distant buildings via a customer's existing network infrastructure, improving system-wide monitoring and control in facilities and campuses where life safety networks are often widely dispersed.
Read more...
---
Visitor management via QR code
ATG Digital Access Control & Identity Management Products
ATG Digital has launched its QR Code Reader to enhance access control's security and efficiency. The new QR Code Reader enables seamless, contactless access control, creating an efficient user journey.
Read more...
---
District secures activity centre
Paxton Access Control & Identity Management Products
Paxton's Net2 access control solution is a user-friendly and flexible networked access control system, which made installing and managing access control security at an activity centre straightforward.
Read more...
---
Collaboration delivers integrated and holistic security
Guardian Eye CCTV, Surveillance & Remote Monitoring News Integrated Solutions
Guardian Eye and Lytehouse have partnered to integrate their speciality solutions and provide a holistic security offering that overcomes the fragmentation of security systems and services.
Read more...
---
Manage security systems remotely
Hikvision South Africa CCTV, Surveillance & Remote Monitoring IT infrastructure Products
Hikvision launched a new generation of smart managed switches that, in conjunction with the Hik-Partner Pro mobile app, enable installers to remotely deploy and configure security systems with comprehensive operation and maintenance capabilities.
Read more...
---
From overwhelm to oversight
Editor's Choice Cyber Security Products
Security automation is vital in today's world, and Microsoft Sentinel is a widely adopted, but complex answer. ContraForce is an easy-to-use add-on that automatically processes, verifies and warns of threats round-the-clock.
Read more...
---
Synology enhances functions for advanced surveillance integration
Technews Publishing CCTV, Surveillance & Remote Monitoring IT infrastructure Products
With the capability to function as both an API client and server, Surveillance Station offers a versatile platform for integration, whether it's embedding video streams into other platforms or overlaying external data onto recorded video.
Read more...
---