printer friendly version
SA innovator takes on the world
April 2016
News
Biometric Identity Management System (BIMS), the world's first mobile biometrics console, developed by local biometrics expert, Ideco, was unveiled for the first time at the connectID 2016 conference and expo at the Walter E. Washington Convention Centre in Washington last month.
BIMS and its supporting system were designed and built in South Africa at a cost of over R20 million in R&D and two and a half years of man-hours by a team of skilled software and firmware developers and engineers.
Ideco says there is a huge global interest in this configurable, mobile advanced biometric identification solution. BIMS enables biometric identification across a range of modalities – from fingerprint through to iris scanning – as well as being highly mobile and readily configurable. It can be rolled out rapidly in any environment requiring agile identification and processing of crowds.
It is capable of six biometric modalities and delivers a full range of connectivity options, including Bluetooth, Wi-Fi, GSM, GPS, LAN and cloud. Multi-functional and configurable, the unit has been designed to the world's most stringent hardware and software security standards, and harnesses intelligent power management for prolonged battery life of up to 12 hours.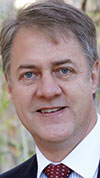 Ideco CEO, Marius Coetzee, says there is already a massive interest in BIMS. "We specifically chose this event for the launch because BIMS is a solution of international significance. It is unlike any other solution currently on the market for biometric user identification and access control."
The need for secure and authentic identity management has reached crisis proportions globally, with demand for advanced, agile and multi-modal biometric identity management. Coetzee says most of the systems currently on the market offer single factor authentication. "Until now, no one could deliver six modalities in a single portable device, which can be used in any configuration for multiple levels of identification, as well as integrating into existing enterprise systems quickly and easily."
BIMS enables agile, rapid roll-out of advanced biometrics-based solutions and has relevance for both the public and private sector across any number of verticals. With the intelligent use of APIs, the solution can be integrated with any backend system.
For more information contact Ideco, 086 104 3326 (IDECO), www.ideco.co.za
Credit(s)
Further reading:
Paxton opens first experience centre in South Africa
Paxton News Access Control & Identity Management
The new Paxton Experience Centre in Johannesburg is now open and welcoming security installers and end users who want to see Paxton's products in action.
Read more...
---
Paratus signs re-seller agreement with Starlink for Africa
News IT infrastructure
Pan-African telco and network services provider Paratus Group announced it has entered an agreement as a distributor for Starlink's high-speed services across the African continent, available immediately in Mozambique, Kenya, Rwanda and Nigeria.
Read more...
---
4IR is opportunity
News
In South Africa, digitalisation remains 'at a nascent stage' which means significant work still has to be done when it comes to addressing skills development around 4IR in the country.
Read more...
---
Five ways to reduce your cyber insurance premiums
Security Services & Risk Management News
With the global costs of cybercrime expected to soar to $13 trillion within the next five years, cyber insurance is booming as organisations try to mitigate the risk of financial losses.
Read more...
---
Client satisfaction boosted by 85% at Thungela Mine
Thorburn Security Solutions News Security Services & Risk Management Mining (Industry)
Thorburn Security, a division of Tsebo Solutions Group, has announced its recent collaboration with Kwa-Zulu Natal security company, Ithuba Protection Services, as part of its Enterprise Supplier Development (ESD) initiatives across Africa.
Read more...
---
Fidelity SecureFire steps into critical fire response space
News Fire & Safety
With the majority of fire stations around the country being crippled by a lack of resources to offer effective responses, Fidelity Fire Solutions has launched its own 'first responder' model, Fidelity SecureFire.
Read more...
---
The state of edge security report
News IT infrastructure
Edge computing has grown from being a niche use case in a handful of industries to offering a major opportunity for enterprises across industries to spread computing power around the world.
Read more...
---
CHI selects NEC XON as trusted cybersecurity partner
News Cyber Security Industrial (Industry)
CHI Limited, Nigeria's leading market player in fruit juices and dairy products, has engaged in a strategic cybersecurity partnership with NEC XON, a pan-African ICT systems integrator.
Read more...
---
Collaboration delivers integrated and holistic security
Guardian Eye CCTV, Surveillance & Remote Monitoring News Integrated Solutions
Guardian Eye and Lytehouse have partnered to integrate their speciality solutions and provide a holistic security offering that overcomes the fragmentation of security systems and services.
Read more...
---
Kaspersky appoints new GM for Africa
News Cyber Security
Kaspersky has announced the appointment of Andrew Voges as the new General Manager for Africa to boost regional market positioning and enterprise protection.
Read more...
---