printer friendly version
MWR launches annual HackFu challenge
April 2016
News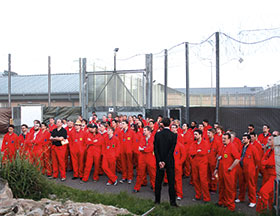 Cyber security consultancy, MWR InfoSecurity, has announced the fourth annual HackFu challenge. The challenge is an online hacking competition which aims to generate interest in the information security field, as well as recruit students to address the cyber security skills gap in South Africa in the run up to the main HackFu event in June.
For those new to HackFu, it's an event hosted by MWR that brings the world's best security pros and enthusiasts together to take part in challenges designed around hacking, scripting, tinkering, lock-picking, crypto, and generally thinking outside the box.
The South African HackFu challenge will give participants a chance to win places at the main event, as well as a host of other tech goodies, including a DIY 3D printer kit, Quadcopters, a smartphone-controlled paper airplane kit, Chromecast, as well as plenty of MWR swag, such as T-shirts and USB drives.
Competitors will download a set of challenges based on a custom-created storyline set in a post-apocalyptic world of the future. Applying problem solving skills and a healthy amount of technical prowess will lead the applicants to the answers. Those who show enough promise will be invited to participate in this year's HackFu, either on-site at the venue or remotely in a new feature being introduced for this year's event.
Although the challenge targets South African students in particular, anyone and everyone who is interested in the information security field is invited to enter. "There is a grave shortage of skills in the country and we hope to get more bright South Africans involved in the security industry," says Riaan Vanboom, director at MWR South Africa.
He says there are ten challenges in total, ranging from simple logic puzzles to complex, multi-part challenges. "Each solution will give participants a password which they can use to decrypt another part of the story."
To find out more about HackFu 2016, see footage of last year's event and download the challenges at hackfu.mwrinfosecurity.com
Further reading:
Improving data security for a hybrid society
News
Researchers from Tokyo University of Science develop a method that can perform computations with encrypted data faster and at a lower cost than conventional methods, while also improving security.
Read more...
---
Cybersecurity in 2023: The latest trends and developments
News
In 2023, experts predict that several trends will shape the cybersecurity landscape, including the growing use of artificial intelligence (AI), the increasing focus on the Internet of Things (IoT), and the rise of quantum computing.
Read more...
---
Enterprise threats in 2023
News Cyber Security
Large businesses and government structures should prepare for cybercriminals using media to blackmail organisations, reporting alleged data leaks, and purchasing initial access to previously compromised companies on the darknet.
Read more...
---
Trends in the proptech industry for 2023
News
By mixing real estate with technology to optimise industries, create new ones, and generate efficiencies or capabilities that improve revenue generation, something as fundamental as the concept of parking has been turned on its head.
Read more...
---
31 percent of all IoT SIMs managed with third-party IoT CMPs
News Integrated Solutions
Berg Insight recently released new findings about the market for IoT connectivity management platforms (CMPs), a standard component in the value proposition from mobile operators and IoT MVNOs around the world.
Read more...
---
Off-highway vehicle telematics systems
News
The installed base of off-highway vehicle telematics systems to reach 12.2 million units worldwide by 2026, says Berg Insight.
Read more...
---
Industrial control systems under attack
News Cyber Security
According to Kaspersky ICS CERT statistics, from January to September 2022, 38% of computers in the industrial control systems (ICS) environment in the META region were attacked using multiple means.
Read more...
---
The future of AIoT
Hikvision South Africa News CCTV, Surveillance & Remote Monitoring
Hikvision hosted its 2022 Shaping Intelligence Summit in Bali, Indonesia, on 29-30 November, where the company, its customers, and technology and solution partners, looked into the future of AIoT and explored paths to shared success.
Read more...
---
Top fraud trends to watch in 2023
News Security Services & Risk Management
Even though financial concerns remain a significant obstacle for companies in implementing new anti-fraud technologies, 60% of businesses expect an increase in their anti-fraud technology budgets in the next two years.
Read more...
---
Be cautious when receiving deliveries at home
News Perimeter Security, Alarms & Intruder Detection Security Services & Risk Management
Community reports of residents being held up at their gate when collecting fast food deliveries at home are once again surfacing.
Read more...
---