printer friendly version
Handling cash with confidence
March 2016 Products, Retail (Industry)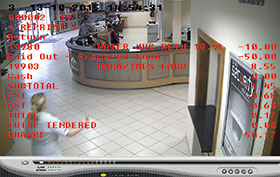 Many businesses are very concerned about handling security threats from the outside, while not focusing on an area where up to 7% of all annual revenue is lost in the US – employee theft. Point of Sales software has been the leading weapon in CCTV to battle this loss, but as with all technology it has had to keep pace with emerging technology.
In the past, merely overlaying POS data onto the video stream has been sufficient, but modern systems no longer overlay the text, but also make it available for text search as well as analysis. This helps in finding specific incidents; as well as enabling the client to pull statistics by stock, cashier or till number, greatly expanding functionality and thus value.
But it is also on the networking side that things are changing. Not only are IP cameras more prevalent than ever, large retail stores are starting to invest in IP-based POS technology, as this allows them to track stock directly via till sales. Spar and Pick-'n-Pay have already started phasing in their own IP based POS system, and Digi-IT has already been integrated and tested in the field with both. Not only is this a powerful tool for the end-user, the whole system is vastly simplified by only needing a port on the network for the POS to listen on. No serial connectors or converters are required, saving money on both installation time and equipment cost.
Credit(s)
Further reading:
Be aware of privacy and cybercrimes issues
Security Services & Risk Management Cyber Security Retail (Industry)
Artificial intelligence (AI) is being deployed to help shoppers make better choices, but retailers must be aware of their obligations under personal privacy and cybercrimes laws.
Read more...
---
Hikvision releases panoramic camera range with ColorVu
Hikvision South Africa CCTV, Surveillance & Remote Monitoring Products
Hikvision has released a new range of panoramic cameras that use integrated ColorVu technology to provide vivid and full-colour video imaging for a wide field of view in light conditions as low as 0,0005 lux.
Read more...
---
Water deluge fire suppression system
FS Systems Editor's Choice Fire & Safety Mining (Industry) Products
The FS Group custom-designed and installed an electronically actuated water deluge fire suppression system for an underground explosives magazine, ensuring both the safety of miners and operations, as well as regulatory compliance.
Read more...
---
MOTOTRBO R7 two-way radio
Products
MOTOTRBO's rugged construction is ready for harsh environments, and its advanced connectivity options get your workforce ready for tomorrow.
Read more...
---
New Hikvision cameras for SMB users
Hikvision South Africa Products
Hikvision has introduced its new range of security cameras – the PT-Series – designed for SMB users, with easy installation and flexible camera viewing angles, while applying other well-known Hikvision technologies for optimal imaging.
Read more...
---
Next generation boom gate
ZKTeco Products
The BG1000 series barrier gates adopt ZKTeco's interactive LED chassis design, programmable control panel, and a high-efficiency brushless DC motor.
Read more...
---
All-mobile people management solution with facial recognition
Editor's Choice Integrated Solutions Security Services & Risk Management Products
The new mobile Incident Desk People Management platform with facial recognition combines identification data on suppliers, staff, sub-contractors and even people on watch lists, for less than the cost of traditional service management tools.
Read more...
---
What to consider when choosing a power backup plan
Products Smart Home Automation
Electricity is set to double in price in the next five years, and load-shedding will be an ongoing occurrence for at least the next decade.
Read more...
---
Controlled access on BRT system bridge
Turnstar Systems Products
Turnstar's traffic barriers provide the City of Johannesburg with eight fully-retractable hydraulic bollards for the flagship Alexandra to Sandton bridge.
Read more...
---
Gallagher releases Command Centre v8.70
Gallagher News Integrated Solutions Products
Command Centre v8.70 introduces a range of features and enhancements to create operational efficiencies and improved site security, including a next-generation integration with HALO Smart Sensors.
Read more...
---