printer friendly version
Video surveillance in Memphis
March 2016
CCTV, Surveillance & Remote Monitoring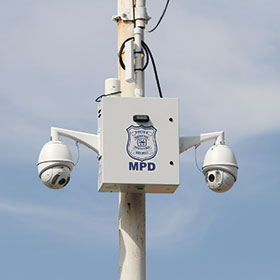 Hikvision has teamed up with the Memphis Police Department (MPD) to protect the residents of Memphis, Tennessee, in the USA. Using a variety of security solutions to prevent and reduce crime, since 2007 MPD has deployed hundreds of analogue and IP cameras and dozens of recorders from Hikvision to keep the city safe.
With incidents now being captured on high-quality video, MPD has noted an increase in criminal cases being taken to court. The city has also built a Real Time Crime Centre where they can view live video feeds and provide critical information to officers before they arrive at a crime scene.
Kenneth Shackleford, former technology manager at MPD who has subsequently retired from the force, developed a surveillance programme to monitor Memphis' critical infrastructure. "I started looking at ways that we could start installing cameras throughout the city," Shackleford said. He is now vice president of sales at SkyCop, a trusted local integrator that specialises in law enforcement, military, and private industry installations.
The SkyCop team and MPD decided on three configurations: cameras attached to utility poles, cameras attached to buildings and mobile trailers. To date, the police department has established a network of about 600 of Hikvision's analogue and IP bullet and dome PTZ cameras throughout the city. Building exteriors, for example, are often outfitted with the DS-2CD2032-I, a 3-MP outdoor bullet camera with a body type that allows for easy mounting. This camera also offers line crossing and intrusion detection features to make surveillance more effective. These features can send alerts to the police when someone enters or leaves a designated area.
Hikvision's DarkFighter PTZ camera is also in use. With smart features such as detection of region entrance/exit and detection of audio loss, the DarkFighter thrives in challenging low-light environments and features 120 dB wide dynamic range as well as a sharp 23x optical zoom lens with autofocus. These elements help to provide clear colour images day and night – making the DarkFighter ideal for 24-hour surveillance applications.
The footage from these cameras, which are placed at strategic points around Memphis, flows back to the MPD Real Time Crime Centre (RTCC). The RTCC is used to enhance security for city assets and infrastructure and has become a sophisticated way for the city to fight crime.
"We have a video wall with dozens of monitors and we can pull up any camera feed in the city," said Sergeant Joseph Patty, who has succeeded Shackleford as the video surveillance manager for MPD. "We have about 30 workstations out on the floor that can view the video wall or pull up any camera feed."
MPD has experienced noticeable benefits from their citywide surveillance programme. "We have four or five cases prosecuted each week thanks to these incidents being captured on video," Sergeant Patty said. "Plus, we're able to dispatch calls from the RTCC and view live video before the officer even arrives on the scene."
Jeffrey He, president of Hikvision USA and Hikvision Canada, commented on the increased prevalence of Hikvision products in the law enforcement and safe cities verticals. "As more municipalities use video surveillance to protect their citizens, they turn to Hikvision for highly scalable, easy to use products at the forefront of state-of-the-art video surveillance technology."
For more information contact Hikvision, +86 571 8735 6120, [email protected], www.hikvision.com
Credit(s)
Further reading:
Video surveillance and analytics statistics
CCTV, Surveillance & Remote Monitoring
The global video surveillance market grew faster than previously forecast in 2021 according to Omdia's latest Video Surveillance and Analytics Intelligence Database.
Read more...
---
Hikvision integration with Page Automation
Hikvision South Africa News
Hikvision has announced the integration of its MinMoe Face Recognition terminals and its Hik-ProConnect online device and service management platform with Page Automation's SmarTTime software.
Read more...
---
Sustainability, trust and predictability
Technews Publishing Bosch Building Technologies Conferences & Events CCTV, Surveillance & Remote Monitoring News Integrated Solutions
The future for Bosch Building Solutions is focused on predictive solutions based on sustainability and trust in an AIoT world of cloud services.
Read more...
---
Hikvision releases panoramic camera range with ColorVu
Hikvision South Africa CCTV, Surveillance & Remote Monitoring Products
Hikvision has released a new range of panoramic cameras that use integrated ColorVu technology to provide vivid and full-colour video imaging for a wide field of view in light conditions as low as 0,0005 lux.
Read more...
---
What WizMind panoramic surveillance offers
Dahua Technology South Africa CCTV, Surveillance & Remote Monitoring
The Dahua WizMind Panoramic Surveillance solution is designed for applications that require a 360°, 270° or 180° panoramic view for situational awareness, such as crowd maps and vehicle density.
Read more...
---
New Hikvision cameras for SMB users
Hikvision South Africa Products
Hikvision has introduced its new range of security cameras – the PT-Series – designed for SMB users, with easy installation and flexible camera viewing angles, while applying other well-known Hikvision technologies for optimal imaging.
Read more...
---
IDIS releases latest-generation 6 MP and 8 MP PTZ cameras
CCTV, Surveillance & Remote Monitoring
IDIS has launched four new 8 MP and 6 MP PTZ cameras that deliver excellent image quality and extend the company's trusted NDAA-compliant lineup.
Read more...
---
Eagle Eye introduces 'Smart Video Search'
Eagle Eye Networks CCTV, Surveillance & Remote Monitoring
Eagle Eye Networks has introduced Eagle Eye Smart Video Search, a new feature for all customers to make searching for video as fast and easy as searching the Web.
Read more...
---
Duxbury awarded Axis SA Distributor of the Year
Duxbury Networking News CCTV, Surveillance & Remote Monitoring
Axis Communications held its Annual Partner Awards on 1 July 2022 to celebrate and acknowledge the efforts of Axis' partners by awarding them for key projects and achievements throughout the year.
Read more...
---
AI in surveillance
Secutel Technologies CCTV, Surveillance & Remote Monitoring
Artificial Intelligence is the technological ability to work more efficiently and resolve problems. In the case of CCTV systems, this allows cameras with intelligence to identify certain objects and support ...
Read more...
---