printer friendly version
Factory outlet relies on Panomera
March 2016
CCTV, Surveillance & Remote Monitoring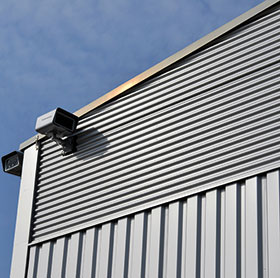 Anyone who has ever paid their respects to the Town Musicians of Bremen and then wanted to do a little shopping is in exactly the right place in Ochtum Park. Over 50 businesses occupying an area of 22 000 m² attract 2,5 million visitors every year. World-leading brands like Esprit, Nike, Puma, Tommy Hilfiger or Fossil, many restaurants and free parking all combine to make Ochtum Park a real shoppers' paradise.
In order to provide the most effective protection possible for the entrances and exits as well as the outdoor and car parking areas, the decision was taken to install video security equipment, which should also be discreet and unobtrusive, as recounted by Sebastian Kühne, the spokesman for the owners: "We wanted coverage of the outdoor areas to be as complete as possible, but without having to install huge numbers of cameras. After all, we want our visitors to feel comfortable here, not as if they are constantly being watched."
Ochtum Park found the solution in the Panomera multifocal sensor technology from Dallmeier. With its patented camera technology, which unlike single sensor cameras, works with multiple lenses, this system can monitor a huge expanse in the highest possible resolution from a single installation location. In addition, "The cameras have been painted the same RAL colour as the building façades, so they blend discreetly with the overall image," explains Dirk Lüders, sales manager with Dallmeier and joint manager of the Ochtum Park project.
The concept for video protection was prepared by Dallmeier in cooperation with the design and engineering consultancy IfaS (Institut für angewandte Sicherheitstechnik - Institute for applied security technology), and the cameras were then installed by the company Freihoff.
"One of the challenges we faced at Ochtum Park was that we were asked not to undertake any large-scale cable laying to transmit the images to the security office," explains Dallmeier's Christian Linthaler. "So we set up a wireless local loop to carry the streams."
Good visibility in low-light conditions
A major consideration for Ochtum Park was that the cameras should be extremely sensitive to light, so that they would still deliver detailed image material with high colour fidelity even at night with poor light conditions. For this reason, the Panomera Nightline series was chosen, because it is equipped with the latest generation of image sensors and encoders, which is highly sensitive to light and infrared radiation. The Nightline cameras are equipped with an ambient light sensor and a removable IR cut filter and can switch between day and night mode automatically. They are ideally suited to situations in which exceptional contrast, brilliant clarity and high colour fidelity even in poor light conditions, or exceptional infrared sensitivity for outstanding results in night mode are required. It can identify individuals from a distance of 160 m, and even read car licence plates at night.
The MFS systems are supplemented with IP cameras with integrated infrared illumination, which is assured with semi-discrete 850 nm high-performance LEDs.
Reliable recording
The camera images are recorded on multiple Dallmeier IPS 2400 appliances. The IPS 2400 is a video appliance with integrated storage system for reliable recording and storage of the video material. Smavia Recording Server recording software is already preinstalled. The IPS 2400 includes high-performance server hardware with a multi-core CPU. The integrated storage system (8 x 3,5-inch hard disks) offers ample storage capacity. A sophisticated hardware concept and synchronised components also enable rapid storage speed.
With the EasyChange functionality, hard disks can be replaced quickly and simply from the front of the device. The IPS 2400 has been certified by LGC Forensics, which means that image material obtained with this equipment is admissible as evidence in a court of law. The video streams are analysed centrally in the security office at Ochtum Park.
Further reading:
IDIS releases latest-generation 6 MP and 8 MP PTZ cameras
CCTV, Surveillance & Remote Monitoring
IDIS has launched four new 8 MP and 6 MP PTZ cameras that deliver excellent image quality and extend the company's trusted NDAA-compliant lineup.
Read more...
---
Eagle Eye introduces 'Smart Video Search'
Eagle Eye Networks CCTV, Surveillance & Remote Monitoring
Eagle Eye Networks has introduced Eagle Eye Smart Video Search, a new feature for all customers to make searching for video as fast and easy as searching the Web.
Read more...
---
Duxbury awarded Axis SA Distributor of the Year
Duxbury Networking News CCTV, Surveillance & Remote Monitoring
Axis Communications held its Annual Partner Awards on 1 July 2022 to celebrate and acknowledge the efforts of Axis' partners by awarding them for key projects and achievements throughout the year.
Read more...
---
AI in surveillance
Secutel Technologies CCTV, Surveillance & Remote Monitoring
Artificial Intelligence is the technological ability to work more efficiently and resolve problems. In the case of CCTV systems, this allows cameras with intelligence to identify certain objects and support ...
Read more...
---
Custom AI video analytics with AxxonSoft
LD Africa CCTV, Surveillance & Remote Monitoring
The AxxonSoft development team trains neural networks to tackle out-of-the-ordinary projects, including unusual viewing angles, difficult lighting, particular object types, thermal camera use and more.
Read more...
---
Passion, drive and hard work
Technews Publishing Editor's Choice CCTV, Surveillance & Remote Monitoring Security Services & Risk Management
Colleen Glaeser is a leader in the security market, having made her mark in the male-dominated security industry through determination and hard work, along with a vision of making the world a safer place.
Read more...
---
Cybersecure surveillance cameras
HiTek Security Distributors News CCTV, Surveillance & Remote Monitoring Cyber Security
Provision-ISR builds customer trust and opens up new opportunities with Check Point Quantum IoT Protect Firmware built into Provision-ISR cameras.
Read more...
---
Branches and roots
Cathexis Technologies CCTV, Surveillance & Remote Monitoring
Cathexis is a locally owned South African company where development engineers in the Durban office continue to innovate and improve the company's video surveillance management systems.
Read more...
---
Secutel expands into Africa and the UAE
Secutel Technologies CCTV, Surveillance & Remote Monitoring
Secutel Technologies expands into the African security technology market in a new partnership with RedWall Synergy and Total Secure Automation.
Read more...
---
Cathexis releases Carbon, a new user-friendly GUI
Cathexis Technologies News CCTV, Surveillance & Remote Monitoring
Cathexis has launched its latest user interface, Carbon 3.1, with an enhanced feature set, offering improved performance.
Read more...
---