printer friendly version
BlackBerry's PRIV with Android
March 2016 IT infrastructure, Products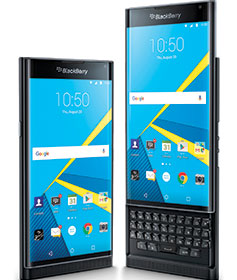 BlackBerry has launched PRIV, the first-ever BlackBerry smartphone powered by Android, in South Africa. Combining the best of BlackBerry's productivity, security and privacy features with the wide world of Google Play store apps, PRIV is the epitome of form and function. It has been engineered with the world's finest technology and packaged in an ultra-thin device – including a dual-curved screen, touch and physical keyboards, state-of-the-art 18 MP camera, and long-lasting battery – with unique tools that allow users to manage and control their privacy.
As part of BlackBerry's cross-platform strategy to provide a greater choice of secure solutions to its customers, users will see a seamless merging of key BlackBerry 10 productivity features like the BlackBerry Hub and BlackBerry Calendar into PRIV. Additional key features include:
• Full Android App and Ecosystem experience – PRIV brings new features to the Android platform and gives users full access to over one million applications: whether it's Instagram, Spotify, Uber or BBM, you'll find it on Google Play.
• Best of both keyboards – offers the freedom to choose between a virtual keyboard or a physical keyboard for speed and accuracy.
• Tough Screen – A 5.4-inch immersive dual-curve OLED display offers plenty of room to work or play with rich colours, deep black levels and less power consumption. At a resolution of 2560x1440, it sports an incredible pixel density of 540 PPI – 4x the amount of pixels of a standard HDTV. Along the screen's curved edge is the Productivity Tab that provides an "at a glance" view of the most pertinent info from BlackBerry Hub, Calendar, Task, and Contacts.
• Full-day battery life – PRIV has a 3410 mAh battery with enough power to work up to 22.5 straight hours of mixed usage.
• State-of-the-art camera – Engineered to deliver professional looking photos with minimal effort, an 18 MP camera, certified by Schneider-Kreuznach, integrates technologies commonly found in DSLR cameras.
• Powerful performance and expandable storage – PRIV is powered by the Qualcomm Snapdragon 808 processor, a premium-tier chipset designed to offer consumers a superior and compelling user experience along with peace of mind with Qualcomm SecureMSM technology and Qualcomm Snapdragon StudioAccess content protection. Plus, with 32 GB of onboard storage and support for micro SD cards up to 2 TB, the new PRIV gives users the flexibility to add affordable and hot-swappable storage to download, install, capture and share as their needs evolve.
• Android for Work – PRIV comes ready for work. Android for Work support allows for fast, simple and secure integration with the enterprise environment. Seamless integration with Google Play for Work enables easy access to IT-managed apps.
Security and privacy
PRIV was designed with security at its core, building on BlackBerry's legacy of security and keeping private its customers' data. Security highlights include:
• Advanced privacy controls: The exclusive DTEK by BlackBerry app for Android monitors and reports on application access to the microphone, camera, location and personal information, enabling users to be confident that their personal data is being kept private. Users can know at a glance when their privacy could be at risk so they can take action to improve it.
• Secure hardware: BlackBerry's hardware root of trust, a unique manufacturing process, injects cryptographic keys into the device hardware, providing a secure foundation for the entire platform.
• Verified Boot and Secure Bootchain: Keys have been embedded to verify every layer of the device from hardware to OS to applications in order to make sure they haven't been tampered with. Additionally, thousands of modifications were made to harden the Linux kernel with numerous patches and configuration changes to improve security.
• Fully supported on BlackBerry's EMM Solution: PRIV can be integrated with the EMM solution, BES 12, which offers cross-platform management of PRIV and other devices; providing a full end to end security solution and secure collaboration applications for business users like Secusuite for secure voice and WatchDox for secure file sharing.
While PRIV will provide a choice in operating system to new and existing customers, the company remains committed to the BlackBerry 10 operating system, and will continue to release platform updates focused on security and privacy enhancements.
For more information on PRIV, go to BlackBerry.com/PRIV
Further reading:
Enabling safety in communities
Security Services & Risk Management Products
Many Hytera devices are equipped with personal safety features, including emergency calling, Man Down and Lone Worker alerts, and GPS to enable users to be monitored and tracked.
Read more...
---
Solving coworking front-desk drama
Access Control & Identity Management Products
Flexible, shared and coworking offices have taken off with great success, but because occupational churn is high, the front-desk can be a difficult place to manage.
Read more...
---
Citrix App Protection helps secure remote workers
Cyber Security IT infrastructure
Many organisations are implementing a zero-trust security model with data protection as a top priority. This is largely due to the increase in remote work and unmanaged personal devices playing a growing role in the enterprise.
Read more...
---
Video technology can improve crowd management
CCTV, Surveillance & Remote Monitoring Entertainment and Hospitality (Industry) Products
Stadium operators can use video technology to implement effective crowd management in different areas, avoiding fines, reputational damage and injury or loss of life.
Read more...
---
Kaspersky invests in development of neuromorphic processors
News IT infrastructure
Neuromorphic processors' field of application is acceleration of the hardware used in the latest generation of artificial intelligence systems, which are based on spiking neural networks (SNN) training, which is more akin to biological interactions.
Read more...
---
Infinidat enhances channel support
News IT infrastructure
Infinidat drives go-to-market strategy with new global partner portal and expands channel sales with Storage-as-a-Service in ArrowSphere.
Read more...
---
2022 Cloud Security Report
Cyber Security IT infrastructure
The 2022 Cloud Security Report reveals how security executives and practitioners are using the cloud, how their organisations are responding to security threats in the cloud, and the challenges they are facing.
Read more...
---
Arcserve launches N Series appliances
IT infrastructure Cyber Security
Arcserve introduces N Series appliances offering enterprise-level integrated data protection, recovery and cybersecurity to allow customers to simplify their IT environments and secure data.
Read more...
---
Securing business information more important than ever
Cyber Security Products
SMBs need to operate safely within the physical and virtual boundaries created by work-from-home business practices, as well as in-office operations.
Read more...
---
LucidLink Filespaces 2.0 cloud NAS offering
Products IT infrastructure
Drive Control Corporation (DCC) has announced the availability of LucidLink's new cloud NAS product, Filespaces 2.0, which forms part of the distributor's StorVault value proposition to its channel partners.
Read more...
---