printer friendly version
BlackBerry's PRIV with Android
March 2016 IT infrastructure, Products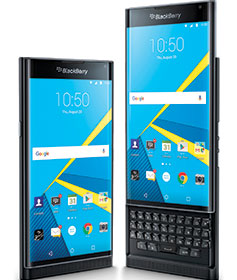 BlackBerry has launched PRIV, the first-ever BlackBerry smartphone powered by Android, in South Africa. Combining the best of BlackBerry's productivity, security and privacy features with the wide world of Google Play store apps, PRIV is the epitome of form and function. It has been engineered with the world's finest technology and packaged in an ultra-thin device – including a dual-curved screen, touch and physical keyboards, state-of-the-art 18 MP camera, and long-lasting battery – with unique tools that allow users to manage and control their privacy.
As part of BlackBerry's cross-platform strategy to provide a greater choice of secure solutions to its customers, users will see a seamless merging of key BlackBerry 10 productivity features like the BlackBerry Hub and BlackBerry Calendar into PRIV. Additional key features include:
• Full Android App and Ecosystem experience – PRIV brings new features to the Android platform and gives users full access to over one million applications: whether it's Instagram, Spotify, Uber or BBM, you'll find it on Google Play.
• Best of both keyboards – offers the freedom to choose between a virtual keyboard or a physical keyboard for speed and accuracy.
• Tough Screen – A 5.4-inch immersive dual-curve OLED display offers plenty of room to work or play with rich colours, deep black levels and less power consumption. At a resolution of 2560x1440, it sports an incredible pixel density of 540 PPI – 4x the amount of pixels of a standard HDTV. Along the screen's curved edge is the Productivity Tab that provides an "at a glance" view of the most pertinent info from BlackBerry Hub, Calendar, Task, and Contacts.
• Full-day battery life – PRIV has a 3410 mAh battery with enough power to work up to 22.5 straight hours of mixed usage.
• State-of-the-art camera – Engineered to deliver professional looking photos with minimal effort, an 18 MP camera, certified by Schneider-Kreuznach, integrates technologies commonly found in DSLR cameras.
• Powerful performance and expandable storage – PRIV is powered by the Qualcomm Snapdragon 808 processor, a premium-tier chipset designed to offer consumers a superior and compelling user experience along with peace of mind with Qualcomm SecureMSM technology and Qualcomm Snapdragon StudioAccess content protection. Plus, with 32 GB of onboard storage and support for micro SD cards up to 2 TB, the new PRIV gives users the flexibility to add affordable and hot-swappable storage to download, install, capture and share as their needs evolve.
• Android for Work – PRIV comes ready for work. Android for Work support allows for fast, simple and secure integration with the enterprise environment. Seamless integration with Google Play for Work enables easy access to IT-managed apps.
Security and privacy
PRIV was designed with security at its core, building on BlackBerry's legacy of security and keeping private its customers' data. Security highlights include:
• Advanced privacy controls: The exclusive DTEK by BlackBerry app for Android monitors and reports on application access to the microphone, camera, location and personal information, enabling users to be confident that their personal data is being kept private. Users can know at a glance when their privacy could be at risk so they can take action to improve it.
• Secure hardware: BlackBerry's hardware root of trust, a unique manufacturing process, injects cryptographic keys into the device hardware, providing a secure foundation for the entire platform.
• Verified Boot and Secure Bootchain: Keys have been embedded to verify every layer of the device from hardware to OS to applications in order to make sure they haven't been tampered with. Additionally, thousands of modifications were made to harden the Linux kernel with numerous patches and configuration changes to improve security.
• Fully supported on BlackBerry's EMM Solution: PRIV can be integrated with the EMM solution, BES 12, which offers cross-platform management of PRIV and other devices; providing a full end to end security solution and secure collaboration applications for business users like Secusuite for secure voice and WatchDox for secure file sharing.
While PRIV will provide a choice in operating system to new and existing customers, the company remains committed to the BlackBerry 10 operating system, and will continue to release platform updates focused on security and privacy enhancements.
For more information on PRIV, go to BlackBerry.com/PRIV
Further reading:
Storage-as-a-service, optimised with AIOps
IT infrastructure
Organisations today have realised the relevance of adopting a hybrid cloud strategy when faced with issues such as data sovereignty, privacy, compliance and more.
Read more...
---
The importance of device and connectivity management
Trinity IoT IT infrastructure
If access to device data through cellular connectivity is the lifeline of a company's business model, then device management is the key to sustaining this with connectivity management being the golden thread tying everything together.
Read more...
---
Becoming more cyber resilient
IT infrastructure
Organisations must consider the need for a highly secure and effective authorisation and authentication process, says Hayden Sadler, country manager for South Africa at Infinidat.
Read more...
---
Don't let endpoint security be an afterthought
IT infrastructure
Data management is critical not only for mitigating the risk of ransomware, but also for compliance with various data privacy and data protection regulations.
Read more...
---
Cyber resilience is more than security
Industrial (Industry) Cyber Security IT infrastructure
Kate Mollett, regional director at Commvault Africa advises companies to guard against cyberattacks in the shipping and logistics sector using an effective recovery strategy.
Read more...
---
All-mobile people management solution with facial recognition
Editor's Choice Integrated Solutions Security Services & Risk Management Products
The new mobile Incident Desk People Management platform with facial recognition combines identification data on suppliers, staff, sub-contractors and even people on watch lists, for less than the cost of traditional service management tools.
Read more...
---
Gallagher releases Command Centre v8.70
Gallagher News Integrated Solutions Products
Command Centre v8.70 introduces a range of features and enhancements to create operational efficiencies and improved site security, including a next-generation integration with HALO Smart Sensors.
Read more...
---
GJD launches the GEM external curtain detector
Perimeter Security, Alarms & Intruder Detection Products
The GEM is a wired outdoor PIR curtain detector with up to 12 m selectable detection range and a narrow invisible curtain beam, making it highly effective in protecting properties against crime.
Read more...
---
Four cameras in one
Duxbury Networking CCTV, Surveillance & Remote Monitoring Products
The new M5000 multidirectional 15 MP camera from Axis features three 5 MP sensors and one PTZ camera with 10x optical zoom and HDTV 1080p, delivers sweeping overviews and zoomed-in details.
Read more...
---
Surveillance for net zero container showroom
CCTV, Surveillance & Remote Monitoring Products
VIVOTEK tailored a surveillance solution specifically for a net zero showroom by addressing the most critical part of access control as well as corner-to-corner indoor and outdoor surveillance.
Read more...
---