printer friendly version
EntraPass version 6.05 released
March 2016 Access Control & Identity Management, News, Products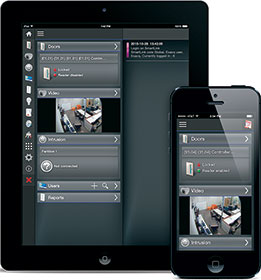 Tyco Security Products has announced the release of version 6.05 of Kantech's EntraPass security management system that features Microsoft Active Directory (AD) integration to simplify the management of EntraPass operator profiles, and enhancements to the mobile and Web interfaces for remote video viewing and playback.
EntraPass v6.05 uses the LDAP protocol to import and synchronise Active Directory users with EntraPass operators, thus eliminating the need for manual creation and synchronisation of operators in the EntraPass database. This upgrade also enables single sign on, where EntraPass operators are automatically authenticated and logged into EntraPass via their Windows credentials with one simple click. Compatible with Windows 10 Enterprise, EntraPass v6.05 also enables backups by the mirror database, freeing the primary server from this function and improving its performance.
"With each new version of EntraPass, this software platform and its related Web client and intuitive mobile app bring a heightened level of functionality to security managers so everyday tasks become easier to perform and critical situations can garner their fullest attention," said Rafael Schrijvers, EMEA product marketing manager, Access Control, Tyco Security Products.
New pan/tilt/zoom (PTZ) functionality in the improved web client of EntraPass v6.05 gives users the capability to perform joystick controls on the screen. Cameras with dome control features can be operated with a virtual joystick that provides pan, tilt and zoom in/zoom out features as well as a preset control option. Video playback functionality means users can view specific event-related video by accessing colour-coded blue video motion detection or red alarm detection boxes on each camera's playback timeline.
The similar PTZ capability that was added for the Web is also available as a tap-and-control feature with the latest version of the EntraPass Go mobile app. Other upgrades under EntraPass Go 2.1 include compatibility with Android 6.0; a new home page for Android that features icons for doors, users and reports along with the opportunity to perform quick actions such as locking and unlocking doors and arming and disarming partitions; and access to a door unlock schedule for Android and iOS users through the app interface. Both Android and iOS users are also able to perform video playback for predetermined and custom time limits as well as for specific events using the app's playback icon.
For more information contact Tyco Security Products, +27 (0)82 566 5274, [email protected], www.tycosecurityproducts.com
Credit(s)
Further reading:
Enabling safety in communities
Security Services & Risk Management Products
Many Hytera devices are equipped with personal safety features, including emergency calling, Man Down and Lone Worker alerts, and GPS to enable users to be monitored and tracked.
Read more...
---
Is the smoke beginning to clear for password security?
Access Control & Identity Management Security Services & Risk Management
The password problem is the result of bad habits, and they can be hard to break. But ask anyone that has done it and they will not tire of telling you the benefits.
Read more...
---
Solving coworking front-desk drama
Access Control & Identity Management Products
Flexible, shared and coworking offices have taken off with great success, but because occupational churn is high, the front-desk can be a difficult place to manage.
Read more...
---
Video technology can improve crowd management
CCTV, Surveillance & Remote Monitoring Entertainment and Hospitality (Industry) Products
Stadium operators can use video technology to implement effective crowd management in different areas, avoiding fines, reputational damage and injury or loss of life.
Read more...
---
Powder coating provides durable finish
Turnstar Systems Access Control & Identity Management Industrial (Industry)
Turnstar's powder coating line provides corrosion resistance, high-quality surface finishing and a long-term environment-friendly impact for all access control components the company manufactures.
Read more...
---
Securing business information more important than ever
Cyber Security Products
SMBs need to operate safely within the physical and virtual boundaries created by work-from-home business practices, as well as in-office operations.
Read more...
---
Smart home devices market growing across META
Smart Home Automation News
The Middle East, Turkey, and Africa (META) smart home devices market continues to register significant gains on the back of increasing awareness and improving end user experiences, according to the latest insights from International Data Corporation.
Read more...
---
How to react in an armed robbery or home invasion
Fidelity Services Group Security Services & Risk Management News
How you react when faced with a nervous, gun-toting criminal can save your life, or cost you your life; all family members need to know what to do in such circumstances.
Read more...
---
To be or not to be, is that the objective?
Iris AI Editor's Choice CCTV, Surveillance & Remote Monitoring News
Gerhard Furter joins a discussion on the nature of sentience in artificial intelligence. Do we actually know what sentience is, or are we overestimating our human capabilities?
Read more...
---
Turnkey data loss prevention solution
IT infrastructure Cyber Security Products
Acronis's expertise in data protection and the managed service provider market yields an innovative, fast-track approach for the prevention of catastrophic data leaks.
Read more...
---