printer friendly version
Reducing the threat of cargo crime
March 2016
Security Services & Risk Management
Cargo crime is a multi-billion dollar problem for manufacturers, logistics service providers and transport companies all over the world.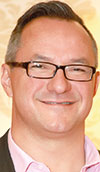 Andre Du Venage, chairman of the South African TAPA chapter.
In South Africa, the latest annual data from the South African Police Service shows an average of three truck hijackings a day. Such statistics are not conducive to a sustainable business environment. Losses from the supply chain result is substantial costs – up to five times greater than the value of the cargo itself, damaged reputations, higher insurance costs, and often irretrievable harm to customer-supplier relationships.
The Transported Asset Protection Association (TAPA) is helping industry to fight back by making supply chains more resilient through the adoption of its industry standards, crime intelligence, training and networking.
TAPA has launched a new global campaign to increase the number of companies with TAPA Facility Security Requirements (FSR) and Trucking Security Requirements (TSR) certification. These security standards have been designed by the industry for the industry.
To help companies improve security, TAPA has also implemented a new self-certification programme for the entry levels of its FSR and TSR standards. It is confident that the majority of professional transport companies and logistics service providers may already be at, or close to, this level of certification but have yet to consider the TAPA certification audit process.
In the Europe, Middle East and Africa region, TAPA provides its members with free-of-charge training for in-house auditors and once this is successfully completed, they are able to certify their own facilities and trucking operations to the respective entry levels FSR 'C' and TSR '3'.
To help both buyer members and non-members identify TAPA certified companies, the campaign also includes a new annual directory of TAPA EMEA certified companies and locations that will be distributed to all TAPA EMEA buyer members.
For more information contact Andre Du Venage, TAPA SA, +27 (0)11 391 6268, andre.duvenage@securelogistics.co.za
Credit(s)
Further reading:
Is AI the game-changer for streamlining anti-money laundering compliance?
Financial (Industry) Security Services & Risk Management
In the aftermath of South Africa's recent grey listing, companies are now confronted with the imperative to address eight identified strategic deficiencies, while simultaneously reducing their financial crime risk through anti-money laundering compliance processes.
Read more...
---
Five ways to reduce your cyber insurance premiums
Security Services & Risk Management News
With the global costs of cybercrime expected to soar to $13 trillion within the next five years, cyber insurance is booming as organisations try to mitigate the risk of financial losses.
Read more...
---
Client satisfaction boosted by 85% at Thungela Mine
Thorburn Security Solutions News Security Services & Risk Management Mining (Industry)
Thorburn Security, a division of Tsebo Solutions Group, has announced its recent collaboration with Kwa-Zulu Natal security company, Ithuba Protection Services, as part of its Enterprise Supplier Development (ESD) initiatives across Africa.
Read more...
---
Migrating to the cloud? Beware the many hurdles
IT infrastructure Security Services & Risk Management
While there are undoubtedly many benefits, there are also numerous hurdles to cloud adoption. Some of the biggest challenges revolve around managing cloud spend, understanding the cost components of cloud infrastructure, and how those costs can scale.
Read more...
---
Key strategies for businesses in the face of cyber threats
Cyber Security Security Services & Risk Management
Businesses face severe financial and reputational consequences due to data breaches and daily website hacks, and not all organisations are adequately prepared to combat these escalating threats.
Read more...
---
Planning for the worst is key to success
Technews Publishing Security Services & Risk Management
Planning for the worst is key to success when disaster strikes. Amidst frequent load shedding and often unpredictable stages of power outages, many businesses are concerned about the possibility of a total blackout.
Read more...
---
Protecting South African systems through XDR cybersecurity
Cyber Security Security Services & Risk Management
Carlo Bolzonello, Country Lead for Trellix South Africa, discusses how the country can protect its valuable digital assets through the artificial intelligence-enabled Extended Detection and Response (XDR) cybersecurity approach.
Read more...
---
[Sponsored] Protecting Against Ransomware Attacks: Lessons from Recent POPIA Fine
Cyber Security Security Services & Risk Management
According to Sophos' most recent ransomware report, an alarming 78% of the South African organisations that Sophos surveyed experienced ransomware attacks in the past year.
Read more...
---
Kaspersky launches Professional Services Packages for SMBs
News Cyber Security Security Services & Risk Management
Kaspersky has announced the launch of a range of Professional Services Packages for SMBs, offering tailored support products that help customers get the most out of their cybersecurity resources.
Read more...
---
AI-driven drones unleash new opportunities and risks
IT infrastructure Security Services & Risk Management
As AI-driven technologies continue to evolve, the incorporation of AI in drone capabilities has become a significant point of interest for many drone operators.
Read more...
---