printer friendly version
Reducing the threat of cargo crime
March 2016
Security Services & Risk Management
Cargo crime is a multi-billion dollar problem for manufacturers, logistics service providers and transport companies all over the world.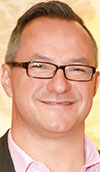 Andre Du Venage, chairman of the South African TAPA chapter.
In South Africa, the latest annual data from the South African Police Service shows an average of three truck hijackings a day. Such statistics are not conducive to a sustainable business environment. Losses from the supply chain result is substantial costs – up to five times greater than the value of the cargo itself, damaged reputations, higher insurance costs, and often irretrievable harm to customer-supplier relationships.
The Transported Asset Protection Association (TAPA) is helping industry to fight back by making supply chains more resilient through the adoption of its industry standards, crime intelligence, training and networking.
TAPA has launched a new global campaign to increase the number of companies with TAPA Facility Security Requirements (FSR) and Trucking Security Requirements (TSR) certification. These security standards have been designed by the industry for the industry.
To help companies improve security, TAPA has also implemented a new self-certification programme for the entry levels of its FSR and TSR standards. It is confident that the majority of professional transport companies and logistics service providers may already be at, or close to, this level of certification but have yet to consider the TAPA certification audit process.
In the Europe, Middle East and Africa region, TAPA provides its members with free-of-charge training for in-house auditors and once this is successfully completed, they are able to certify their own facilities and trucking operations to the respective entry levels FSR 'C' and TSR '3'.
To help both buyer members and non-members identify TAPA certified companies, the campaign also includes a new annual directory of TAPA EMEA certified companies and locations that will be distributed to all TAPA EMEA buyer members.
For more information contact Andre Du Venage, TAPA SA, +27 (0)11 391 6268, [email protected]
Credit(s)
Further reading:
Be aware of privacy and cybercrimes issues
Security Services & Risk Management Cyber Security Retail (Industry)
Artificial intelligence (AI) is being deployed to help shoppers make better choices, but retailers must be aware of their obligations under personal privacy and cybercrimes laws.
Read more...
---
Millions in energy savings
Security Services & Risk Management
Massmart partners with Green Wave and Schneider Electric for a BMS system that optimises operations while already saving millions of rand in energy usage.
Read more...
---
From Hill Street Blues, to Hillbrow, to managing risk for BMW
Technews Publishing Editor's Choice News Security Services & Risk Management
Jane-Eleanor Morrison's success story starts from growing up in the stressful pre-democracy times in KZN, moves through a successful career in SAPS. to BMW South Africa where she is now the risk control manager.
Read more...
---
Hard times, increased crime
Technews Publishing Security Services & Risk Management Integrated Solutions IT infrastructure
Hi-Tech Security Solutions spoke to Mezuzah Security Services to find out what is happening in the real world, and how security companies are dealing with the added pressure inherent to the South African market.
Read more...
---
The cost of safety
iFacts Technews Publishing Security Services & Risk Management
In June 2022, the South African police statistics showed that crime had increased significantly. According to the SAPS, 6083 people were murdered over the quarter (up 22%), the equivalent of 68 people a day.
Read more...
---
A guide to employing a new guarding company
Security Services & Risk Management
Outsourcing guarding has become necessary for businesses to mitigate crime, loss and compliance risks, provided you have done your due diligence.
Read more...
---
Why LiFePO4 batteries are the future
Regal Distributors SA Security Services & Risk Management
Because the LiFePO4 battery is denser than the sealed lead acid battery, it's able to store and discharge more energy, giving you more power, for more appliances, for longer.
Read more...
---
Business continuity during outages
Security Services & Risk Management
rotecting technical equipment from unplanned outages is important if a company is to maintain business continuity and safeguard critical equipment.
Read more...
---
Obscure Technologies adds OneTrust to portfolio
Security Services & Risk Management
Cybersecurity specialist Obscure Technologies has announced the formation of a strategic alliance with OneTrust, a provider of Trust Intelligence.
Read more...
---
Three ways to prevent non-delivery
Security Services & Risk Management
By using an escrow platform, you can pay for the item, but the funds are held in a trust account until you receive the item and are happy it's what you ordered.
Read more...
---