printer friendly version
Six steps to securing logistics
March 2016
Security Services & Risk Management
Hi-Tech Security Solutions asked Piet Du Preez, national risk manager at UTi Pharma, for his insights into security in the logistics world. Du Preez broke down the task into six sections he believes are critical to securing your logistics operation.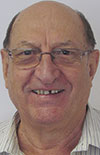 Piet Du Preez, national risk manager at UTi Pharma.
1. Warehousing: Secure warehousing of inventory is very high on the list. The security around this aspect carries a high priority to ensure the safekeeping of the stock and avoid pilfering or shrinkage. There needs to be global security standards in place to accomplish this.
For example, warehouse doors during the receiving or distribution of freight are to remain closed and secured at all times and only opened when moving freight in or out of the warehouse, which must only take place under tight security measures.
2. Receiving: When receiving freight into the warehouse, it is important to ensure the correct stock is being received and correctly added to the stock list.
3. Distribution: When distributing freight, it is also undertaken under strict security and once the freight is loaded, the vehicle is sealed and double-checked before leaving the site. Randomly the vehicles are selected for an additional check to ensure no pilfered stock leaves the site.
4. Tracking: An important function of safeguarding vehicles is to know their whereabouts at all times. This is the major countermeasure against hijacking. There are several methods to track vehicles during road transportation and each courier company has a tracking system installed that meets their requirements best.
Ideally, tracking must be done live and in real time. Tracking companies provide connectivity for individual transporters to interface with their systems and allow them to track their own vehicles. In the process of a hijacking, there are a number of signals that will trigger an alarm to alert the control centre that a hijacking is in progress.
In this day and age, with sophisticated electronic equipment, the perpetrators make use of sophisticated jamming devices to jam any signals being sent to the control centre to alert them.
5. Escorting: At times it may be necessary to have armed escorts with the vehicles when carrying high-value items. This is another important process in the anti-hijacking procedure. The procedures are standardised with anomalies addressed by exceptions. At times, clients request escorts to safeguard their freight during transportation. All escorts are armed and have their individual tracking procedures.
6. Processes: One deciding factor in the secure logistics area is to constantly revise processes, routes and packaging to avoid potential criminal syndicates being able to analyse our work processes.
For more information contact Piet Du Preez, UTi Pharma, +27 (0)10 248 0112, [email protected]
Further reading:
Be aware of privacy and cybercrimes issues
Security Services & Risk Management Cyber Security Retail (Industry)
Artificial intelligence (AI) is being deployed to help shoppers make better choices, but retailers must be aware of their obligations under personal privacy and cybercrimes laws.
Read more...
---
Millions in energy savings
Security Services & Risk Management
Massmart partners with Green Wave and Schneider Electric for a BMS system that optimises operations while already saving millions of rand in energy usage.
Read more...
---
From Hill Street Blues, to Hillbrow, to managing risk for BMW
Technews Publishing Editor's Choice News Security Services & Risk Management
Jane-Eleanor Morrison's success story starts from growing up in the stressful pre-democracy times in KZN, moves through a successful career in SAPS. to BMW South Africa where she is now the risk control manager.
Read more...
---
Hard times, increased crime
Technews Publishing Security Services & Risk Management Integrated Solutions IT infrastructure
Hi-Tech Security Solutions spoke to Mezuzah Security Services to find out what is happening in the real world, and how security companies are dealing with the added pressure inherent to the South African market.
Read more...
---
The cost of safety
iFacts Technews Publishing Security Services & Risk Management
In June 2022, the South African police statistics showed that crime had increased significantly. According to the SAPS, 6083 people were murdered over the quarter (up 22%), the equivalent of 68 people a day.
Read more...
---
A guide to employing a new guarding company
Security Services & Risk Management
Outsourcing guarding has become necessary for businesses to mitigate crime, loss and compliance risks, provided you have done your due diligence.
Read more...
---
Why LiFePO4 batteries are the future
Regal Distributors SA Security Services & Risk Management
Because the LiFePO4 battery is denser than the sealed lead acid battery, it's able to store and discharge more energy, giving you more power, for more appliances, for longer.
Read more...
---
Business continuity during outages
Security Services & Risk Management
rotecting technical equipment from unplanned outages is important if a company is to maintain business continuity and safeguard critical equipment.
Read more...
---
Obscure Technologies adds OneTrust to portfolio
Security Services & Risk Management
Cybersecurity specialist Obscure Technologies has announced the formation of a strategic alliance with OneTrust, a provider of Trust Intelligence.
Read more...
---
Three ways to prevent non-delivery
Security Services & Risk Management
By using an escrow platform, you can pay for the item, but the funds are held in a trust account until you receive the item and are happy it's what you ordered.
Read more...
---