printer friendly version
Six steps to securing logistics
March 2016
Security Services & Risk Management
Hi-Tech Security Solutions asked Piet Du Preez, national risk manager at UTi Pharma, for his insights into security in the logistics world. Du Preez broke down the task into six sections he believes are critical to securing your logistics operation.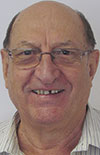 Piet Du Preez, national risk manager at UTi Pharma.
1. Warehousing: Secure warehousing of inventory is very high on the list. The security around this aspect carries a high priority to ensure the safekeeping of the stock and avoid pilfering or shrinkage. There needs to be global security standards in place to accomplish this.
For example, warehouse doors during the receiving or distribution of freight are to remain closed and secured at all times and only opened when moving freight in or out of the warehouse, which must only take place under tight security measures.
2. Receiving: When receiving freight into the warehouse, it is important to ensure the correct stock is being received and correctly added to the stock list.
3. Distribution: When distributing freight, it is also undertaken under strict security and once the freight is loaded, the vehicle is sealed and double-checked before leaving the site. Randomly the vehicles are selected for an additional check to ensure no pilfered stock leaves the site.
4. Tracking: An important function of safeguarding vehicles is to know their whereabouts at all times. This is the major countermeasure against hijacking. There are several methods to track vehicles during road transportation and each courier company has a tracking system installed that meets their requirements best.
Ideally, tracking must be done live and in real time. Tracking companies provide connectivity for individual transporters to interface with their systems and allow them to track their own vehicles. In the process of a hijacking, there are a number of signals that will trigger an alarm to alert the control centre that a hijacking is in progress.
In this day and age, with sophisticated electronic equipment, the perpetrators make use of sophisticated jamming devices to jam any signals being sent to the control centre to alert them.
5. Escorting: At times it may be necessary to have armed escorts with the vehicles when carrying high-value items. This is another important process in the anti-hijacking procedure. The procedures are standardised with anomalies addressed by exceptions. At times, clients request escorts to safeguard their freight during transportation. All escorts are armed and have their individual tracking procedures.
6. Processes: One deciding factor in the secure logistics area is to constantly revise processes, routes and packaging to avoid potential criminal syndicates being able to analyse our work processes.
For more information contact Piet Du Preez, UTi Pharma, +27 (0)10 248 0112, [email protected]
Further reading:
The components of and need for cyber resilience
Cyber Security Security Services & Risk Management
Organisations need to implement a comprehensive cyber resilience solution with data protection, backup, disaster recovery and business continuity to protect against ever-more complex and rising cyberthreats.
Read more...
---
Enabling safety in communities
Security Services & Risk Management Products
Many Hytera devices are equipped with personal safety features, including emergency calling, Man Down and Lone Worker alerts, and GPS to enable users to be monitored and tracked.
Read more...
---
Is the smoke beginning to clear for password security?
Access Control & Identity Management Security Services & Risk Management
The password problem is the result of bad habits, and they can be hard to break. But ask anyone that has done it and they will not tire of telling you the benefits.
Read more...
---
IoT provides assurance in ESG initiatives
Security Services & Risk Management
Environmental, social and governance (ESG) metrics can be used effectively to measure and define the impact an organisation has, the trust it engenders, and the value it takes beyond the shareholder and into the ecosystem.
Read more...
---
The benefits of investing in whole-house surge protection
Smart Home Automation Security Services & Risk Management Residential Estate (Industry)
When you consider that the potential for equipment damage can run well into the hundreds of thousands of rands, whole-house surge protection is a worthwhile expense.
Read more...
---
Are you your insider threat?
Technews Publishing Editor's Choice Security Services & Risk Management Commercial (Industry)
Insider threats are a critical aspect of risk management today, but what happens when it is the owner of the company acting fraudulently and making sure none of his staff can catch him?
Read more...
---
Minimise the cost and impact of protest activity
Thorburn Security Solutions Security Services & Risk Management Industrial (Industry)
Strikes and protest actions are common in South Africa and businesses need to prepare for the worst while working for the best outcome that benefits all parties.
Read more...
---
How to make data governance practical
Security Services & Risk Management Commercial (Industry)
For many businesses, data governance is not well received because governance programmes are often driven by supporting functions like compliance or IT, with a focus on the needs of these functions.
Read more...
---
Passion, drive and hard work
Technews Publishing Editor's Choice CCTV, Surveillance & Remote Monitoring Security Services & Risk Management
Colleen Glaeser is a leader in the security market, having made her mark in the male-dominated security industry through determination and hard work, along with a vision of making the world a safer place.
Read more...
---
How to react in an armed robbery or home invasion
Fidelity Services Group Security Services & Risk Management News
How you react when faced with a nervous, gun-toting criminal can save your life, or cost you your life; all family members need to know what to do in such circumstances.
Read more...
---