printer friendly version
Africa's cash driven society
March 2016 Security Services & Risk Management, Asset Management, EAS, RFID
Retailers cannot escape the challenges of handling cash. It puts the business and its people at risk. To improve security and efficiency, lower incidences of fraud and reduce shrinkage, retailers are searching for a 360-degree solution that collects, safeguards and processes cash. It's a big ask as the solution provider must have multiple physical, technological and security competencies, as well as strong multi-sector alliances.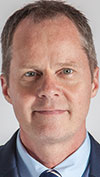 Mel Brooks, Africa regional president: G4S Africa.
The security needed in a retail store to manage cash includes CCTV, access control, physical in-store security, policies and procedures for cashing up, cash in transit security, and insurance. And there are a number of in-store challenges. Cash needs to be managed well: it needs to be collected, counted, policed, transported offsite and insured.
Working with cash is time consuming and risky. Besides the losses that come with shrinkage, 95% of armed attacks target cash. Retailers would rather focus on their core business. They want cash secured and removed, and deposited into the bank as fast as possible. For every day that cash is not deposited, interest is lost.
What is needed is a retail cash security solution that improves operational efficiencies and, importantly, profitability. However, there isn't a single product or solution that can solve this challenge; a combination of products, processes and solutions is needed – for that retailers must find a security solution provider with broad capabilities, the right technology, strong sector relationships, and the ability (and best practices) to develop processes to support the cash management function.
Adding experience and best practices
G4S has added innovation to best practices to develop a 360-degree or end-to-end retail cash solution that addresses the challenges faced by retailers. Used by more than 3 500 retailers worldwide, it incorporates an onsite physical automatic banking machine (ABM), the G4S Deposita, that counts and instantly registers each cash note deposited, reconciling all transactions to an identifiable source.
Agreements with leading banking institutions enable G4S to offer same-day, electronic settlement of the deposited funds into the retailer's bank account. A Terminal Management System produces accurate, real-time management information and reports that can be accessed online, at any time and can be imported to the customer's own financial system. Full risk cover is provided from the moment the cash is deposited into the ABM.
The benefits:
• Secure storage: the safest manner in which to secure cash on your premises.
• One-stop-shop: the entire cash handling process is taken care of by one supplier, ensuring accountability.
• Optimal performance: the ABM saves time and money as it eliminates the need for lengthy manual cash-up processes, improves operational efficiency and reduces operational costs.
• Reduction of counterfeiting: the ABM counts and validates the notes automatically at the point of tender, thus reducing the risk of accepting counterfeit currency.
• Accurate financial reporting: all our ABMs are connected to a network that stores transactional information enabling a full audit trail. Retailers can view the details of all deposits made at any of their outlets nationwide, per cashier and per shift so that any deviances can be identified instantly.
• Decrease of theft: the implementation of a G4S Deposita ABM results in a remarkable reduction in employee theft, pilfering and skimming, because the cash deposits are immediately and automatically registered, per cashier and per shift.
• Lowering of risk: the effective processing and quick turnaround of cash that is circulated rapidly, reduces the risks associated with large sums of cash on site.
G4S' ABM is backed by a full service security solution to support retail cash management that ranges from onsite staff training to physical security services for physically managing the cash, i.e., cash in transit and other services.
For retailers, the right cash management solution can deliver significant business value. Find a proven solution that is backed by a security company with capabilities that reach across the realms of physical and cyber security, that understands the challenges faced by the retail sector and that has a solid reputation.
For more information contact G4S Cash Solutions (SA), +27 (0)11 709 8003, [email protected]
Further reading:
Be aware of privacy and cybercrimes issues
Security Services & Risk Management Cyber Security Retail (Industry)
Artificial intelligence (AI) is being deployed to help shoppers make better choices, but retailers must be aware of their obligations under personal privacy and cybercrimes laws.
Read more...
---
Millions in energy savings
Security Services & Risk Management
Massmart partners with Green Wave and Schneider Electric for a BMS system that optimises operations while already saving millions of rand in energy usage.
Read more...
---
From Hill Street Blues, to Hillbrow, to managing risk for BMW
Technews Publishing Editor's Choice News Security Services & Risk Management
Jane-Eleanor Morrison's success story starts from growing up in the stressful pre-democracy times in KZN, moves through a successful career in SAPS. to BMW South Africa where she is now the risk control manager.
Read more...
---
Hard times, increased crime
Technews Publishing Security Services & Risk Management Integrated Solutions IT infrastructure
Hi-Tech Security Solutions spoke to Mezuzah Security Services to find out what is happening in the real world, and how security companies are dealing with the added pressure inherent to the South African market.
Read more...
---
The cost of safety
iFacts Technews Publishing Security Services & Risk Management
In June 2022, the South African police statistics showed that crime had increased significantly. According to the SAPS, 6083 people were murdered over the quarter (up 22%), the equivalent of 68 people a day.
Read more...
---
A guide to employing a new guarding company
Security Services & Risk Management
Outsourcing guarding has become necessary for businesses to mitigate crime, loss and compliance risks, provided you have done your due diligence.
Read more...
---
Why LiFePO4 batteries are the future
Regal Distributors SA Security Services & Risk Management
Because the LiFePO4 battery is denser than the sealed lead acid battery, it's able to store and discharge more energy, giving you more power, for more appliances, for longer.
Read more...
---
Business continuity during outages
Security Services & Risk Management
rotecting technical equipment from unplanned outages is important if a company is to maintain business continuity and safeguard critical equipment.
Read more...
---
Obscure Technologies adds OneTrust to portfolio
Security Services & Risk Management
Cybersecurity specialist Obscure Technologies has announced the formation of a strategic alliance with OneTrust, a provider of Trust Intelligence.
Read more...
---
Three ways to prevent non-delivery
Security Services & Risk Management
By using an escrow platform, you can pay for the item, but the funds are held in a trust account until you receive the item and are happy it's what you ordered.
Read more...
---