printer friendly version
Africa's cash driven society
March 2016 Security Services & Risk Management, Asset Management, EAS, RFID
Retailers cannot escape the challenges of handling cash. It puts the business and its people at risk. To improve security and efficiency, lower incidences of fraud and reduce shrinkage, retailers are searching for a 360-degree solution that collects, safeguards and processes cash. It's a big ask as the solution provider must have multiple physical, technological and security competencies, as well as strong multi-sector alliances.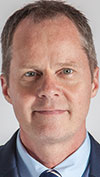 Mel Brooks, Africa regional president: G4S Africa.
The security needed in a retail store to manage cash includes CCTV, access control, physical in-store security, policies and procedures for cashing up, cash in transit security, and insurance. And there are a number of in-store challenges. Cash needs to be managed well: it needs to be collected, counted, policed, transported offsite and insured.
Working with cash is time consuming and risky. Besides the losses that come with shrinkage, 95% of armed attacks target cash. Retailers would rather focus on their core business. They want cash secured and removed, and deposited into the bank as fast as possible. For every day that cash is not deposited, interest is lost.
What is needed is a retail cash security solution that improves operational efficiencies and, importantly, profitability. However, there isn't a single product or solution that can solve this challenge; a combination of products, processes and solutions is needed – for that retailers must find a security solution provider with broad capabilities, the right technology, strong sector relationships, and the ability (and best practices) to develop processes to support the cash management function.
Adding experience and best practices
G4S has added innovation to best practices to develop a 360-degree or end-to-end retail cash solution that addresses the challenges faced by retailers. Used by more than 3 500 retailers worldwide, it incorporates an onsite physical automatic banking machine (ABM), the G4S Deposita, that counts and instantly registers each cash note deposited, reconciling all transactions to an identifiable source.
Agreements with leading banking institutions enable G4S to offer same-day, electronic settlement of the deposited funds into the retailer's bank account. A Terminal Management System produces accurate, real-time management information and reports that can be accessed online, at any time and can be imported to the customer's own financial system. Full risk cover is provided from the moment the cash is deposited into the ABM.
The benefits:
• Secure storage: the safest manner in which to secure cash on your premises.
• One-stop-shop: the entire cash handling process is taken care of by one supplier, ensuring accountability.
• Optimal performance: the ABM saves time and money as it eliminates the need for lengthy manual cash-up processes, improves operational efficiency and reduces operational costs.
• Reduction of counterfeiting: the ABM counts and validates the notes automatically at the point of tender, thus reducing the risk of accepting counterfeit currency.
• Accurate financial reporting: all our ABMs are connected to a network that stores transactional information enabling a full audit trail. Retailers can view the details of all deposits made at any of their outlets nationwide, per cashier and per shift so that any deviances can be identified instantly.
• Decrease of theft: the implementation of a G4S Deposita ABM results in a remarkable reduction in employee theft, pilfering and skimming, because the cash deposits are immediately and automatically registered, per cashier and per shift.
• Lowering of risk: the effective processing and quick turnaround of cash that is circulated rapidly, reduces the risks associated with large sums of cash on site.
G4S' ABM is backed by a full service security solution to support retail cash management that ranges from onsite staff training to physical security services for physically managing the cash, i.e., cash in transit and other services.
For retailers, the right cash management solution can deliver significant business value. Find a proven solution that is backed by a security company with capabilities that reach across the realms of physical and cyber security, that understands the challenges faced by the retail sector and that has a solid reputation.
For more information contact G4S Cash Solutions (SA), +27 (0)11 709 8003, [email protected]
Further reading:
The components of and need for cyber resilience
Cyber Security Security Services & Risk Management
Organisations need to implement a comprehensive cyber resilience solution with data protection, backup, disaster recovery and business continuity to protect against ever-more complex and rising cyberthreats.
Read more...
---
Enabling safety in communities
Security Services & Risk Management Products
Many Hytera devices are equipped with personal safety features, including emergency calling, Man Down and Lone Worker alerts, and GPS to enable users to be monitored and tracked.
Read more...
---
Is the smoke beginning to clear for password security?
Access Control & Identity Management Security Services & Risk Management
The password problem is the result of bad habits, and they can be hard to break. But ask anyone that has done it and they will not tire of telling you the benefits.
Read more...
---
IoT provides assurance in ESG initiatives
Security Services & Risk Management
Environmental, social and governance (ESG) metrics can be used effectively to measure and define the impact an organisation has, the trust it engenders, and the value it takes beyond the shareholder and into the ecosystem.
Read more...
---
The benefits of investing in whole-house surge protection
Smart Home Automation Security Services & Risk Management Residential Estate (Industry)
When you consider that the potential for equipment damage can run well into the hundreds of thousands of rands, whole-house surge protection is a worthwhile expense.
Read more...
---
Are you your insider threat?
Technews Publishing Editor's Choice Security Services & Risk Management Commercial (Industry)
Insider threats are a critical aspect of risk management today, but what happens when it is the owner of the company acting fraudulently and making sure none of his staff can catch him?
Read more...
---
Minimise the cost and impact of protest activity
Thorburn Security Solutions Security Services & Risk Management Industrial (Industry)
Strikes and protest actions are common in South Africa and businesses need to prepare for the worst while working for the best outcome that benefits all parties.
Read more...
---
How to make data governance practical
Security Services & Risk Management Commercial (Industry)
For many businesses, data governance is not well received because governance programmes are often driven by supporting functions like compliance or IT, with a focus on the needs of these functions.
Read more...
---
Passion, drive and hard work
Technews Publishing Editor's Choice CCTV, Surveillance & Remote Monitoring Security Services & Risk Management
Colleen Glaeser is a leader in the security market, having made her mark in the male-dominated security industry through determination and hard work, along with a vision of making the world a safer place.
Read more...
---
How to react in an armed robbery or home invasion
Fidelity Services Group Security Services & Risk Management News
How you react when faced with a nervous, gun-toting criminal can save your life, or cost you your life; all family members need to know what to do in such circumstances.
Read more...
---