printer friendly version
Four questions for Pareto
March 2016
Retail (Industry)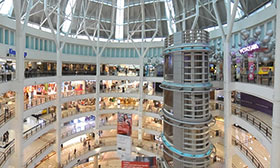 Pareto is a South African shopping centre investor and one of the country's leading retail property industry players. Due to the company's interest in the retail space, Hi-Tech Security Solutions asked Gerhard van den Bergh, national operations and facilities manager at Pareto, four questions related to the security issues he sees on a daily basis.
Hi-Tech Security Solutions: What are the primary security issues retailers and shopping centres face today?
Van Den Bergh: There are many, but we're mainly seeing mall robberies, vehicle theft and theft from shops in the malls on a daily basis.
Hi-Tech Security Solutions: Does the industry work together to try to collectively overcome or find solutions?
Van Den Bergh: The industry works together by meeting regularly with key players in the market to fight crime. I believe there is an effort from the police, but I am not sure whether the police have sufficient manpower to cater for the retailers' needs.
Hi-Tech Security Solutions: Do retailers in general pay enough attention to security, or is it an afterthought? Are risk assessments done properly or is it a job that is simply handed over to the security service provider?
Van Den Bergh: In my opinion retailers do a lot to combat crime, but are dependent on the response and reaction from the police services or their appointed security companies. I am not aware of risk assessment and can therefore not comment on it. In our case, the operations manager in the mall is responsible to ensure that the security jobs are done properly.
Hi-Tech Security Solutions: What assistance would you like to see from security vendors?
Van Den Bergh: Security officers must be properly trained and graded. Security officers must take their job seriously and must be appointed in a position because they want to be there. We should no longer accept it when security companies recruit staff from the street just to fill required vacant positions.
Further reading:
Heat mapping for retail optimisation
LD Africa CCTV, Surveillance & Remote Monitoring Retail (Industry)
With built-in statistical behaviour analysis, the objective of Milesight Heat Map is to introduce advanced technology that empowers beyond security.
Read more...
---
Four benefits of automated cash management
Retail (Industry)
Automated cash-handling solutions enable retailers to access sophisticated fintech solutions that empower them to grow their businesses, while simultaneously accommodating the payment choices of all their customers.
Read more...
---
AI Box for retail
Retail (Industry) CCTV, Surveillance & Remote Monitoring Products
IDIS AI Box for retail delivers advanced video intelligence, even for smaller stores. The simple add-on gives retailers powerful business insights without the price tag.
Read more...
---
What just happened?
Editor's Choice Security Services & Risk Management Retail (Industry)
Adriaan Bosch, head of Loss Prevention, Corporate Security at PEP Stores, talks about how intelligence, preparation and ensuring the flow of accurate information helped PEP Stores recover quickly from attacks on 283 stores.
Read more...
---
Ensuring accurate data capture
Retail (Industry)
Argility Technology Group solves the problem of queue busting and gathering clean data with UCapture, making customer onboarding, market surveys and other data capturing simple.
Read more...
---
The supply chain of the future
Integrated Solutions Security Services & Risk Management Retail (Industry)
For retailers to maximise their bottom line, the supply chain needs to be fast, efficient and responsive, which requires the use of intelligent, integrated technology.
Read more...
---
Innovative security for retail chain
Elvey Security Technologies Retail (Industry)
Local installer Locksecure, known for its out-of-the box approach to designing and installing bespoke security systems, and Elvey developed custom security solutions for a South African retail chain that was implemented at all the retailer's stores throughout South Africa.
Read more...
---
Insight: Fire safety in malls
XtraVision Retail (Industry)
Hi-Tech Security Solutions asked Nick Grange, MD of XtraVision, for some insights into fire safety in malls.
Read more...
---
Creating a safe retail environment
Duxbury Networking Retail (Industry)
Stores generally draw heavy foot traffic, making it a challenge for retailers to keep customers and employees safe from unexpected incidents; the ability to promptly react to accidents and events is a therefore a priority when choosing a retail surveillance solution.
Read more...
---
Access control in retail
Axis Communications SA Retail (Industry)
Introducing an IP-based access control system to a proven and agile video platform makes for some interesting use cases in retail.
Read more...
---