printer friendly version
One camera, one job description
March 2016 Integrated Solutions, CCTV, Surveillance & Remote Monitoring
Marc van Jaarsveldt, consultant for The Surveillance Factory, a video surveillance systems integrator, says that despite the exciting features of today's video surveillance cameras, poor solution design and poor camera placement compromises the end result and renders most cameras of little or no security value. He says that this ultimately results in a camera-system that may fail to solve security challenges on a site.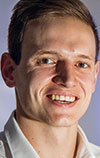 Marc van Jaarsveldt.
"There is a clear lack of risk-analysis skills and the ability to design a solution that offers to maximise security value. What clients need today is a detailed site audit and a resulting solution that solves security challenges and enhances the client's awareness of their security environment," explains van Jaarsveldt.
Traditionally, video surveillance systems have been poorly designed and are still compromised despite the plethora of advanced features that cameras now have: "Today's IP cameras can take advantage of some incredible features that they now offer: ultra-high resolution, advanced WDR (wide dynamic range), built in analytics and edge storage. But the design methodology used often does not make the best use of these features and fails to deliver on a security level."
Citing an example, van Jaarsveldt says that The Surveillance Factory has seen many camera solutions constructed using what is referred to as a "general-overview" camera: "These cameras are chosen to provide a wide or broad overview of a large area giving the sense that this area is adequately covered, but in reality, they offer nothing more than a bird's-eye or panoramic view with no specific intention to manage risk within that area. If there is an incident of any kind, there is often no forensic value contained within the video footage because the overview is too wide and the camera, despite the fact that it may be a high resolution camera, is not performing a specific function by viewing an identified target."
He says that in nearly all cases the video-camera position selected was incorrect. Placing it too far away and not using it to manage a specific area, makes it generally impossible to identify a target. The issue lies in the camera's inability to capture the right number of pixels-on-target required for identification from that distance and position.
The solution, according to van Jaarsveldt, lies in selecting the correct video camera suited to a specific area and more importantly, making certain that the camera addresses a specific risk and does not fall into the general overview trap: "You will then get high quality footage all the time and when video evidence is required, it will offer forensic value as the camera will provide clear images that cannot be contested."
Interestingly, he says that in South Africa with its high crime rates, cameras are frequently pressure-tested and security managers often end up with useless footage that has no evidentiary value: "This brings into question the entire premise that the camera system installed is valuable to the organisation and is actually enhancing security."
The average number of cameras deployed per site has steadily been increasing and this trend reinforces the need for system integrators to design solutions more carefully.
Van Jaarsveldt offers these tips for selecting a camera and designing a solution:
1. Choose your video cameras and positions carefully. Have a specific surveillance goal in mind for each device.
2. Avoid general-overview cameras unless they are needed for an operational or process-control reason (e.g. to view an assembly or production line in a factory).
3. Make sure that the camera resolution is high enough so that the footage it generates has evidentiary value. i.e. the number of pixels-on-target should agree with the standards for detection and identification, that the camera and VMS manufactures all publish.
4. Select fewer high-resolution cameras that record at a decent frame-rate (no less than 15 fps) for a shorter time frame, as opposed to many lower-resolution cameras recording at low frame-rate for a long period of time.
For more information visit www.sfactory.co.za
Further reading:
Security BIS named AxxonSoft's Distributor of the Year 2021
News CCTV, Surveillance & Remote Monitoring
With its focus on AxxonSoft solutions and technical support, Security BIS secured the title of AxxonSoft Distributor of the Year again for 2021.
Read more...
---
Storage is essential for a comprehensive cybersecurity strategy
Integrated Solutions Cyber Security
Cyber resilience is the ability of an enterprise to limit the impact of security incidents by deploying and arranging appropriate security tools and processes.
Read more...
---
Passion, drive and hard work
Technews Publishing Editor's Choice CCTV, Surveillance & Remote Monitoring Security Services & Risk Management
Colleen Glaeser is a leader in the security market, having made her mark in the male-dominated security industry through determination and hard work, along with a vision of making the world a safer place.
Read more...
---
New full-colour Smart Dual Illuminators camera series
Dahua Technology South Africa Products CCTV, Surveillance & Remote Monitoring
Using deep learning to accurately detect targets, the cameras can intelligently switch between the IR mode when there is no target, and full-colour mode when a target is detected.
Read more...
---
System integrators and surveillance
Technews Publishing Stallion Security G4S Secure Solutions SA Integrated Solutions
Hi-Tech Security Solutions asked two system integrators if they are seeing an upturn in the market and if projects are back on track despite the economic slowdown and supply chain chaos?
Read more...
---
2022 trends in video surveillance
Eagle Eye Networks Editor's Choice CCTV, Surveillance & Remote Monitoring Integrated Solutions
Eagle Eye Networks predicts what will impact the video surveillance industry in the coming year and how to seize opportunities and forge a path to success, even amid ongoing uncertainties.
Read more...
---
The impact of AI-enhanced video analytics on control room personnel
Leaderware Editor's Choice CCTV, Surveillance & Remote Monitoring
What impact do AI-capable detection systems have on control room staff, and do they mean a change in the demands on operators and the type of people you have in the control room?
Read more...
---
To be or not to be, is that the objective?
Iris AI Editor's Choice CCTV, Surveillance & Remote Monitoring News
Gerhard Furter joins a discussion on the nature of sentience in artificial intelligence. Do we actually know what sentience is, or are we overestimating our human capabilities?
Read more...
---
Leaning into the edge
Technews Publishing Axis Communications SA Forbatt SA Hikvision South Africa Editor's Choice CCTV, Surveillance & Remote Monitoring Integrated Solutions IT infrastructure
Video storage and analytical processing, with the help of artificial intelligence on the edge, is simple today with the powerful and advanced camera technology we have available.
Read more...
---
Brewing a surveillance solution
CCTV, Surveillance & Remote Monitoring Integrated Solutions Products
VIVOTEK architects a surveillance enhancement solution for a century-old Japanese brewery comprising 260 devices, including 10 PoE network devices managed using the VAST 2 video management system.
Read more...
---