printer friendly version
One camera, one job description
March 2016 Integrated Solutions, CCTV, Surveillance & Remote Monitoring
Marc van Jaarsveldt, consultant for The Surveillance Factory, a video surveillance systems integrator, says that despite the exciting features of today's video surveillance cameras, poor solution design and poor camera placement compromises the end result and renders most cameras of little or no security value. He says that this ultimately results in a camera-system that may fail to solve security challenges on a site.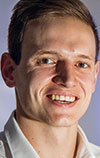 Marc van Jaarsveldt.
"There is a clear lack of risk-analysis skills and the ability to design a solution that offers to maximise security value. What clients need today is a detailed site audit and a resulting solution that solves security challenges and enhances the client's awareness of their security environment," explains van Jaarsveldt.
Traditionally, video surveillance systems have been poorly designed and are still compromised despite the plethora of advanced features that cameras now have: "Today's IP cameras can take advantage of some incredible features that they now offer: ultra-high resolution, advanced WDR (wide dynamic range), built in analytics and edge storage. But the design methodology used often does not make the best use of these features and fails to deliver on a security level."
Citing an example, van Jaarsveldt says that The Surveillance Factory has seen many camera solutions constructed using what is referred to as a "general-overview" camera: "These cameras are chosen to provide a wide or broad overview of a large area giving the sense that this area is adequately covered, but in reality, they offer nothing more than a bird's-eye or panoramic view with no specific intention to manage risk within that area. If there is an incident of any kind, there is often no forensic value contained within the video footage because the overview is too wide and the camera, despite the fact that it may be a high resolution camera, is not performing a specific function by viewing an identified target."
He says that in nearly all cases the video-camera position selected was incorrect. Placing it too far away and not using it to manage a specific area, makes it generally impossible to identify a target. The issue lies in the camera's inability to capture the right number of pixels-on-target required for identification from that distance and position.
The solution, according to van Jaarsveldt, lies in selecting the correct video camera suited to a specific area and more importantly, making certain that the camera addresses a specific risk and does not fall into the general overview trap: "You will then get high quality footage all the time and when video evidence is required, it will offer forensic value as the camera will provide clear images that cannot be contested."
Interestingly, he says that in South Africa with its high crime rates, cameras are frequently pressure-tested and security managers often end up with useless footage that has no evidentiary value: "This brings into question the entire premise that the camera system installed is valuable to the organisation and is actually enhancing security."
The average number of cameras deployed per site has steadily been increasing and this trend reinforces the need for system integrators to design solutions more carefully.
Van Jaarsveldt offers these tips for selecting a camera and designing a solution:
1. Choose your video cameras and positions carefully. Have a specific surveillance goal in mind for each device.
2. Avoid general-overview cameras unless they are needed for an operational or process-control reason (e.g. to view an assembly or production line in a factory).
3. Make sure that the camera resolution is high enough so that the footage it generates has evidentiary value. i.e. the number of pixels-on-target should agree with the standards for detection and identification, that the camera and VMS manufactures all publish.
4. Select fewer high-resolution cameras that record at a decent frame-rate (no less than 15 fps) for a shorter time frame, as opposed to many lower-resolution cameras recording at low frame-rate for a long period of time.
For more information visit www.sfactory.co.za
Further reading:
Clarity and control to IoT fleet costs
Integrated Solutions
Fidelity Services Group is using Apex BI's Clarity IoT platform to underpin its Fidelity SecureDrive solution, an offering from Fidelity that delivers insurance telematics, smart fleet management and data insights.
Read more...
---
Sustainability, trust and predictability
Technews Publishing Bosch Building Technologies Conferences & Events CCTV, Surveillance & Remote Monitoring News Integrated Solutions
The future for Bosch Building Solutions is focused on predictive solutions based on sustainability and trust in an AIoT world of cloud services.
Read more...
---
Specialised surveillance and communications
Technews Publishing Editor's Choice News Integrated Solutions Residential Estate (Industry)
Hi-Tech Security Solutions spoke to Arcanum Africa's Peter Stolwerk and Aaron van Schaik to find out a bit more about the company and the unique products it is bringing to the local market.
Read more...
---
Hard times, increased crime
Technews Publishing Security Services & Risk Management Integrated Solutions IT infrastructure
Hi-Tech Security Solutions spoke to Mezuzah Security Services to find out what is happening in the real world, and how security companies are dealing with the added pressure inherent to the South African market.
Read more...
---
Duxbury awarded Axis SA Distributor of the Year
Duxbury Networking News CCTV, Surveillance & Remote Monitoring
Axis Communications held its Annual Partner Awards on 1 July 2022 to celebrate and acknowledge the efforts of Axis' partners by awarding them for key projects and achievements throughout the year.
Read more...
---
Optimised people, processes and technology
Industrial (Industry) Integrated Solutions
When embarking on an industrial digitisation project, it's important to consider how people, processes and technology will work together and complement the other.
Read more...
---
All-mobile people management solution with facial recognition
Editor's Choice Integrated Solutions Security Services & Risk Management Products
The new mobile Incident Desk People Management platform with facial recognition combines identification data on suppliers, staff, sub-contractors and even people on watch lists, for less than the cost of traditional service management tools.
Read more...
---
Passion, drive and hard work
Technews Publishing Editor's Choice CCTV, Surveillance & Remote Monitoring Security Services & Risk Management
Colleen Glaeser is a leader in the security market, having made her mark in the male-dominated security industry through determination and hard work, along with a vision of making the world a safer place.
Read more...
---
Cybersecure surveillance cameras
HiTek Security Distributors News CCTV, Surveillance & Remote Monitoring Cyber Security
Provision-ISR builds customer trust and opens up new opportunities with Check Point Quantum IoT Protect Firmware built into Provision-ISR cameras.
Read more...
---
CathexisVision integrated with Suprema's BioStar2
Technews Publishing News Access Control & Identity Management Integrated Solutions
This integration uses BioStar2 access control events to trigger automated actions on the CathexisVision system, including alerts, recording a camera and commands such as locking and unlocking doors, and clearing an alarm.
Read more...
---