printer friendly version
Century City gets urban ­management system
March 2016 Integrated Solutions, Security Services & Risk Management
Century City, one of the country's premier office, retail, residential and leisure hubs just outside Cape Town CBD, has equipped itself with a comprehensive urban management system for prompt service ­delivery and the real-time electronic logging of all kinds of activities and incidents in the area.
These activities and incidents range from crime, crime prevention, municipal services, medical emergencies, traffic and car accidents, management of estate developments and facilities management. This paves the way for urban service concepts such as a connected or smart city.
The system, known as Incident Desk, is aimed at improving urban management and is currently being rolled out country-wide. More than 170 000 activities and incidents have already been logged on the system in just 18 months, making it the largest urban management system in South Africa.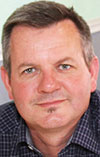 Tiaan Janse van Rensburg, director of Solution House Software.
Tiaan Janse van Rensburg, director of Solution House Software which developed Incident Desk, says "Century City provides us with an excellent example where effective connectivity in real-time can help with service delivery. Not only to assist in creating a safe and secure environment, but with all activities that take place in an urban precinct."
Indications are that incidents of crime at Century City are significantly lower than in the rest of the Western Cape.
The system further indicates that 50% of all incidents in Century City are traffic related. About 7% of all incidents are vehicle accidents, while 22% of all incidents are wheel clamping related. During the 11 months to January there were 51 LPR hits (licence plate recognitions), with most traffic infringements occurring on Thursdays, Fridays and Mondays.
"The prevalence of municipal service and maintenance requests and crime reports are very similar, each making up about 12% of all logged incidents. Interestingly, most people needed medical assistance on Wednesdays during the nine months to October last year, but this shifted almost exclusively to Tuesdays in December of the same year.
"The 2015 festive season at Century City provided a good test period for the system. It came out tops in delivering real-time information on incidents that needed prompt action," Janse van Rensburg said.
Marinus Boshoff, safety and security manager for the Century City Property Owners' Association, says that a comprehensive festive season security plan was in place during December 2015. Having real-time information available regarding the various incidents enabled a quicker response time.
Incident Desk assisted Century City in deploying its festive season safety and security plan. Incidents over the festive period were kept in check, with the number of reported occurrences in December being similar to that of November. The only significant increases were water related and medical emergencies, which Century City was well equipped to handle.
Gordon Ralph, facilities manager of the Century City Property Owners' Association, says that Century City is now 20 years old and continuously expanding, which necessitates the need for ongoing infrastructure maintenance and effective systems and processes to manage these needs. "Recording of infrastructure maintenance issues with up to date information and in real-time is of major importance. There is also the issue of the accountability of the maintenance staff," Ralph said.
As an example, the replacement value of the roads at Century City, situated on a 250 hectare area, currently amounts to R47 million, while more than 10 000 trees need to be looked after by the team. The staff complement of this maintenance team is about 70 strong, with safety and security at about 180.
For more information contact Solution House Software, Tiaan Janse van Rensburg, +27 (0)82 565 8081, [email protected]
Further reading:
Look before you leap into a back-up power solution
Editor's Choice Security Services & Risk Management
Before you rush into purchasing a back-up power solution, you need to take a considered and long-term view of how to get yourself as close to grid independence as possible.
Read more...
---
Optimised people, processes and technology
Industrial (Industry) Integrated Solutions
When embarking on an industrial digitisation project, it's important to consider how people, processes and technology will work together and complement the other.
Read more...
---
All-mobile people management solution with facial recognition
Editor's Choice Integrated Solutions Security Services & Risk Management Products
The new mobile Incident Desk People Management platform with facial recognition combines identification data on suppliers, staff, sub-contractors and even people on watch lists, for less than the cost of traditional service management tools.
Read more...
---
Passion, drive and hard work
Technews Publishing Editor's Choice CCTV, Surveillance & Remote Monitoring Security Services & Risk Management
Colleen Glaeser is a leader in the security market, having made her mark in the male-dominated security industry through determination and hard work, along with a vision of making the world a safer place.
Read more...
---
Are you your insider threat?
Technews Publishing Editor's Choice Security Services & Risk Management Commercial (Industry)
Insider threats are a critical aspect of risk management today, but what happens when it is the owner of the company acting fraudulently and making sure none of his staff can catch him?
Read more...
---
CathexisVision integrated with Suprema's BioStar2
Technews Publishing News Access Control & Identity Management Integrated Solutions
This integration uses BioStar2 access control events to trigger automated actions on the CathexisVision system, including alerts, recording a camera and commands such as locking and unlocking doors, and clearing an alarm.
Read more...
---
Gallagher releases Command Centre v8.70
Gallagher News Integrated Solutions Products
Command Centre v8.70 introduces a range of features and enhancements to create operational efficiencies and improved site security, including a next-generation integration with HALO Smart Sensors.
Read more...
---
Trackforce Valiant acquires TrackTik Software
News Integrated Solutions Security Services & Risk Management
Trackforce Valiant, a provider of security workforce management solutions, announced the acquisition of TrackTik Software, a cloud-based security workforce management provider.
Read more...
---
Paxton promotes Dan Drayton
News Access Control & Identity Management Integrated Solutions
Dan Drayton has been promoted to divisional director – EMEA Sales Region for Paxton, the international security technology manufacturer.
Read more...
---
Significant increase in fraud in a risk-heavy environment
News Security Services & Risk Management
The Southern African Fraud Prevention Service reports a significantly increased risk of becoming a victim of fraud as compared to 2021.
Read more...
---