printer friendly version
Eurobyte to distribute Sunell in South Africa
March 2016
News
Sunell Security has announced it has appointed a new distributor for its surveillance product range in South Africa, Eurobyte Technology. According to a Sunell spokesperson, the growth of the brand in South Africa and further north in sub-Saharan Africa prompted the company to appoint a new distributor to ensure its channel partners and customers had easy access to stock and technical support.
Eurobyte focuses on distributing surveillance products, IT and networking components, and power management solutions. It also has a technical team to support all the products it sells and training facilities to assist its channel with skills development.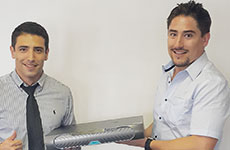 Roberto and Juan Vizcarra with one of Sunell's new NVRs.
Eurobyte's MD, Juan Vizcarra, says the addition of Sunell to the company's surveillance range is a perfect fit. The company has represented many surveillance brands over the years, but Sunell demonstrated the commitment to the local market that Eurobyte required, and it offers quality products at a reasonable price. Sunell is targeted at the mainstream surveillance market, where Eurobyte is also focusing its efforts.
Roberto Vizcarra runs the surveillance section at Eurobyte and notes that the confidence Sunell has in the local market is impressive. Instead of relying on support and stock from China, Sunell has set up a local warehouse where it manages its local stock, ensuring that Eurobyte will have easy access to stock whenever it needs to boost its own stock holdings.
Sunell's warranty also encourages faith in the brand. Roberto notes that Sunell offers a three-year warranty on its products, with a hassle-free swap-out process should anything go wrong. Eurobyte will take on certain repair work on the Sunell kit it sells, but more complex repairs on, for example, thermal cameras, will be carried out by local Sunell technicians.
The recent release of Sunell's new range of NVRs coincides with the Eurobyte appointment, and Roberto believes it will only benefit the partnership as Eurobyte is now able to offer a full surveillance solution to its channel, from networking to storage and high-quality cameras.
Eurobyte is already in the process of rolling out training on Sunell equipment to its channel partners to ensure they are properly skilled when it comes to specifying and installing surveillance solutions.
For more information, contact Roberto Vizcarra, Eurobyte, +27 (0)11 234 0152, [email protected], www.eurobyte.co.za
Credit(s)
Further reading:
Unrecoverable encrypted data
News Cyber Security
Cybersecurity research indicates that 76% of organisations admit to paying ransomware criminals, however, one-third are still unable to recover data.
Read more...
---
Kaspersky invests in development of neuromorphic processors
News IT infrastructure
Neuromorphic processors' field of application is acceleration of the hardware used in the latest generation of artificial intelligence systems, which are based on spiking neural networks (SNN) training, which is more akin to biological interactions.
Read more...
---
Security BIS named AxxonSoft's Distributor of the Year 2021
News CCTV, Surveillance & Remote Monitoring
With its focus on AxxonSoft solutions and technical support, Security BIS secured the title of AxxonSoft Distributor of the Year again for 2021.
Read more...
---
Infinidat enhances channel support
News IT infrastructure
Infinidat drives go-to-market strategy with new global partner portal and expands channel sales with Storage-as-a-Service in ArrowSphere.
Read more...
---
The Handbook of Security's third edition has been published
News
The third edition of the Handbook of Security, edited by Perpetuity Research director Martin Gill, has been published, containing 45 contributions from leading global scholars.
Read more...
---
GJD announces new SMT Machine
News Perimeter Security, Alarms & Intruder Detection
GJD will now be able to complete the manufacture of its products in-house, and thereby significantly decrease the business' carbon footprint while increasing employment opportunities.
Read more...
---
Smart home devices market growing across META
Smart Home Automation News
The Middle East, Turkey, and Africa (META) smart home devices market continues to register significant gains on the back of increasing awareness and improving end user experiences, according to the latest insights from International Data Corporation.
Read more...
---
How to react in an armed robbery or home invasion
Fidelity Services Group Security Services & Risk Management News
How you react when faced with a nervous, gun-toting criminal can save your life, or cost you your life; all family members need to know what to do in such circumstances.
Read more...
---
To be or not to be, is that the objective?
Iris AI Editor's Choice CCTV, Surveillance & Remote Monitoring News
Gerhard Furter joins a discussion on the nature of sentience in artificial intelligence. Do we actually know what sentience is, or are we overestimating our human capabilities?
Read more...
---
From the editor's desk: The last CCTV Handbook
Technews Publishing News
Welcome to the CCTV Handbook 2022, I hope the headline caught your eye. This really is the last CCTV Handbook Hi-Tech Security Solutions will ever produce, but it is not the last handbook about surveillance ...
Read more...
---