printer friendly version
iLegal 2016 scheduled for April
March 2016
News
Back by popular demand, iLegal 2016 will be taking place on the 20 April 2016 at the Crowne Plaza Hotel, Rosebank, Johannesburg (which is on the Gautrain route). This year's iLegal covers New Legal, Technical and Operational Challenges and Responsibilities those involved in all aspects of surveillance are facing on a daily basis.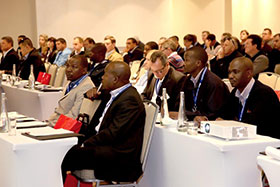 CCTV is no longer about simply recording footage and then watching it after something has happened. CCTV is extending its reach into the air, across platforms and into specialised databases. Today's technology allows operators to analyse video footage in collaboration with other data to develop intelligence and insights that allow companies to proactively deal with incidents rather than being restricted to reacting after the fact.
The central point where this proactive management occurs is control rooms, which are also evolving from observation posts into the nerve centres of business and social environments. With the right design and set up, today's control rooms can take the lead in crime prevention and site management, delivering far more than security operations if the right people, processes and technology is in place.
The keynote presentation will set the tone for the conference and will be by Jeff Corkill of the ECU Security Research Institute in Australia. Corkill will focus on strategies for leveraging intelligence in order to move to a proactive rather than reactive CCTV approach.
Dr Craig Donald will be discussing the pros and cons of onsite vs. remote monitoring, differentiating between the benefits service providers say are attainable and the reality of choosing between the two options.
iLegal 2016 won't be offering speculation or even a nervous a glimpse into the future. iLegal 2016 will offer presentations from people involved in successful surveillance operations, who will highlight how CCTV made a difference in their situations and how they were able to deliver measurable results.
Insights into how the city of Cape Town incorporated CCTV into its fight against crime, with sterling results, will attest to the efficacy of well-designed surveillance solutions combined with actionable intelligence. Furthermore, an additional presentation will cover the benefits attained by Toyota after installing megapixel cameras for its surveillance operations.
Attendees will also hear about the status and utility of drones from a panel of experts, as well as the legal implications of using this popular technology for surveillance. And on the topic of legal opinions, Francis Cronj&$233;, one of the people involved in the development of the Protection of Personal Information Act (PoPI), will discuss the impact this legislation will eventually have on surveillance operations and the options available to those running them.
Exclusive to iLegal, and for the first time in South Africa, attendees will also gain insight into the topic of how vulnerable IP cameras are to hacking. Not only will attendees learn of the risks and consequences of this type of security breach, but will witness a live hacking exercise.
As always, iLegal 2016 will look beyond the hype into the realities of surveillance in 2016 and beyond, illuminating best practices from local and international experts in the field, delivering information that is useful and applicable in today's surveillance installations.
As always, iLegal 2016 will be insightful, practical and informative. Don't miss it.
For more information, or to book your seat, go to www.ilegal.co.za, or call Dominique at +27 (0)11 543 5800.
Credit(s)
Further reading:
Unrecoverable encrypted data
News Cyber Security
Cybersecurity research indicates that 76% of organisations admit to paying ransomware criminals, however, one-third are still unable to recover data.
Read more...
---
Kaspersky invests in development of neuromorphic processors
News IT infrastructure
Neuromorphic processors' field of application is acceleration of the hardware used in the latest generation of artificial intelligence systems, which are based on spiking neural networks (SNN) training, which is more akin to biological interactions.
Read more...
---
Security BIS named AxxonSoft's Distributor of the Year 2021
News CCTV, Surveillance & Remote Monitoring
With its focus on AxxonSoft solutions and technical support, Security BIS secured the title of AxxonSoft Distributor of the Year again for 2021.
Read more...
---
Infinidat enhances channel support
News IT infrastructure
Infinidat drives go-to-market strategy with new global partner portal and expands channel sales with Storage-as-a-Service in ArrowSphere.
Read more...
---
Are you your insider threat?
Technews Publishing Editor's Choice Security Services & Risk Management Commercial (Industry)
Insider threats are a critical aspect of risk management today, but what happens when it is the owner of the company acting fraudulently and making sure none of his staff can catch him?
Read more...
---
The Handbook of Security's third edition has been published
News
The third edition of the Handbook of Security, edited by Perpetuity Research director Martin Gill, has been published, containing 45 contributions from leading global scholars.
Read more...
---
GJD announces new SMT Machine
News Perimeter Security, Alarms & Intruder Detection
GJD will now be able to complete the manufacture of its products in-house, and thereby significantly decrease the business' carbon footprint while increasing employment opportunities.
Read more...
---
Passion, drive and hard work
Technews Publishing Editor's Choice CCTV, Surveillance & Remote Monitoring Security Services & Risk Management
Colleen Glaeser is a leader in the security market, having made her mark in the male-dominated security industry through determination and hard work, along with a vision of making the world a safer place.
Read more...
---
Smart home devices market growing across META
Smart Home Automation News
The Middle East, Turkey, and Africa (META) smart home devices market continues to register significant gains on the back of increasing awareness and improving end user experiences, according to the latest insights from International Data Corporation.
Read more...
---
How to react in an armed robbery or home invasion
Fidelity Services Group Security Services & Risk Management News
How you react when faced with a nervous, gun-toting criminal can save your life, or cost you your life; all family members need to know what to do in such circumstances.
Read more...
---