printer friendly version
iLegal 2016 scheduled for April
March 2016
News
Back by popular demand, iLegal 2016 will be taking place on the 20 April 2016 at the Crowne Plaza Hotel, Rosebank, Johannesburg (which is on the Gautrain route). This year's iLegal covers New Legal, Technical and Operational Challenges and Responsibilities those involved in all aspects of surveillance are facing on a daily basis.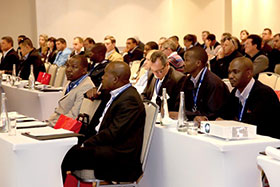 CCTV is no longer about simply recording footage and then watching it after something has happened. CCTV is extending its reach into the air, across platforms and into specialised databases. Today's technology allows operators to analyse video footage in collaboration with other data to develop intelligence and insights that allow companies to proactively deal with incidents rather than being restricted to reacting after the fact.
The central point where this proactive management occurs is control rooms, which are also evolving from observation posts into the nerve centres of business and social environments. With the right design and set up, today's control rooms can take the lead in crime prevention and site management, delivering far more than security operations if the right people, processes and technology is in place.
The keynote presentation will set the tone for the conference and will be by Jeff Corkill of the ECU Security Research Institute in Australia. Corkill will focus on strategies for leveraging intelligence in order to move to a proactive rather than reactive CCTV approach.
Dr Craig Donald will be discussing the pros and cons of onsite vs. remote monitoring, differentiating between the benefits service providers say are attainable and the reality of choosing between the two options.
iLegal 2016 won't be offering speculation or even a nervous a glimpse into the future. iLegal 2016 will offer presentations from people involved in successful surveillance operations, who will highlight how CCTV made a difference in their situations and how they were able to deliver measurable results.
Insights into how the city of Cape Town incorporated CCTV into its fight against crime, with sterling results, will attest to the efficacy of well-designed surveillance solutions combined with actionable intelligence. Furthermore, an additional presentation will cover the benefits attained by Toyota after installing megapixel cameras for its surveillance operations.
Attendees will also hear about the status and utility of drones from a panel of experts, as well as the legal implications of using this popular technology for surveillance. And on the topic of legal opinions, Francis Cronj&$233;, one of the people involved in the development of the Protection of Personal Information Act (PoPI), will discuss the impact this legislation will eventually have on surveillance operations and the options available to those running them.
Exclusive to iLegal, and for the first time in South Africa, attendees will also gain insight into the topic of how vulnerable IP cameras are to hacking. Not only will attendees learn of the risks and consequences of this type of security breach, but will witness a live hacking exercise.
As always, iLegal 2016 will look beyond the hype into the realities of surveillance in 2016 and beyond, illuminating best practices from local and international experts in the field, delivering information that is useful and applicable in today's surveillance installations.
As always, iLegal 2016 will be insightful, practical and informative. Don't miss it.
For more information, or to book your seat, go to www.ilegal.co.za, or call Dominique at +27 (0)11 543 5800.
Credit(s)
Further reading:
AI Video Analytics
News
Stand a chance to win a share of R50,000 in prizes by testing the effectiveness of DeepAlert's cloud-based AI video analytics on your own surveillance footage or images.
Read more...
---
NEC XON modernises its security operations using MDR
iOCO Software News Cyber Security
The landscape of cyber threats has evolved dramatically, with cybercriminals becoming more interconnected and resourceful. This shift has necessitated the rapid acceleration of MDR services, which serve as a formidable bulwark against the modern adversary and promote business resilience.
Read more...
---
Texecom increases support in the EMEA with key appointments
Editor's Choice Perimeter Security, Alarms & Intruder Detection News
Texecom announced two new appointments to its EMEA sales team: Thomas Vanden Wyngaerdt as Head of EMEA Sales and Tom Wright as EMEA Account Manager.
Read more...
---
Cyber incidents result in a 9% decrease in shareholder value
News Cyber Security
Aon published its 2023 Cyber Resilience Report, revealing that, on average, a significant cyber incident resulted in a 9% decrease in shareholder value – over and above the market – in the year following the event.
Read more...
---
Paxton opens first experience centre in South Africa
Paxton News Access Control & Identity Management
The new Paxton Experience Centre in Johannesburg is now open and welcoming security installers and end users who want to see Paxton's products in action.
Read more...
---
Paratus signs re-seller agreement with Starlink for Africa
News IT infrastructure
Pan-African telco and network services provider Paratus Group announced it has entered an agreement as a distributor for Starlink's high-speed services across the African continent, available immediately in Mozambique, Kenya, Rwanda and Nigeria.
Read more...
---
4IR is opportunity
News
In South Africa, digitalisation remains 'at a nascent stage' which means significant work still has to be done when it comes to addressing skills development around 4IR in the country.
Read more...
---
Five ways to reduce your cyber insurance premiums
Security Services & Risk Management News
With the global costs of cybercrime expected to soar to $13 trillion within the next five years, cyber insurance is booming as organisations try to mitigate the risk of financial losses.
Read more...
---
What South Africans need to know about smart devices
Technews Publishing Editor's Choice
We live in a world surrounded by smart devices, from our pockets to our driveways and living rooms.
Read more...
---
Client satisfaction boosted by 85% at Thungela Mine
Thorburn Security Solutions News Security Services & Risk Management Mining (Industry)
Thorburn Security, a division of Tsebo Solutions Group, has announced its recent collaboration with Kwa-Zulu Natal security company, Ithuba Protection Services, as part of its Enterprise Supplier Development (ESD) initiatives across Africa.
Read more...
---