printer friendly version
Cathexis grows in leaps and bounds
January 2016 CCTV, Surveillance & Remote Monitoring, News
In the past financial year, KZN-based Cathexis Africa experienced a growth of 52% in South Africa. Since the beginning of the 2015 financial year in July, the company is on track to post a similar growth pattern. Given the current economic recession, how is this possible? Hi-Tech Security Solutions spoke to Cathexis Africa managing director Gus Brecher about the company's blueprint for success and sustainability.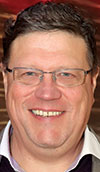 Gus Brecher.
He explains that the strategy began with a targeted approach to solidifying its South African presence, followed by a penetration of the global market. The first step was to adopt a new software vision for Cathexis from 2014, with a world-class IP video surveillance management solution which required the employment of additional software development resources. Once the company was satisfied with the final product, the team reviewed what needed to be done to capture business from its competitors.
The product evolutions included some fundamental under-the-hood architecture changes to facilitate better agility with regards to the addition of new features and the integration of third-party products like IP cameras and other devices like access control systems. Other major features like a new video analytics suite; licence plate recognition and a failover facility, which provides recording server redundancy and therefore allows for penetration into larger markets; PoPI compliant software; and a general software interface revamp. There was also a major focus on ease-of-use and the provision of health monitoring and network assessment tools.
Internal infrastructure became the next focal point as the company employed additional team members to support its product. A Cathexis Africa sales director, two field sales representatives, two internal sales people, together with two support personnel and two solutions architects have expanded the company's South African focused head count to 15 people. This is far more than any other VMS vendor in the country, and is backed up by the Cathexis technologies technical team who are resident in the country. A business development manager has also been appointed to handle the rest of Africa and there is a strong possibility that the company will shortly set up a branch in Kenya.
Brecher explains that finding the right people was critical since customers buy from suppliers who they feel are able to provide the support and reliability they require.
Underpinning the entire plan was the need to create stronger brand awareness. This entailed compiling a global marketing campaign that encompassed major changes to the company's website. The company then developed a social media platform and improved its product documentation. This was complemented by Brecher's ongoing involvement as an industry spokesperson at relevant industry events, including Hi-Tech Security Solutions vertical market breakfasts.
The addition of system design tools to enable the channel partners to design solutions was also completed. "We are aware that our product is a complex system so we wanted to provide customers with tools that would allow them to design solutions around our software," says Brecher.
Cathexis has developed and strengthened partnerships with complementary technology suppliers such as Axis, to enable them to provide customers with a complete solution rather than just a boxed product. Integration with third-party products is ongoing and proactive.
The appointment of Elvey, MASS and Compass as distribution partners will further assist Cathexis in increasing its local footprint. In addition, as its confidence in its brand has grown, the company has engaged with a number of consultants and end users to encourage the specification of Cathexis products into their tender processes.
The maturing of the South African model has allowed Cathexis to shift a portion of its focus to the global arena. The first step in this process entailed the appointment of a manager and a technical person at the recently formed Dubai branch, as well as the selection of three distributors. As a result of this local presence, the Cathexis system has been deployed in seven new hotels in Abu Dhabi and service provider approval has been received from the Ministries in both Abu Dhabi and Qatar.
Further overseas investment includes the appointment of a new business development executive and technical architect in the UK and expansion into Germany and other regions in Europe. Brecher says that the next global focal point will probably be the USA, with the expansion programme commencing in the northeast, due to the fact that there is a very large market concentrated in a relatively small area and Cathexis already has a fairly large footprint in this region.
Cathexis continues to be well regarded by some of the largest and most prestigious enterprises across most market sectors worldwide. For example, the largest gold mines in Africa, the most prominent retailers in Europe, major education campuses and city surveillance projects in the USA and even one of the world's largest stock exchanges are adopting the Cathexisvision solution.
For more information contact Cathexis Africa, +27(0)31 240 0800, [email protected], www.cathexisvideo.com
Credit(s)
Further reading:
Minimising fire risks in automotive logistics
Hikvision South Africa CCTV, Surveillance & Remote Monitoring Products Logistics (Industry)
Automotive logistics company uses thermal imaging solution from Hikvision to ensure its stores of lithium batteries for electric vehicles never overheat and cause a fire.
Read more...
---
Axis launches P3265-LVE dome camera
Axis Communications SA Products CCTV, Surveillance & Remote Monitoring
Based on ARTPEC-8 — the latest Axis system-on-chip (SoC) — Axis' latest dome high-performance camera includes a deep learning processing unit (DLPU), and cybersecurity features.
Read more...
---
Smart car parking solution eases traffic flow
Dahua Technology South Africa CCTV, Surveillance & Remote Monitoring Integrated Solutions Products
Ethiopia's first smart parking lot, designed to improve traffic flow and management efficiency, has been built and installed using Dahua Technology's smart parking solutions.
Read more...
---
VMS 7.2 supports the investigation process and adds cloud capabilities
CCTV, Surveillance & Remote Monitoring Integrated Solutions Products
Qognify has launched the second release of its VMS, including extended support for body-worn video, additional functionalities to support investigations, and a new web client architecture. VMS 7.2 addresses the increasing use of body-worn video (BWV) across many sectors.
Read more...
---
The future of AIoT
Hikvision South Africa News CCTV, Surveillance & Remote Monitoring
Hikvision hosted its 2022 Shaping Intelligence Summit in Bali, Indonesia, on 29-30 November, where the company, its customers, and technology and solution partners, looked into the future of AIoT and explored paths to shared success.
Read more...
---
KPMG 2022 CEO Outlook, South African edition
Editor's Choice News
Mid-November saw the release of the latest KPMG 2022 CEO Outlook, South African edition, aptly sub-titled 'Potential Growth in Uncertain Times'.
Read more...
---
A comprehensive video solution for retail
LD Africa Retail (Industry) CCTV, Surveillance & Remote Monitoring Products
Retail Intellect is a comprehensive, flexible solution for retailers that matches technologies to ensure point-of-sale safety and security with video analytics.
Read more...
---
Understanding customers better using AI
Secutel Technologies Retail (Industry) CCTV, Surveillance & Remote Monitoring Products
With in-store analytics of consumer behaviour, retailers can improve store performance and boost the productivity of their business.
Read more...
---
Benefits beyond just security
CCTV, Surveillance & Remote Monitoring
Store cameras are boosting customer experience and sales, as well as preventing losses, finds market research e-book from IDIS.
Read more...
---
Crossing the chasm
Editor's Choice News Security Services & Risk Management Training & Education
Industry reports suggest that in the next ten years, millions of jobs could go unfilled because there simply are not enough people to fill them.
Read more...
---