printer friendly version
Cathexis grows in leaps and bounds
January 2016 CCTV, Surveillance & Remote Monitoring, News
In the past financial year, KZN-based Cathexis Africa experienced a growth of 52% in South Africa. Since the beginning of the 2015 financial year in July, the company is on track to post a similar growth pattern. Given the current economic recession, how is this possible? Hi-Tech Security Solutions spoke to Cathexis Africa managing director Gus Brecher about the company's blueprint for success and sustainability.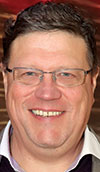 Gus Brecher.
He explains that the strategy began with a targeted approach to solidifying its South African presence, followed by a penetration of the global market. The first step was to adopt a new software vision for Cathexis from 2014, with a world-class IP video surveillance management solution which required the employment of additional software development resources. Once the company was satisfied with the final product, the team reviewed what needed to be done to capture business from its competitors.
The product evolutions included some fundamental under-the-hood architecture changes to facilitate better agility with regards to the addition of new features and the integration of third-party products like IP cameras and other devices like access control systems. Other major features like a new video analytics suite; licence plate recognition and a failover facility, which provides recording server redundancy and therefore allows for penetration into larger markets; PoPI compliant software; and a general software interface revamp. There was also a major focus on ease-of-use and the provision of health monitoring and network assessment tools.
Internal infrastructure became the next focal point as the company employed additional team members to support its product. A Cathexis Africa sales director, two field sales representatives, two internal sales people, together with two support personnel and two solutions architects have expanded the company's South African focused head count to 15 people. This is far more than any other VMS vendor in the country, and is backed up by the Cathexis technologies technical team who are resident in the country. A business development manager has also been appointed to handle the rest of Africa and there is a strong possibility that the company will shortly set up a branch in Kenya.
Brecher explains that finding the right people was critical since customers buy from suppliers who they feel are able to provide the support and reliability they require.
Underpinning the entire plan was the need to create stronger brand awareness. This entailed compiling a global marketing campaign that encompassed major changes to the company's website. The company then developed a social media platform and improved its product documentation. This was complemented by Brecher's ongoing involvement as an industry spokesperson at relevant industry events, including Hi-Tech Security Solutions vertical market breakfasts.
The addition of system design tools to enable the channel partners to design solutions was also completed. "We are aware that our product is a complex system so we wanted to provide customers with tools that would allow them to design solutions around our software," says Brecher.
Cathexis has developed and strengthened partnerships with complementary technology suppliers such as Axis, to enable them to provide customers with a complete solution rather than just a boxed product. Integration with third-party products is ongoing and proactive.
The appointment of Elvey, MASS and Compass as distribution partners will further assist Cathexis in increasing its local footprint. In addition, as its confidence in its brand has grown, the company has engaged with a number of consultants and end users to encourage the specification of Cathexis products into their tender processes.
The maturing of the South African model has allowed Cathexis to shift a portion of its focus to the global arena. The first step in this process entailed the appointment of a manager and a technical person at the recently formed Dubai branch, as well as the selection of three distributors. As a result of this local presence, the Cathexis system has been deployed in seven new hotels in Abu Dhabi and service provider approval has been received from the Ministries in both Abu Dhabi and Qatar.
Further overseas investment includes the appointment of a new business development executive and technical architect in the UK and expansion into Germany and other regions in Europe. Brecher says that the next global focal point will probably be the USA, with the expansion programme commencing in the northeast, due to the fact that there is a very large market concentrated in a relatively small area and Cathexis already has a fairly large footprint in this region.
Cathexis continues to be well regarded by some of the largest and most prestigious enterprises across most market sectors worldwide. For example, the largest gold mines in Africa, the most prominent retailers in Europe, major education campuses and city surveillance projects in the USA and even one of the world's largest stock exchanges are adopting the Cathexisvision solution.
For more information contact Cathexis Africa, +27(0)31 240 0800, sales@catafrica.co.za, www.cathexisvideo.com
Credit(s)
Further reading:
Drones and cybersecurity?
October 2019 , CCTV, Surveillance & Remote Monitoring
Hacker drones can eavesdrop electronically on conversations, can perform network attacks, or can create fake wireless access points.
Read more...
---
Body-worn cameras transforming security
October 2019 , CCTV, Surveillance & Remote Monitoring, Security Services & Risk Management
Police Service Northern Ireland now has over 7 000 officers using 2 500 cameras covering approximately 173 000 incidents each year.
Read more...
---
Camera Selection Guide 2019
CCTV Handbook 2019 , CCTV, Surveillance & Remote Monitoring
The Camera Selection Guide 2019 includes a range of IP, analogue, thermal and speciality cameras aimed at a broad range of surveillance functions.
Read more...
---
Intelligent analytics and the brains to match
September 2019, Bosch Building Technologies , CCTV, Surveillance & Remote Monitoring, Integrated Solutions
What if the brains behind our security cameras could be trained to improve their cognitive ability to pay attention, learn, and problem-solve according to specific rules and situations?
Read more...
---
AI-powered autonomous Drone-in-a-Box
September 2019 , CCTV, Surveillance & Remote Monitoring, Integrated Solutions
Organisations in the mining, energy and industrial, oil and gas, ports and terminals sectors can optimise security and business operations, whilst reducing risks and operational costs
Read more...
---
Cybersecurity for video surveillance systems
September 2019, Mobotix , Cyber Security, CCTV, Surveillance & Remote Monitoring
Video surveillance systems are increasingly accessible over any IP network, which has led to the rise of potential cyberattack.
Read more...
---
What are the cybersecurity issues in video surveillance?
November 2019, Axis Communications SA , Editor's Choice, CCTV, Surveillance & Remote Monitoring, Cyber Security
he importance of the data captured by surveillance cameras – and what can be done with it – has led to a new breed of cybercriminals, looking for insights to steal and sell.
Read more...
---
The safe city and its need for interoperability
November 2019 , Integrated Solutions, CCTV, Surveillance & Remote Monitoring
Interoperability continues to present one of the greatest challenges, particularly with video management systems, video recording devices and cameras.
Read more...
---
A platform approach to safer and smarter cities
November 2019, Milestone Systems , CCTV, Surveillance & Remote Monitoring
Selecting the right platform to manage the vast data collected from smart and safe cities is critical to the ultimate success of the project.
Read more...
---
Creating safe cities with smart technology
November 2019, Secutel Technologies , CCTV, Surveillance & Remote Monitoring
In a digital age, where resilience and responsiveness are paramount to fighting crime and creating a safer world, CCTV systems are becoming part of every city's infrastructure.
Read more...
---