printer friendly version
Pos-Miner integrates POS with CCTV
January 2016 CCTV, Surveillance & Remote Monitoring, Asset Management, EAS, RFID
While CCTV cameras provide an overview of cashier actions, it's the subtleties that often go unnoticed. Pos-Miner, a point of sale (POS) to CCTV integration solution, eliminates the guesswork in determining whether a criminal act has taken place.
In essence, Pos-Miner is a full POS investigation tool operating as a server/client software application which the operator uses to monitor, investigate and resolve all POS-related enquiries, disputes and investigations.
The system incorporates a sophisticated data mining engine which searches through the POS transactional data and alerts the operator to transactional anomalies, backed up by correlation to the video archive.
According to its developer, Mike Green of Sunbird Technologies and C-Video Concepts, the product was strategically developed for the South African retail market. He explains that while POS and integration to CCTV have been around for a number of years, the footage acquired at till points is of little use unless management is able to ascertain what covert actions a cashier might be taking.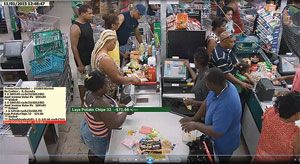 Stealth Pos Gateway (SPG), a precursor to Pos-Miner, was very successful in the field but as advances in technology developed and the demand to view faster video feeds arose, the need to identify cashier-driven fraud incidents was the driver behind the development of Pos-Miner.
Pos-Miner can search for various, user-defined parameters. Green cites a couple of examples. In instances where retail stores issue loyalty cards to customers, cashiers have been known to have a third-party's card in their possession and when a large purchase is made by a non-card holder, they simply swipe this third-party card and acquire loyalty points for the third party.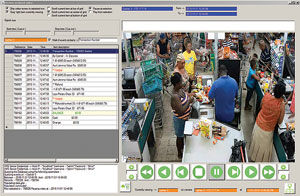 A second example is sweet-hearting, whereby a cashier covers the barcode on an item of shopping with their finger or hand as it is swept past the barcode scanner. In both instances the camera may not pick up any wrongdoing since the actions look perfectly legitimate. However, by integrating a data mining system with the surveillance footage, it is possible to determine where fraud has occurred.
Pos-Miner differs from many other similar products on the market because of its superior data mining features. Users are able to quickly and easily enter the parameters to search for specific events occurring in transactions. For instance, with the first example above if the same loyalty card number occurs on various large-amount till slips on a regular basis, this will alert the manager to an obvious anomaly. Similarly, if CCTV footage is recovered for the second instance, one can count the number of items swiped over the scanner and compare these to the number of actual items on the till slip.
By using Pos-Miner's background workers feature, an investigation can be set for a predefined time period and the system will then filter all transactions for specific factors during the course of that period. An evidence file and full reporting will be produced overnight and the manager will be able to quickly access the required data without having to trawl through screeds of footage.
For more information contact C-Video Concepts, +27 (0)31 309 1048, andy@cvideoconcepts.co.za, www.cvideoconcepts.co.za
Further reading:
Drones and cybersecurity?
October 2019 , CCTV, Surveillance & Remote Monitoring
Hacker drones can eavesdrop electronically on conversations, can perform network attacks, or can create fake wireless access points.
Read more...
---
Body-worn cameras transforming security
October 2019 , CCTV, Surveillance & Remote Monitoring, Security Services & Risk Management
Police Service Northern Ireland now has over 7 000 officers using 2 500 cameras covering approximately 173 000 incidents each year.
Read more...
---
Camera Selection Guide 2019
CCTV Handbook 2019 , CCTV, Surveillance & Remote Monitoring
The Camera Selection Guide 2019 includes a range of IP, analogue, thermal and speciality cameras aimed at a broad range of surveillance functions.
Read more...
---
Intelligent analytics and the brains to match
September 2019, Bosch Building Technologies , CCTV, Surveillance & Remote Monitoring, Integrated Solutions
What if the brains behind our security cameras could be trained to improve their cognitive ability to pay attention, learn, and problem-solve according to specific rules and situations?
Read more...
---
AI-powered autonomous Drone-in-a-Box
September 2019 , CCTV, Surveillance & Remote Monitoring, Integrated Solutions
Organisations in the mining, energy and industrial, oil and gas, ports and terminals sectors can optimise security and business operations, whilst reducing risks and operational costs
Read more...
---
Cybersecurity for video surveillance systems
September 2019, Mobotix , Cyber Security, CCTV, Surveillance & Remote Monitoring
Video surveillance systems are increasingly accessible over any IP network, which has led to the rise of potential cyberattack.
Read more...
---
What are the cybersecurity issues in video surveillance?
November 2019, Axis Communications SA , Editor's Choice, CCTV, Surveillance & Remote Monitoring, Cyber Security
he importance of the data captured by surveillance cameras – and what can be done with it – has led to a new breed of cybercriminals, looking for insights to steal and sell.
Read more...
---
The safe city and its need for interoperability
November 2019 , Integrated Solutions, CCTV, Surveillance & Remote Monitoring
Interoperability continues to present one of the greatest challenges, particularly with video management systems, video recording devices and cameras.
Read more...
---
A platform approach to safer and smarter cities
November 2019, Milestone Systems , CCTV, Surveillance & Remote Monitoring
Selecting the right platform to manage the vast data collected from smart and safe cities is critical to the ultimate success of the project.
Read more...
---
Creating safe cities with smart technology
November 2019, Secutel Technologies , CCTV, Surveillance & Remote Monitoring
In a digital age, where resilience and responsiveness are paramount to fighting crime and creating a safer world, CCTV systems are becoming part of every city's infrastructure.
Read more...
---