printer friendly version
University opts for Cathexis VMS
January 2016 Perimeter Security, Alarms & Intruder Detection, CCTV, Surveillance & Remote Monitoring, Education (Industry)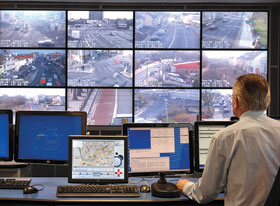 The University of the Western Cape (UWC) appointed EES Africa to design and manage the installation of a new video management solution (VMS) for its campus. The client wanted the VMS to fully integrate with its current access control, fire detection and intrusion systems.
When selecting and integrating a new VMS system with the elements of an existing security system, it is not a case of one size fits all. "It is vital to select and customise the most suitable VMS to meet the client's particular needs," says Anton Hochleutner, director, EES Africa, who managed the UWC project.
"We decided that the best way to achieve this was to invite various manufacturers to come to the university and demonstrate their products in a live environment to show the integration in action, and not only assure us of their integration capabilities."
Sub-systems to be integrated
The sub-systems of the UWC security system which needed to be integrated with the VMS were:
• Impro access control technology,
• Salto electronic access control systems,
• Ziton fire detection panels,
• DSC intrusion detection panels.
"When the sub-systems are activated, by an intruder for example, they generate alarms and send signals to the VMS. This allows the control room operator to manage and handle the situation from a single work station."
On-site VMS demonstrations
The EES Africa project team decided the best plan of action was for each manufacturer to demonstrate their products individually over a period of a month.
"Five VMS manufacturers were invited to demonstrate their products and four accepted the invitation," explains Hochleutner. "In addition to their integration capabilities, the VMS suppliers had to demonstrate their Licence Plate Recognition (LPR) capabilities on campus in the actual environment."
Each VMS had to meet a list of practical criteria including:
• Video analytics.
• Integration of various camera manufacturers.
• Interactive mapping.
• Bi-directional audio (talking and listening).
• Integration of input/output (I/O) devices.
• Ability to record Real Time Streaming Protocol (RTSP).
• Ease of use for operator.
• Pricing.
Once all of the demonstrations were complete, the project team reviewed the data and by means of a scoring matrix arrived at the product best suited to the needs of the university. The product references were checked and the chosen VMS manufacturer, Cathexis, was announced.
"This was always going to be a long process but I felt that to truly achieve a fair platform for the client to make an informed decision, it had to be done this way. What we as the project team achieved was a VMS that ideally suited the individual needs of the client and offers them a system that will allow them to grow in the future," states Hochleutner.
Further reading:
Ajax solves security communication range issues
Elvey Security Technologies Perimeter Security, Alarms & Intruder Detection
A large casino situated in Polokwane required an upgrade of its security system to cater to the needs of the multi-storey building, including reliable wireless communications.
Read more...
---
Duxbury awarded Axis SA Distributor of the Year
Duxbury Networking News CCTV, Surveillance & Remote Monitoring
Axis Communications held its Annual Partner Awards on 1 July 2022 to celebrate and acknowledge the efforts of Axis' partners by awarding them for key projects and achievements throughout the year.
Read more...
---
The house wins with Ajax
Elvey Security Technologies Perimeter Security, Alarms & Intruder Detection Entertainment and Hospitality (Industry)
One of the largest hotel-and-casino complexes in South Africa's North West province needed to increase security on its perimeter, but due to the sheer extent of the site, it was deemed extremely difficult ...
Read more...
---
Passion, drive and hard work
Technews Publishing Editor's Choice CCTV, Surveillance & Remote Monitoring Security Services & Risk Management
Colleen Glaeser is a leader in the security market, having made her mark in the male-dominated security industry through determination and hard work, along with a vision of making the world a safer place.
Read more...
---
Cybersecure surveillance cameras
HiTek Security Distributors News CCTV, Surveillance & Remote Monitoring Cyber Security
Provision-ISR builds customer trust and opens up new opportunities with Check Point Quantum IoT Protect Firmware built into Provision-ISR cameras.
Read more...
---
Flexible perimeter solutions
Gallagher Perimeter Security, Alarms & Intruder Detection
The flexibility of Gallagher's perimeter solutions is key to allowing sites to overcome their unique challenges, including environmental extremes, size considerations, varying intruder behaviours and site geometry.
Read more...
---
Network strobe siren
Axis Communications SA Perimeter Security, Alarms & Intruder Detection
The new AXIS D4100-E Network Strobe Siren can be used to deter intruders, improve operational efficiency and more with the power of light and sound.
Read more...
---
Keeping an eye on the perimeter
Ajax Systems Perimeter Security, Alarms & Intruder Detection
DualCurtain Outdoor from Ajax Systems is a bidirectional curtain motion detector that can monitor up to 30 metres of the perimeter, efficiently protecting the approaches to windows, doors, arches, fences and window displays.
Read more...
---
Cathexis releases Carbon, a new user-friendly GUI
Cathexis Technologies News CCTV, Surveillance & Remote Monitoring
Cathexis has launched its latest user interface, Carbon 3.1, with an enhanced feature set, offering improved performance.
Read more...
---
Maintaining security and CCTV functions in difficult economic times
Leaderware Editor's Choice CCTV, Surveillance & Remote Monitoring
To avoid being seen as "just another overhead", Dr Craig Donald says security needs to demonstrate its relevance and importance to organisational survival.
Read more...
---