printer friendly version
Underground voice and data communications
January 2016 IT infrastructure, Mining (Industry)
Becker has introduced its latest Smartcom VHF leaky feeder system, which ensures dependable underground communications. This system has advanced features for reliability, flexibility and low maintenance requirements.
"The Smartcom VHF leaky feeder system offers the mines multiple simultaneous voice and data radio channels, with low intermodulation noise levels, to ensure clear and reliable communications underground, at all times," says Andrew Trentelman, senior general manager: electronics, Becker Mining South Africa. "This leaky feeder system, with a modular design, features the option of local and remote diagnostic amplifiers with manual and automatic gain control, to ensure every installation and subsequent maintenance procedures are safe and effortless.
"Mines are usually remote to major cities and established infrastructure, which makes access to communication specialists and services difficult for the mining sector. The Smartcom VHF leaky feeder system, which has been installed in mines throughout the world, is known for dependable performance, requiring little maintenance."
The Smartcom VHF leaky feeder system is designed with local diagnostics via three on board LED indicators as standard. This unit facilitates fault finding and system troubleshooting, by quickly being able to identify the faulty component and communicate relevant information on the display unit, thus reducing downtime and repair costs. This amplifier is suitable for installations that don't require the added expense of Ethernet and where remote diagnostics are not necessary.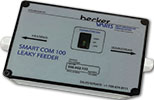 Becker's latest Smartcom VHF leaky feeder system, with local and remote diagnostics, also has Ethernet capabilities. This unit has the functionality to send information to an amplifier installed on the surface, enabling a control room operator to retrieve relevant information. This is particularly useful in the event of a system fault, as the operator can easily identify precisely where the problem is. The system also provides relevant information on what equipment is needed to repair the fault.
Robust Smartcom VHF leaky feeder systems can be upgraded at any time, within budget restraints, to suit the changing needs of every mine. With the simple installation of an upgrade kit, advancement of the system is completed on site.
This upgrade kit allows remote monitoring of the line amplifier and access to data that includes DC line voltage, downstream RF power, the automatic gain control / manual gain control modes and attenuator settings. These metrics are represented on the remote diagnostics server user interface installed on the surface. If Ethernet communications are required, the remote diagnostic amplifier and head end module should be used.
The flexibility of this system supports both analogue and digital radio repeaters, which means users have a choice of radio infrastructure.
Smartcom also supports telemetry and can be used for effectively controlling underground equipment like ventilation fans, pumps and stench gas fires. Important information is communicated efficiently back to mine control systems for optimum productivity and enhance safety.
Narrow band radio modems can also be used to provide a 9 600 bps (bits per second) fixed/mobile data connection over the entire coverage area of the leaky feeder network and is especially useful with the Becker tagging and tracking system, to tag and track resource movement within the mine.
The industry leading 30 MHz bandwidth allows multiple voice and data channels to operate simultaneously, with reduced noise levels. Smartcom technology is compatible with RF manual and automatic gain modes. This enables amplifiers to be installed 500 m apart along the network, reducing required components and system maintenance costs. The automatic gain mode allows amplifiers to intelligently alter gain levels independently, as the system is extended or changed.
Becker also manufactures a complete range of power supplies, designed especially for the harsh conditions of underground mines.
Smartcom does not require a return pilot signal to operate – in automatic mode, the amplifier makes use of a forward pilot system that is more advanced than systems that utilise a return pilot. In automatic mode, the product monitors the RF strength of the forward pilot signal from the base station at each amplifier and automatically adjusts to ensure the communications network is running at its optimum, even as the system is being reconfigured.
Smartcom systems are compatible with other leaky feeder systems and can be installed in existing networks. In these situations, the remote diagnostic amplifier is recommended.
These Becker Smartcom amplifiers are bi-directional and amplify signals in both the 'up' and 'down' link directions, with helical filters to separate the upstream and downstream link frequencies. An important advantage is the high power amplifier option for coverage in remote work areas where it is impossible to access infrastructure.
Applications for Becker leaky feeder systems include mine-wide voice communication networks, medium speed mobile data, local and portable video monitoring, as well as distributed control and monitoring networks. This system is also designed for wide area antenna coverage.
Becker Mining South Africa offers a technical advisory and support service to mines throughout southern Africa.
For more information contact Andrew Trentelman, Becker Mining South Africa, +27 (0)11 617 6300, info@za.becker-mining.com, www.za.becker-mining.com
Further reading:
Edge computing ? drivers and benefits
September 2019 , IT infrastructure
Edge computing brings bandwidth-intensive content and latency-sensitive applications closer to the user or data source.
Read more...
---
Advanced connectivity enables fast and flexible networks
September 2019, Ruckus Networks , IT infrastructure
Advanced networking is the unsung hero of our digital future, offering a continuum of connectivity that can drive the development of new products and services and transform operating models.
Read more...
---
A platform approach to innovation and value
September 2019, Technews Publishing , Editor's Choice, CCTV, Surveillance & Remote Monitoring, Integrated Solutions, IT infrastructure
Moving to the platform model of doing business holds tremendous advantages for end users and smaller developers, but also for the whole technology supply chain.
Read more...
---
Selecting the right surveillance storage
September 2019, Capsule Technologies, Technews Publishing , Editor's Choice, CCTV, Surveillance & Remote Monitoring, IT infrastructure
Storage is an integral part of a surveillance installation and the solution chosen can make or break the success of your project.
Read more...
---
The NUUO storage solution
September 2019, Forbatt SA , CCTV, Surveillance & Remote Monitoring, IT infrastructure
A stable NVR should maintain a consistent data throughput unaffected by user actions such as querying or playback.
Read more...
---
Effectively securing large mines
October 2019, VERACITECH, Technews Publishing, Dallmeier Electronic Southern Africa , Mining (Industry), Integrated Solutions
The vast areas covered by mining operations present security challenges such as the ability to provide effective perimeter protection and surveillance, while maintaining reliable communications between remote areas and control rooms.
Read more...
---
Keeping your things to yourself
October 2019, Technews Publishing , Editor's Choice, Cyber Security, Integrated Solutions, IT infrastructure
Three experts spoke to Hi-Tech Security Solutions to offer advice on keeping your IoT working for you and not for cyber criminals.
Read more...
---
IoT in security
October 2019, Duxbury Networking, Technews Publishing , Editor's Choice, Cyber Security, Integrated Solutions, IT infrastructure
Using the Internet of Things is not really optional these days, but securing the Internet of Things is compulsory, no matter what industry you operate in.
Read more...
---
The future of connectivity in South Africa
September 2019 , IT infrastructure, Products
Next-generation technologies will drive real transformation in companies. Organisations across all industries must prepare to enter the next phase of the digital future, says Matthew Hall, product director at Rectron.
Read more...
---
Updated NAS from Synology
September 2019 , IT infrastructure, CCTV, Surveillance & Remote Monitoring
Synology has released the latest update of DiskStation Manager, featuring a series of new functionalities that optimise user navigation and enhance system performance.
Read more...
---