printer friendly version
Multifocal sensor landmark surveillance
November 2015
CCTV, Surveillance & Remote Monitoring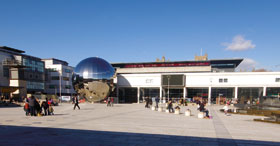 Millennium Square is a popular square in the centre of Bristol, right beside the At-Bristol Science Centre, an interactive science centre. For visitors to the centre, the square and its remarkable water features and sculptures is a convenient meeting point, made yet more attractive by an enormous LED wall and many restaurants and bars close by. Millennium Square is visited by immense numbers of people every year. Added to this, its location close to the neighbouring Harbourside and the many festivals held there, it is understandable that the expansive Millennium Square is a busy Bristol locale.
For this reason, the city administrators decided to improve security in the public square and install a video system equal to the task. Previously, surveillance for the square had been provided by just a single PTZ camera, part of the At-Bristol centre CCTV system. "The @Bristol Control room is windowless and the Panomera system is used daily by security staff to give us a live, virtual window on to Millennium Square. Previously the square was covered with a single PTZ which was generally left in a wide angle view to give us an overview of the area. The problem was this meant if we had to retrieve any evidence the recorded images needed to be digitally zoomed and would pixelate too much to be of any evidential value," relates John Whittaker, security team manager for At-Bristol.
Everything in view
So the biggest challenge was to find a solution that delivers a continuous overview of the entire square at highest detail resolution, but which is still cost-efficient and easy to operate. "Our experience with the PTZ camera was that the recordings taken from it are basically worthless for purposes of subsequent investigations due to the low resolution. One alternative would have been to install several HD cameras at various locations all over the square – but then the job of operating the cameras would become very complex for the security staff, and the infrastructure costs would be prohibitive", Whittaker explains.
Finally, Bristol City Council found the solution at a CCTV User Group conference, where they learned about Panomera multi­focal sensor technology by Dallmeier. With the patented sensor concept of this new camera technology, it is possible to monitor even very large expanses from a single installation point, with very high resolution and consistent depth of focus. And, the entire viewing area is recorded at all times, unlike PTZ cameras, which only record the area they are currently viewing live. "The Panomera gives us the best of both worlds – the wide angle perspective plus the high quality detail at the furthest point," says Whittaker.
"We have been working with the city administrators in Bristol for several years now", says James Walker, MD for Dallmeier UK. "The city already has many Dallmeier products in place, and this was one reason why they decided to test the MFS technology." A suitable installation site was chosen for the Panomera in consultation with the CCTV provider Select Electric. A single Panomera camera with a 90° viewing angle is enough to monitor the whole of Millennium Square in the highest possible resolution.
The images from the IP camera are recorded at a rate of 12.5 fps on a Dallmeier video appliance. One workstation in the security office in the At-Bristol centre allows the recordings to be searched as well as live monitoring of the camera feed. A second work­station has been set up in the Council Emergency Control Centre, where it is used daily by the CCTV operators to monitor the area.
"We know we are not missing anything now, because we can look for incidents in the recordings after the fact," says Whittaker. "Knowing the whole square is being recorded at high detail across the whole scene all the time also enables us to track offenders that have been reported by members of the public perhaps in other areas. The square is a main thoroughfare and this enables us to provide continuity on an offender's direction – both where they are going and where they have come from."
Independent system operation
"The images from the Panomera are reviewed and analysed not only by the security operators in the At-Bristol science centre, but also by the city council security personnel – entirely independently of each other," states Ray Murphy, MD of Select Electric.
Unlike PTZ cameras, MFS technology has multi-user capability, i.e., multiple operators can view the camera images at the same time and tilt or zoom as they wish – not only in the live images but also in the recorded material at the same time, without interfering with the other users.
"Millennium Square has a busy schedule of events throughout the year which attract thousands of members of the public. We have used Panomera to obtain evidence for a number of incidents. In fact within its first couple of weeks of installation we had video of a handbag theft which the police said was the best quality images they had ever seen from a CCTV system," says Whittaker.
"The Panomera multifocal sensor technology from Dallmeier is a remarkable solution to the problem of monitoring the whole of the Millennium Square – no other system would ever have been able to do that from a single installation point," Whittaker concludes. "We are both pleased and impressed with the power and ease of use of the system and would not want to be without it."
For more information contact Dallmeier Southern Africa Office, +27 (0)11 510 0505, dallmeiersa@dallmeier.com, www.dallmeier.com.
Further reading:
Shorten your checkout lines to enhance customer experience
September 2019, Hikvision South Africa , Retail (Industry), CCTV, Surveillance & Remote Monitoring
Hikvision's queue detection technology is purpose-built to offer cutting-edge flow analysis to retail outlets and any situation where waiting to pay is required.
Read more...
---
Constructive CCTV contributions to research
September 2019, Leaderware , Editor's Choice, CCTV, Surveillance & Remote Monitoring
Study leads to understanding that we need more recognition and reward for constructive participation in society.
Read more...
---
New Africa sales manager for Axis Communications
September 2019, Axis Communications SA , News, CCTV, Surveillance & Remote Monitoring
Axis Communications has appointed Brendon Hall, previously the founder and MD of Pentagon, as its new sales manager, Africa.
Read more...
---
Hikvision helps secure African Union Summit
September 2019, Hikvision South Africa , News, CCTV, Surveillance & Remote Monitoring
Hikvision established a complete intelligent video solution to ensure the security of the thirty-third African Union (AU) Summit held on 7 July in Niamey, the capital of Niger.
Read more...
---
Genetec to integrate CylancePROTECT
September 2019, Genetec , Editor's Choice, CCTV, Surveillance & Remote Monitoring, News
Genetec has announced it is partnering with Cylance, a business unit of Blackberry, to bring AI-based antivirus protection to its appliance customers.
Read more...
---
Dashcams useful for more than social media
September 2019, Graphic Image Technologies , CCTV, Surveillance & Remote Monitoring, Transport (Industry)
Logistics companies need to make sure that they have a complete solution that allows real-time driver monitoring and event notifications as they happen.
Read more...
---
Best in class at sea and ashore
September 2019, Axis Communications SA , Transport (Industry), CCTV, Surveillance & Remote Monitoring
Thermal network cameras support the guard tour function that can be used for continuous monitoring of a particular area according to the pre-set guard tour.
Read more...
---
Improving operational efficiency through surveillance
September 2019 , CCTV, Surveillance & Remote Monitoring, Products
Today?s surveillance systems are no longer just about monitoring, but more so the intelligence that sits on the camera and what businesses can do with that information proactively.
Read more...
---
New thermal/visual drone
September 2019 , CCTV, Surveillance & Remote Monitoring, Products
New drone equips security professionals and first responders with a reliable everyday tool for dynamic operations in challenging environments.
Read more...
---
Securing ATMs 24/7
September 2019, Hikvision South Africa , CCTV, Surveillance & Remote Monitoring, Financial (Industry)
To be effective, most ATMs need to be in public areas and open all hours, and they hold cash, making them an attractive target.
Read more...
---