printer friendly version
Wireless technology comes into its own
October 2015 IT infrastructure, Integrated Solutions
Luckily the days of trying to transmit video over analogue wireless transmitters are gone. With the advent of modern IP surveillance solutions, data is transmitted over an IP network, irrespective of whether it is hardwired or wireless. Internet Protocol (IP) is designed to be ubiquitous, scalable and universally compatible.
It may be due to the many problems experienced with these early analogue wireless transmitters that so many installers hesitate to become involved with wireless solutions for video surveillance. It is time to relook at wireless networks as a viable solution for your IP surveillance and access control solutions.
There are many benefits to implementing a wireless IP network for video surveillance. This typically includes quick and easy deployment, since one does not need to find cable routes, trench and dig, then rehabilitate. This makes wireless an ideal option even for large-scale temporary applications such as at outdoor events like music festivals. Wireless systems are therefore often more cost effective than wired solutions in terms of eliminating the costs for civil engineering, trenching and rehabilitation.
Flexibility is another added benefit of deploying a wireless system. It is very simple to add new cameras or change the position of existing cameras when using wireless technology.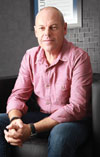 Bertus van Jaarsveld, CEO of MiRO.
Simpler maintenance
Wireless systems are easier to maintain and repair. In hardwired installations, it is incredibly difficult to pinpoint a cable fault, often requiring many hours of hunting and regular re-cabling to resolve the problem. In wireless networks, faults are easily located and in most cases can be addressed through off-site system maintenance or reconfiguration.
All wired installations have limitations on the length and positioning of cables. With wireless deployment, one can easily connect to cameras in remote positions, many kilometres away from the base, or even deploy links in environments where cables are not a feasible option, such as mining or marine applications. The other issue with hardwired solutions is that once money has been invested in a cabling solution, the cabling is fixed and cannot be reused. Therefore, when a company relocates, cabling is almost always left in place or destroyed, whereas wireless systems are easily relocated and recommissioned.
Speed and reliability
In addition to all the outlined benefits, recent developments in wireless technology have made it a much more attractive proposition. New higher-speed standards such as 802.11ac provide cost-effective links by delivering Gigabit speeds rivalling the speed of the fastest hardwired networks. In addition, new proprietary protocols on point-to-multipoint systems allow for guaranteed throughput to wireless clients, ensuring uninterrupted video streams from all cameras.
Enhanced security features provide totally secure wireless links that cannot be compromised and carrier grade features in affordable equipment provide 99.999% availability and reliability.
However, one needs to be realistic. If there are no compelling reasons to migrate existing wired solutions to wireless; the funds may be better utilised in other areas. However, where entirely new IP networks are implemented, or additions/expansions are undertaken to existing IP networks, wireless solutions provide persuasive benefits to form at least part, if not the entire solution.
Integration and upscaling
There are no concerns or issues when integrating IP solutions from various vendors. As a cautionary note, this is simple on an IP communications level, but things become a bit more complicated in areas such as Radio Frequency (RF) and Video Management Systems (VMS). Not all radio systems are compatible on an RF level; most Wi-Fi systems will be able to talk to each other at their most basic level, excluding any proprietary enhancements implemented by the specific manufacturer.
Other wireless systems use proprietary protocols that deliver huge benefits to users.
Scalability is one of the major benefits of a wireless network. When you need to service a new area, deploy a new point-to-point link or a point-to-multipoint system, you simply install another subscriber station. The only concern here is bandwidth availability across the system, which needs to be addressed through systems planning and design.
Ensuring wireless security
Almost every IP security project can benefit from a wireless solution, from a portion of the network through to entire deployment. Traditional issues such as deploying a camera or access control reader at an entry gate is handled quickly, efficiently and cost effectively by instituting a simple wireless link from the building to the gate, without the need for trenching.
Wireless security has evolved to be a 100% secure solution. All modern wireless products provide security features to make the link inaccessible to outside parties. Security features vary from simple, industry-standard WPA2 security to advanced solutions such as Radwin LinkLock and radius authentication.
Almost all modern IP surveillance systems are connected to the Internet for remote monitoring applications, or at the very least they will connect to the corporate network which is somehow connected to the Internet. If a malicious hacker wants to access your security system, it will be easier to access the system remotely via the Internet than it will be to gain access to the RF level security of a wireless implementation. The largest threat to wireless data security is lack of knowledge or disregard for the risk of unsecured wireless links.
For more information contact MiRO Distribution, 086 123 MIRO, riandi@miro.co.za, www.miro.co.za
Credit(s)
Further reading:
Securing perimeters of secure locations
November 2019, Axis Communications SA, Modular Communications, Hikvision South Africa, Nemtek Electric Fencing Products, Technews Publishing, Stafix , Government and Parastatal (Industry), Perimeter Security, Alarms & Intruder Detection, Integrated Solutions
Hi-Tech Security Solutions asked a number of companies offering perimeter security solutions for their insights into protecting the boundaries of national key points.
Read more...
---
Accelerating global IoT deployment
October 2019 , IT infrastructure
Upcoming suite of Eseye products will deliver global IoT connectivity with near 100% coverage, automated onboarding and data provision into AWS IoT Core.
Read more...
---
Digitising Maslow's Hierarchy of Needs
October 2019 , Integrated Solutions, IT infrastructure
Mobile technology has the potential to change how Africa approaches patient and healthcare, says Phathizwe Malinga, managing director, SqwidNet.
Read more...
---
Intelligent analytics and the brains to match
September 2019, Bosch Building Technologies , CCTV, Surveillance & Remote Monitoring, Integrated Solutions
What if the brains behind our security cameras could be trained to improve their cognitive ability to pay attention, learn, and problem-solve according to specific rules and situations?
Read more...
---
Edge computing ? drivers and benefits
September 2019 , IT infrastructure
Edge computing brings bandwidth-intensive content and latency-sensitive applications closer to the user or data source.
Read more...
---
Advanced connectivity enables fast and flexible networks
September 2019 , IT infrastructure
Advanced networking is the unsung hero of our digital future, offering a continuum of connectivity that can drive the development of new products and services and transform operating models.
Read more...
---
AI-powered autonomous Drone-in-a-Box
September 2019 , CCTV, Surveillance & Remote Monitoring, Integrated Solutions
Organisations in the mining, energy and industrial, oil and gas, ports and terminals sectors can optimise security and business operations, whilst reducing risks and operational costs
Read more...
---
Looking ahead with mobile access technologies
Access & Identity Management Handbook 2020, Technews Publishing, HID Global, dormakaba South Africa, Salto Systems Africa, Suprema, Gallagher , Access Control & Identity Management, Integrated Solutions
Given the broad use of smartphones around the world and the numerous technologies packed into these devices, it was only a matter of time before the access control industry developed technology that would ...
Read more...
---
Scalable access solution
Access & Identity Management Handbook 2020 , Access Control & Identity Management, Integrated Solutions
Bosch Building Technologies makes access management simple, scalable and always available with Access Management System 2.0.
Read more...
---
Duxbury Networking launches Solar Switch
November 2019 , IT infrastructure, Products
Duxbury Networking has launched its Solar Switch with tailored capabilities for applications in less-accessible areas where electricity is not available or not reliable.
Read more...
---