printer friendly version
Who watches the watchers?
October 2015 CCTV, Surveillance & Remote Monitoring, Perimeter Security, Alarms & Intruder Detection, Integrated Solutions
For many businesses, security is a grudge purchase. Money gets thrown at solving a security issue, only to later discover holes that can only be plugged with more money. What's more, the bolt-on services are generally very specific, meaning a bolt-on solution needs to be purchased for each and every hole in the system.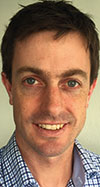 Gareth Cowan, OmniVision Security.
Before committing to any security solution, therefore, companies need to carefully consider, from the outset, what the strengths and weaknesses are of the available solutions, and choose those solutions that are most complementary. A very good example of complementary security solutions is onsite guarding paired with offsite, independent monitoring.
Many companies employ guards to watch over their assets. A guard can be an excellent deterrent, but being human, a guard is subject to issues such as self-preservation, self-interest, boredom and tiredness, with the result that most guards will generally do as little as is required to keep their job. For this reason, most guards cannot be left unsupervised for long periods.
But placing a second guard on-site to supervise the first doesn't solve the problem, as the supervisor will be subjected to exactly the same temptations as the first. In an attempt to plug this security hole, tagging systems are installed, which act as an independent supervisor that ensures the guards perform the patrol they are contracted to perform. However, a tagging system does nothing to inform on what happens between patrols. The guards might be attentive and alert, or they might be having a 20 minute power-nap.
To solve this issue, many guarding companies now offer supervisory visits to their guarded sites. But this is generally limited to one visit per site, which often occurs around the same time each day or night and therefore becomes relatively predictable. Just like the criminal that waits for the guard to pass by before entering a premises, the guards themselves time their activities around the times they know a supervisor is due to visit. What's more, these supervisory visits require the guarding company to employ an additional high-grade guard, purchase an additional car, and burn the petrol required to get the supervisor from site to site. At the end of the day, it's the guarding companies' clients who pay for all this.
Remote monitoring solution
A far more effective, and cost-effective, method of supervising guards is to do it via remotely monitored CCTV. Most companies using on-site guards also utilise a CCTV system for managerial purposes, which opens the opportunity up for monitoring of guards without any significant additional hardware spend on the part of the company. So there's no upfront cost.
Also, the guarding company will no longer need to send a supervisor to all their sites each night. So there's a potential reduction in the guarding fee.
An off-site monitoring station can schedule video check-ups on the guarding station at a frequency desired by the client at a very low incremental cost. So suddenly, hourly supervisory visits are possible, but more importantly, they are done stealthily: the guards do not know when they are being monitored. This raises the bar of 'minimum effort' from being attentive when the supervisor arrives to being attentive at all times.
However, just as guards require supervisors, the off-site monitoring company also requires systems in place to ensure its duties are carried out effectively. For the symbiotic relationship between guarding and monitoring to really produce results, the monitoring service needs to include a few key features.
Virtual guarding checks
Firstly, the site checks cannot be left to the discretion of the operator in the control room. Each and every supervisory visit must be scheduled in the monitoring station's software to automatically present the required actions to the operator.
Secondly, the system must force that operator to carry out those actions without fail. Once an operator has begun processing a site check, they must be prevented from closing out the event before the correct cameras have been viewed for the correct amount of time – which has been predetermined and agreed to by the client.
Thirdly, to prove that the correct actions have been undertaken at the correct times, the monitoring station must also be able to produce a comprehensive audit trail that details each and every action the operator has taken, along with a time stamp for each action. All video viewed by the operator must be recorded off-site and must be viewable by the client on request. Ideally, the operator must also have the ability to broadcast audible announcements on-site, and these announcements must also be recorded and be made available to the client on request. In other words, the monitoring station must make itself fully accountable to the client.
An optimal security package is therefore one that combines the two complementary services of on-site guarding and professional, independent off-site monitoring. By ensuring that technology forms the final backstop of enforcement, where it is used to guide and ensure that the actions of operators are in compliance with the system as designed, the never-ending question of 'who watches the watchers' is put to rest and the security system as a whole delivers the expected results.
For more information contact Gareth Cowan, OmniVision Security, +27 (0)21 761 5336, gc@omnivisionsecurity.co.za, www.omnivisionsecurity.co.za
Credit(s)
Further reading:
Efficient storage for security
Issue 7 2020, Dell EMC , CCTV, Surveillance & Remote Monitoring
There is a dramatic increase in the amount of storage and computing power required to support today's safety and security systems.
Read more...
---
Safe restaurant reopening technology
Issue 7 2020, Dahua Technology South Africa , CCTV, Surveillance & Remote Monitoring
Denmark's Arkaden Food Hall makes use of Dahua People Counting and Flow Control solution for safe reopening.
Read more...
---
Forbatt SA invests in South Africa's security industry
Issue 7 2020, Forbatt SA , CCTV, Surveillance & Remote Monitoring
Forbatt SA is set to offer an improved service to the industry by making sure it has the products and solutions the industry needs, as well as a new showroom.
Read more...
---
Analytics with your existing cameras
Issue 7 2020, Secutel Technologies , CCTV, Surveillance & Remote Monitoring
With SecuVue from Secutel Technologies, it is possible for any business to monitor their offices, warehouses or stores remotely, from any part of the world.
Read more...
---
Consolidating control rooms and service delivery within a COVID-19 environment
Issue 6 2020, Leaderware , CCTV, Surveillance & Remote Monitoring
It is essential to have informed, coordinated and professional responses within control rooms at this time of increasing turmoil.
Read more...
---
Technology driving the healthcare industry
Issue 6 2020, Duxbury Networking , CCTV, Surveillance & Remote Monitoring
Seeing cameras as sensors opens up new possibilities, and each one of them responds to typical demands inside a hospital, clinic or nursing home.
Read more...
---
Turn cameras into traffic sensors
Issue 6 2020, Duxbury Networking , CCTV, Surveillance & Remote Monitoring
Safer communities and cities are achieved through a mixture of technology and human resources, working together in a holistic manner.
Read more...
---
Mobotix thermal technology increases security
Issue 6 2020, Duxbury Networking , CCTV, Surveillance & Remote Monitoring
Installations, machinery, equipment and material available on company premises require effective and cost-efficient protection. In addition, operational safety, optimisation of workflows and protection ...
Read more...
---
Getting a visual on Covid-19 screening
Issue 6 2020, Graphic Image Technologies , CCTV, Surveillance & Remote Monitoring
Should organisations be investing in thermal camera technology to simply contain and limit the spread of the virus?
Read more...
---
Flexible temperature screening options for challenging times
Issue 6 2020, Hikvision South Africa , CCTV, Surveillance & Remote Monitoring
A thermal imaging camera is an effective screening device for detecting individuals with elevated skin temperature. This type of monitoring can provide a rapid screening approach in high-traffic areas.
Read more...
---