printer friendly version
Risk management training goes to Botswana
October 2015 Conferences & Events, Security Services & Risk Management
As security managers are tasked with more complex and risky challenges, and as risk managers are being drawn into the security field, it's a natural consequence that proper risk management processes as defined by international best standards becomes a core competency in both of these professions.
Risk management specialist, Crest Advisory Africa in partnership with Hi-Tech Security Solutions embarked on a risk management training venture in 2015, a venture that has met with tremendous success (see www.securitysa.com/51879n). The latest company to take up the risk management training challenge was the Debswana mining group in Botswana.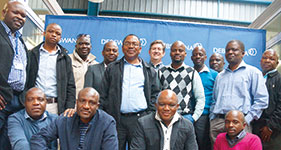 Risk management training attendees from Debswana.
Crest Advisory's CEO Nico Snyman and his team went to Botswana in September to deliver the first module of the risk management course to the mine's security and risk personnel.
Positive feedback
And while any training course can offer the best insights and knowledge available, but if the attendees are not learning throughout the process and able to walk away with a clear vision of how the data they have collected can be applied in their business lives, the training is worthless. With this in mind, Snyman polled the attendees from Debswana and received positive feedback from all.
Augustine Nyatanga, senior security manager at Debswana based Orapa, Letlhakane and Damtshaa mines in Orapa, had this to say about the course: "The engagements were healthy as they enhanced understanding. This created the opportunity to realise a good framework of risk management. I like the ISO 31000:2009 approach to security of this course."
Seconding that thought, Ezekiel Bontsi, security advisor with Debswana, also at Orapa, Letlhakane and Damtshaa mine's security team added, "I was impressed with the Risk Matrix that we developed for our section. It looks more user friendly than the ones which were used before. I was part and parcel of the team that developed the matrix and fell in love with it from the word go. Thanks to Nico and his team for opening my eyes to this important knowledge."
He also thanked the Debswana head of security, Mpho Kewakae for having accorded him the opportunity to be part of this training which has opened Debswana Security to an accredited system and approach to risk management.
Not only do the attendees see benefits that can be applied in their jobs and impact on their company, but they have found a solution that their customers can also more easily engage with. Benjamin Molongwe, process expert for Debswana Security at the Orapa and Letlhakane mines, says "The risk management model we are used to seemed to be tedious and customers were reluctant to engage with it. However, the Crest Advisory Africa approach make all aspects come out clearly and simply, making reporting comprehensive and concise."
Hoosein Loonat, a director at Risk 24 Three Sixty Five, who attended a subsequent course in Johannesburg, commented: "I learned more at this course on risk than on other courses. The smaller group made it easier and we had more interaction between individuals.
Mpho Kewakae impressed that the Debswana risk management team adopted ISO 31000:2009 as its risk management policy in January 2015. The framework that Debswana Corporate Security is developing is therefore closely aligned to this standard and the processes covered in the training.
Getting to what matters
Snyman says, "Many companies do not have a definite risk manager, devolving the position to those who are security managers, operations managers, and the occasional risk manager, whose job description is as confusing as it is broad. Basically, the risk manager is responsible for everything that can go wrong unless the company and the individual involved have insight into international risk management best practices that defines the job and the deliverables of the risk manager."
The risk management courses Crest and Hi-Tech Security Solutions offer are not a random collection of skills, processes and procedures a risk manager might need, but rather a cohesive set of principles based on the definition of risk as stipulated in International Standards Organisation (ISO) 73:2009.
"From a personal perspective, the courses will help delegates to be better and more ­successful as risk managers, deliver optimal performance to their companies and offer measurable value to prove their worth," notes Snyman.
Further risk management courses are planned for 2015 and 2016. For more information, please go to www.securitytoday.co.za/risktraining
Further reading:
Putting secondary storage to work
September 2019 , IT infrastructure, Security Services & Risk Management
By 2022, more than 80% of enterprise data will be stored in scale-out storage systems in enterprise and cloud data centres, up from 40% in 2018.
Read more...
---
ContinuitySA offers Complete Continuity Practitioner in October
September 2019, ContinuitySA , Training & Education, Security Services & Risk Management
ContinuitySA is offering its popular five-day Complete Continuity Practitioner Programme on 21-25 October 2019 at its offices in Midrand.
Read more...
---
Security workforce compliance tool
September 2019 , Security Services & Risk Management
To maintain service excellence across a security workforce is impossible without the help of information systems and technology.
Read more...
---
Call back the past
September 2019, SCAN RF Projects , Security Services & Risk Management
Two-way radios are still very relevant in the security world and have gone through significant advances over the past few years to enable them to keep up with the expectations of people in today?s connected world.
Read more...
---
X-rays in 3D
September 2019, XPro Security Solutions , Editor's Choice, Security Services & Risk Management
Hi-Tech Security Solutions asked Greg Dixon, director of XPro, for some insights into X-ray scanning and its pros and cons in today?s volatile world.
Read more...
---
Smart Inspection Unit developed by Roteck
September 2019 , Editor's Choice, Security Services & Risk Management
Roteck has announced a portable personnel and bag scanning unit that can easily be transported, set up and used in almost any location.
Read more...
---
Mobile guards on patrol
September 2019, Dahua Technology South Africa , CCTV, Surveillance & Remote Monitoring, Security Services & Risk Management
Dahua Technology developed mobile ?Video Guards? along with a complete solution for a security service company in Germany.
Read more...
---
SearchInform releases automated profiling
September 2019 , Products, Security Services & Risk Management
SearchInform?s ProfileCenter creates a user?s psychological profile and predicts his/her behaviour without third-party profilers being involved.
Read more...
---
iLegal 2019: Enhancing and empowering your control rooms
July 2019, Technews Publishing , News, Conferences & Events
iLegal 2019 will be held on 12 September 2019 at The Rosebank Crowne Plaza in Johannesburg. iLegal is the surveillance industry's premier one-day conference hosted jointly by Hi-Tech Security Solutions and Dr Craig Donald.
Read more...
---
Residential Estate Security Conference 2019: Managing for efficiency
July 2019, Technews Publishing , News, Conferences & Events
The Residential Estate Security Conference 2019 will be held on 20 August 2019, once again at the Indaba Hotel in Fourways, Johannesburg.
Read more...
---