printer friendly version
Securing financial institutions with biometrics
October 2015 Financial (Industry), Access Control & Identity Management, Integrated Solutions
The theft of money remains the primary goal of most criminals and what better place to acquire it than through the depository of most cash – financial institutions. Addressing the need to stop increasingly sophisticated criminals from unlawfully accessing another's funds is something that all financial institutions cite as a priority. The use of biometrics to achieve this objective is picking up pace.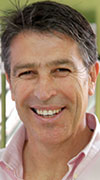 John Powell, MD of Powell Tronics.
According to John Powell, managing director of Powell Tronics, one needs to differentiate between the larger registered financial service providers (RFSPs) and the micro RFSPs such as retail outlets that offer customers credit cards or loyalty cards.
The larger RFSPs deal with large numbers of people entering their branches on a daily basis, with a vast number of account holders being the norm. The trend, as detailed in the adoption of HANIS by SABRIC bank members, is to register customers, especially new account holders, biometrically. These biometric records will form part of the account holder's personal banking profile and can be verified via the HANIS systems to ensure that no account is illegally accessed.
In addition to this new system, Powell says that the company often receives requests from financial institutions to ­provide bio­metric systems that will control the ingress and egress of employees, especially in sensitive areas such as the vaults and IT departments. However, he adds, the greatest demand comes from the micro RFSPs where managing staff and securing their facilities is their biggest security issue.
Physical and logical access
Since customers do not actually visit micro RFSP facilities, the primary access issue is protecting customer information. The goal here is to limit admission into the site/system specifically to those people who are registered to access the sensitive data. Powell Tronics has deployed a number of its PT-AD systems into this market sector. With the incorporation of MS Active Directory into the ImproNet access control system, the system is able to institute a higher level of access control management in terms of linking Internet and IT access to physical access to specific employees.
Once enrolled on the system, PT-AD will verify that users are permitted to access the IT domain which then manages all records centrally. If an employee is dismissed or leaves the company, the HR department will note this electronically on the employee's record via the Windows Directory and the system will automatically revoke their access both into and out of the building, as well as into the IT system. Access control solutions are typically now being integrated with business management and surveillance systems to provide a comprehensive holistic security solution.
Powell says that it is easier to provide standard solutions to the micro RFSPs due to the smaller number of people entering the facilities. However, customisation is also an option, depending on the specific customer requirements. He says that providing such levels of access control via a product like PT-AD would be logistically difficult for banking customers and he therefore does not foresee this happening in the immediate future.
Mobility
As with most market sectors, mobile technology is fast gaining ground. Powell cites a number of examples where mobile technology is used to provide access into facilities with electronic visitor management systems at business and residential estates and within the educational sector. He believes that this technology will also be adopted by the financial sector.
He emphasises that before instituting a biometric security solution, RFSPs should request documented customer references from a supplier to ensure that the technology is capable of providing maximised results in a specific application. Coupled with this is the selection of solutions that are provided by a recognised brand leader who has invested in the scalability and sustainability of the specific access technology. In addition, end users should ensure that the system integrator or installer that they employ to source and install their access technology has a proven track record and is able to deploy a solution that is tailored towards that specific market sector.
Credit(s)
Further reading:
Managing staff effectively
September 2019, dormakaba South Africa, iPulse Systems , Integrated Solutions, Access Control & Identity Management
Workforce management solutions allow organisations to track the relationship between productivity and the cost of employment, incorporating issues such as health and safety, T&A, rostering and more.
Read more...
---
Hennie Lategan joins Centurion as head of exports
September 2019, Centurion Systems , News, Access Control & Identity Management
Centurion Systems has announced the appointment of Hennie Lategan as the head of the company's exports department.
Read more...
---
Increase security efficiency, decrease costs
September 2019 , Security Services & Risk Management, Integrated Solutions
Trackforce offers customisable mobile and web applications to increase security operational efficiency and lower costs.
Read more...
---
Securing ATMs 24/7
September 2019, Hikvision South Africa , CCTV, Surveillance & Remote Monitoring, Financial (Industry)
To be effective, most ATMs need to be in public areas and open all hours, and they hold cash, making them an attractive target.
Read more...
---
Dual energy X-ray inspection system
September 2019, Regal Distributors SA , Products, Access Control & Identity Management
The ZKX6550 X-ray inspection system increases the operator's ability to identify potential threats; the device is designed to scan briefcases, carry-on baggage, small cargo parcels.
Read more...
---
ZKTeco parking barrier
September 2019, Regal Distributors SA , Products, Access Control & Identity Management
The PB3000 parking barrier is an ideal automatic car park barrier for parking lot and security control; it can easily integrate with revenue collection and access control systems.
Read more...
---
ZKTeco automatic bollard
September 2019, Regal Distributors SA , Products, Access Control & Identity Management
The high-quality automatic bollard is used to protect security areas from vehicle intrusion; in case of power failure, the bollard can be lowered manually.
Read more...
---
Removable bollard
September 2019, Regal Distributors SA , Products, Access Control & Identity Management
ZKTeco?s removable bollard is a low-cost solution when the depth is not sufficient to install an automatic bollard.
Read more...
---
Walk-through metal detector
September 2019, Regal Distributors SA , Products, Access Control & Identity Management
The ZK-D3180S is recommended for exhibition centres, government offices, electronic factories, prisons, financial institutions and hotels.
Read more...
---
ZKTeco tyre killer
September 2019, Regal Distributors SA , Products, Access Control & Identity Management
Electromechanical tyre killer is one of the most high-end vehicle access control products to prevent vehicle intrusion.
Read more...
---