printer friendly version
SABRIC and Department of Home Affairs roll out HANIS
October 2015 Editor's Choice, Access Control & Identity Management, Security Services & Risk Management, Financial (Industry)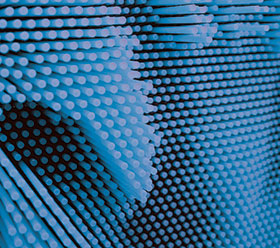 SABRIC member banks are participants in a joint project with the Department of Home Affairs to roll out the HANIS (Home Affairs National Identification System) verification service in bank branches. Hi-Tech Security Solutions spoke to SABRIC's general manager: Information Hub, Susan Potgieter about the initiative.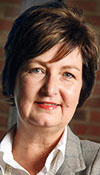 Susan Potgieter, SABRIC.
Potgieter says that the service enables the verification of the customer's identity by checking their identity number and biometric data against the data hosted at the Department of Home Affairs. Different banks are at various stages of roll out and SABRIC is satisfied with the current status of the project.
Interestingly, the quality of the data at the Department of Home Affairs has exceeded expectations, given the fact that most of the records were paper based and they had to be converted into digital format when the department migrated to the present digital platform.
"When we embarked on this project, one of the objectives was to support the department in improving their data quality where needed. We have found that the data integrity is of a reasonable standard and is actually improving as citizens are applying for new and replacement products like smart ID cards and passports. The reliability of the verification service is unquestionable: if a customer verifies successfully, then the person is authenticated," Potgieter points out.
Different banks are deploying the solution in different business processes in their branch network at present. Whilst it is envisaged that the solution will be used beyond the branch environment in the near future, there is still some work to be done before this will happen.
Potgieter says that the greatest benefit is that the solution is acting as an effective deterrent. Fraudsters know that they will be identified if they attempt to impersonate a victim of identity theft. The other benefit has been the opportunity to contribute to the Department of Home Affairs' database by referring customers who are not on HANIS to be enrolled or where there is a discrepancy in the data, to have it corrected.
So is the system only for banks or can it be used to benefit other registered financial service providers? Whilst the SABRIC initiative is only for member banks, the benefits of biometric verification in general are definitely not limited to that industry, says Potgieter. She asserts that any company that needs to verify their customer's identity will benefit from biometric verification, especially where the process includes verification against the source. In the South African context, this source is the Department of Home Affairs.
When selecting biometric devices for accurate identification and authentication, as well as reliability and security, it is important to understand the specifications required to produce the desired outcome and to test and select devices that meet that standard as set by the department. Security of the transaction is of paramount importance and in this regard, the banking industry has complied with the standards prescribed by government as well as international best practice.
Potgieter says that when registered financial institutions are considering implementing a biometric solution there are specific security standards they should insist upon from a supplier. These include protecting the confidentiality of the data being transmitting during the verification process. Similarly, Hyper Text Transfer Protocol Secure (indicated by 'HTTPS' before the website address in the address bar of your Internet browser) is of the utmost importance and is used as the protocol over which the data is sent.
Potgieter says that SABRIC and the banking industry expect the use of biometrics as a verification method to grow in their market and to be utilised on numerous platforms, including mobile devices. "We welcome this development, especially if the customer's identity has been verified biometrically with the Department of Home Affairs."
For more information, go to www.sabric.co.za
Further reading:
Convergence of cyber and physical security
Integrated Solutions Security Services & Risk Management
The overlap between cybersecurity and physical security will necessitate the integration of cyber and physical security in order to enable the sharing of events to the same security operations centre.
Read more...
---
Robots: a security opportunity or a threat?
Editor's Choice News Conferences & Events
Professor Martin Gill, Director of Perpetuity Research & Consultancy International and the School of Criminal Justice at the University of South Africa (UNISA), will be holding a Global Thought Leadership Security webinar on 22 June 2023 to discuss the contentious issue of robots operating in the security industry.
Read more...
---
UNISA sponsors Securex seminars
Editor's Choice News Conferences & Events
As part of UNISA's 150-year birthday celebrations, UNISA has sponsored the Securex Theatre Seminar Programme, which will include a number of prominent industry specialists, academics and security practitioners focusing on a number of themes.
Read more...
---
Sustainability School opens for enrolment
Education (Industry) News Security Services & Risk Management
Three-part programme, first developed for Schneider Electric employees, is now available for free for companies worldwide. Attendees learn how to future-proof their businesses and accelerate their decarbonisation journeys.
Read more...
---
Accenture Technology Vision 2023
Editor's Choice News
New report states that generative AI is expected to usher in a 'bold new future' for business, merging physical and digital worlds, transforming the way people work and live.
Read more...
---
Economists divided on global economic recovery
Editor's Choice News
Growth outlook has strengthened in all regions, but chief economists are divided on the likelihood of a global recession in 2023; experts are concerned about trade-off between managing inflation and maintaining financial stability, with 76% anticipating central banks to struggle to bring down inflation.
Read more...
---
Success in business process best practices
Technews Publishing Kleyn Change Management Editor's Choice Integrated Solutions Security Services & Risk Management
This month we commandeer time with the woman who is spearheading our national conversation on Women in Security, Lesley-Anne Kleyn, to get to know the lady herself a little better.
Read more...
---
Integrated guarding services
XtraVision Integrated Solutions Access Control & Identity Management Industrial (Industry)
XtraVision offers a few tips on how to go about planning and setting up an integrated approach to sustainable and successful security services, from the initial risk assessment to the technology and people required.
Read more...
---
Paxton secures multi-tenant office in Cape Town
Paxton Integrated Solutions Access Control & Identity Management Products
Cecilia Square in Paarl, Cape Town is an office building from where several businesses operate. The multi-tenant site has recently undergone a full refurbishment, including a complete upgrade of its security system for access control.
Read more...
---
AI face recognition OEM module
Suprema News Access Control & Identity Management Products
Suprema AI, a company specialized in artificial intelligence–based integrated security solutions, recently launched its high-performance face recognition OEM module called 'Q-Face Pro' in response to the growing need for contactless security solutions.
Read more...
---