printer friendly version
SABRIC and Department of Home Affairs roll out HANIS
October 2015 Editor's Choice, Access Control & Identity Management, Security Services & Risk Management, Financial (Industry)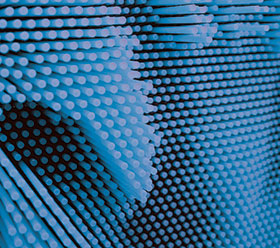 SABRIC member banks are participants in a joint project with the Department of Home Affairs to roll out the HANIS (Home Affairs National Identification System) verification service in bank branches. Hi-Tech Security Solutions spoke to SABRIC's general manager: Information Hub, Susan Potgieter about the initiative.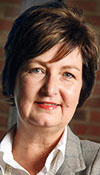 Susan Potgieter, SABRIC.
Potgieter says that the service enables the verification of the customer's identity by checking their identity number and biometric data against the data hosted at the Department of Home Affairs. Different banks are at various stages of roll out and SABRIC is satisfied with the current status of the project.
Interestingly, the quality of the data at the Department of Home Affairs has exceeded expectations, given the fact that most of the records were paper based and they had to be converted into digital format when the department migrated to the present digital platform.
"When we embarked on this project, one of the objectives was to support the department in improving their data quality where needed. We have found that the data integrity is of a reasonable standard and is actually improving as citizens are applying for new and replacement products like smart ID cards and passports. The reliability of the verification service is unquestionable: if a customer verifies successfully, then the person is authenticated," Potgieter points out.
Different banks are deploying the solution in different business processes in their branch network at present. Whilst it is envisaged that the solution will be used beyond the branch environment in the near future, there is still some work to be done before this will happen.
Potgieter says that the greatest benefit is that the solution is acting as an effective deterrent. Fraudsters know that they will be identified if they attempt to impersonate a victim of identity theft. The other benefit has been the opportunity to contribute to the Department of Home Affairs' database by referring customers who are not on HANIS to be enrolled or where there is a discrepancy in the data, to have it corrected.
So is the system only for banks or can it be used to benefit other registered financial service providers? Whilst the SABRIC initiative is only for member banks, the benefits of biometric verification in general are definitely not limited to that industry, says Potgieter. She asserts that any company that needs to verify their customer's identity will benefit from biometric verification, especially where the process includes verification against the source. In the South African context, this source is the Department of Home Affairs.
When selecting biometric devices for accurate identification and authentication, as well as reliability and security, it is important to understand the specifications required to produce the desired outcome and to test and select devices that meet that standard as set by the department. Security of the transaction is of paramount importance and in this regard, the banking industry has complied with the standards prescribed by government as well as international best practice.
Potgieter says that when registered financial institutions are considering implementing a biometric solution there are specific security standards they should insist upon from a supplier. These include protecting the confidentiality of the data being transmitting during the verification process. Similarly, Hyper Text Transfer Protocol Secure (indicated by 'HTTPS' before the website address in the address bar of your Internet browser) is of the utmost importance and is used as the protocol over which the data is sent.
Potgieter says that SABRIC and the banking industry expect the use of biometrics as a verification method to grow in their market and to be utilised on numerous platforms, including mobile devices. "We welcome this development, especially if the customer's identity has been verified biometrically with the Department of Home Affairs."
For more information, go to www.sabric.co.za
Further reading:
Axis gives a brighter future to children
Issue 1 2020, Axis Communications SA , Editor's Choice
Fully networked camera solution provides visibility and accountability, letting orphanage focus on what's important – its children.
Read more...
---
SFP Security & Fire becomes ISF SFP
Issue 1 2020, ISF SFP , Editor's Choice
SFP Security & Fire was sold to ISF in 2019, becoming ISF SFP and attaining Level-1 BEE status.
Read more...
---
Janu-worry or Twenty-Plenty?
Issue 1 2020 , Editor's Choice
If the available security spend right now is somewhere between limited and non-existent, here are just a few suggestions.
Read more...
---
CCTV surveillance needs are critical in defining types of camera deployment
Issue 1 2020, Leaderware , Editor's Choice
Cameras by themselves do not reduce crime; they need to be implemented as part of a considered strategy of crime prevention and detection.
Read more...
---
Trends 2020
Issue 1 2020, Technews Publishing , Editor's Choice
Hi-Tech Security Solutions asked a few people from diverse companies to join us in a round-table discussion about what they expect to see happening in their environments in the coming year.
Read more...
---
Seven key trends for 2020
Issue 1 2020, Hikvision South Africa , Editor's Choice
Hikvision looks at a few trends that will affect the security industry in 2020 and beyond.
Read more...
---
Hundreds of millions to reskill
Issue 1 2020 , Editor's Choice
By 2022 alone, 75 million jobs will probably be displaced across 20 major economies, while 133 million new ones will spring up in industries that are only just gaining traction.
Read more...
---
Slow and steady wins the access race
Issue 1 2020, ZKTeco, Technews Publishing , Editor's Choice, Commercial (Industry)
The commercial sector is slow in migrating to new access control technologies, with the majority of companies remaining with card and fingerprint solutions.
Read more...
---
Client property access integrity
Issue 1 2020 , Editor's Choice
Blind or unquestioned trust is something that we all seem to willingly and unconditionally give our security service providers and their reaction officers.
Read more...
---
From physical security to cybersecurity
Access & Identity Management Handbook 2020, Genetec , Cyber Security, Security Services & Risk Management
Genetec discusses the security-of-security concept as a means to protect cameras, door controllers and other physical security devices and systems against cybercriminal activity.
Read more...
---