printer friendly version
SABRIC and Department of Home Affairs roll out HANIS
October 2015 Editor's Choice, Access Control & Identity Management, Security Services & Risk Management, Financial (Industry)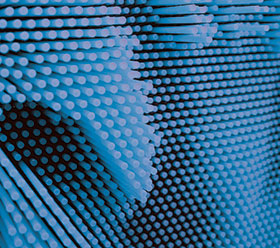 SABRIC member banks are participants in a joint project with the Department of Home Affairs to roll out the HANIS (Home Affairs National Identification System) verification service in bank branches. Hi-Tech Security Solutions spoke to SABRIC's general manager: Information Hub, Susan Potgieter about the initiative.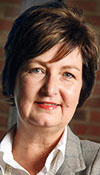 Susan Potgieter, SABRIC.
Potgieter says that the service enables the verification of the customer's identity by checking their identity number and biometric data against the data hosted at the Department of Home Affairs. Different banks are at various stages of roll out and SABRIC is satisfied with the current status of the project.
Interestingly, the quality of the data at the Department of Home Affairs has exceeded expectations, given the fact that most of the records were paper based and they had to be converted into digital format when the department migrated to the present digital platform.
"When we embarked on this project, one of the objectives was to support the department in improving their data quality where needed. We have found that the data integrity is of a reasonable standard and is actually improving as citizens are applying for new and replacement products like smart ID cards and passports. The reliability of the verification service is unquestionable: if a customer verifies successfully, then the person is authenticated," Potgieter points out.
Different banks are deploying the solution in different business processes in their branch network at present. Whilst it is envisaged that the solution will be used beyond the branch environment in the near future, there is still some work to be done before this will happen.
Potgieter says that the greatest benefit is that the solution is acting as an effective deterrent. Fraudsters know that they will be identified if they attempt to impersonate a victim of identity theft. The other benefit has been the opportunity to contribute to the Department of Home Affairs' database by referring customers who are not on HANIS to be enrolled or where there is a discrepancy in the data, to have it corrected.
So is the system only for banks or can it be used to benefit other registered financial service providers? Whilst the SABRIC initiative is only for member banks, the benefits of biometric verification in general are definitely not limited to that industry, says Potgieter. She asserts that any company that needs to verify their customer's identity will benefit from biometric verification, especially where the process includes verification against the source. In the South African context, this source is the Department of Home Affairs.
When selecting biometric devices for accurate identification and authentication, as well as reliability and security, it is important to understand the specifications required to produce the desired outcome and to test and select devices that meet that standard as set by the department. Security of the transaction is of paramount importance and in this regard, the banking industry has complied with the standards prescribed by government as well as international best practice.
Potgieter says that when registered financial institutions are considering implementing a biometric solution there are specific security standards they should insist upon from a supplier. These include protecting the confidentiality of the data being transmitting during the verification process. Similarly, Hyper Text Transfer Protocol Secure (indicated by 'HTTPS' before the website address in the address bar of your Internet browser) is of the utmost importance and is used as the protocol over which the data is sent.
Potgieter says that SABRIC and the banking industry expect the use of biometrics as a verification method to grow in their market and to be utilised on numerous platforms, including mobile devices. "We welcome this development, especially if the customer's identity has been verified biometrically with the Department of Home Affairs."
For more information, go to www.sabric.co.za
Further reading:
Integrated personal security that travels with you
Editor's Choice Integrated Solutions Smart Home Automation
Individuals can take their security with them when travelling with the new Nomad all-in-one integrated security solution that keeps you and your belongings safe.
Read more...
---
More to expect from Securex 2022
Specialised Exhibitions Editor's Choice
Securex South Africa 2022 will take place from 31 May to 02 June 2022 at Gallagher Convention Centre in Johannesburg, and will be co-located with A-OSH Expo, Facilities Management Expo and the new Firexpo 2022.
Read more...
---
Africa's largest data centre obtains internationally accredited certifications
News IT infrastructure Financial (Industry)
Africa Data Centres has strengthened the integrity of its day-to-day running by acquiring ISO certifications through the internationally recognised authority in ISO certification, the British Standards Institution South Africa (BSI).
Read more...
---
Gallagher announces ISO 27001 certification
Gallagher News Access Control & Identity Management
Gallagher has announced it has achieved ISO 27001 accreditation, a standard that ensures organisations protect their information in a systematic and efficient way, through a comprehensive Information Security Management System (ISMS).
Read more...
---
Entries open for 2022 OSPA Awards
Editor's Choice News
Entries for the South Africa Outstanding Security Performance Awards (OSPAs) are now open. The OSPAs are designed to recognise the work of companies, individuals and teams.
Read more...
---
The supervisor role in control rooms
Leaderware Editor's Choice CCTV, Surveillance & Remote Monitoring
The control room supervisor role is not a simple task of making sure that all the staff are present and appear to be performing their duties.
Read more...
---
What just happened?
Editor's Choice Security Services & Risk Management Retail (Industry)
Adriaan Bosch, head of Loss Prevention, Corporate Security at PEP Stores, talks about how intelligence, preparation and ensuring the flow of accurate information helped PEP Stores recover quickly from attacks on 283 stores.
Read more...
---
Zero Trust in financial services
Editor's Choice Security Services & Risk Management
Hila Meller, BT vice president, Security, Americas, EMEA and APAC, highlights the eight guiding principles for Zero Trust in banking and financial services today.
Read more...
---
Enhance security and sustainability
Technews Publishing HID Global Editor's Choice
Jaroslav Barton says mobile access control provides future-proof flexibility for the never-ending endeavours of digital transformation as well as going green.
Read more...
---
Corporations protected, but not secure
News Cyber Security Security Services & Risk Management
Nearly three quarters of South Africa's top 100 corporates are investing more in cybersecurity than the industry average, but an almost equal proportion don't feel fully protected by their current cybersecurity strategy.
Read more...
---