printer friendly version
Merger takes FS-Systems forward
October 2015
Integrated Solutions
FS-Systems has carved out a name for itself in the SI market over the years, first trading as FireFight, a company launched in 1971, focusing on fire detection and suppression technology and services.
In the '80s, the company branched into manufacturing its own products, but found it needed to focus on one core business. The company then split into a manufacturing company, which was eventually renamed Ziton, now owned by UTC, and the integration arm was renamed FireSpec and continued with its focus on the fire market, but also diversified into other aspects of enterprise security, including access control, surveillance, voice evacuation and PSIM.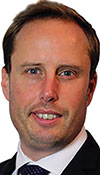 Carlo Klopper, MD of FS-Systems.
In 2013, FireSpec purchased a specialist IP video surveillance company, Integrated Gaming Security Solutions (IGSS). The acquisition gave FireSpec expertise in high definition IP video surveillance solutions, specifically relevant to the gaming vertical. IGSS was renamed FutureVid Solutions.
In 2015, the two companies merged into one new entity, ready to take on the enterprise security integration market, and was renamed FS-Systems, with Carlo Klopper (ex regional lead for UTC) as MD.
Tackling project work
Klopper says the merged FS-Systems is focused on project work, specifically the difficult projects others take strain in completing. The reason for this is the training and experience of FS-Systems' employees. Klopper is focused on ensuring the people within FS-Systems are able to deliver at the highest quality projects, on time and on budget, no matter what the task is.
The same applies to the company's technical teams. They are on a continual path of upgrading their skills to be able to best service clients. To ensure its skills are ahead of the pack, FS-Systems selects a limited number of technology partners and insists on using products it has experience in and knows it can rely on to perform as required.
The product partnerships it has developed include areas such as access control including biometrics, fire, voice and IP video. The brands it focuses on include Avigilon for video surveillance, Gallagher and Impro for access control, TOA and Bose for voice evacuation, and UTC's brands and Securiton for fire detection and suppression.
The company also focuses on a number of verticals. It has completed large projects in the mining industry, most recently at a copper mine with multiple sites. The solutions implemented include enterprise access control, workforce management and IP video solutions. All these are managed centrally from the company's head office.
Other verticals include supplying high definition video solutions to the gaming industry as well as healthcare, property and property management groups, and the logistics industry.
It is also an old hand at the education market. FS-Systems has, for example, a long-term relationship with the University of Cape Town (UCT) where it has an onsite team to support its installed solutions. The work done at UCT covers 190 buildings, over 30 000 students, 1800 access controlled doors, 30 000 smoke detectors and over 250 alarm systems running over IP.
Delivering business value
Despite its capacity to implement and maintain significant security projects, Klopper says the company is focused on delivering business value on top of its security solutions. Its aim is to use traditional security products and solutions to optimise customers' security and business processes and benefit the company as a whole.
In providing more than security solutions, Klopper says the company is on track to live up to its vision of delivering value to companies across sub-Sahara Africa requiring protection of their people, property and assets.
Over the next year or so, Klopper adds that FS-Systems' focus will be on growing its presence in South Africa and sub-Saharan Africa by expanding its presence in Johannesburg, as well as in South America, all areas it already does business in. He also wants FS-Systems to be the best company to work for in order to attract and retain the best skills in the industry.
For more information contact FS-Systems, +27 (0)21 685 1111, enquiry@fs-systems.co.za, www.fs-systems.co.za
Further reading:
Targeting the smart security and IoT market
Issue 1 2021, Gijima Specialised Solutions (GSS) , Integrated Solutions
Gijima provides clients with sophisticated and diverse service delivery options in the infrastructure, solutions, systems integration and networking arenas.
Read more...
---
2021 trends that will impact IT
Issue 9 2020 , Integrated Solutions
Along with the shift to the cloud, artificial intelligence will automatically unify data and data-driven automation in 2021.
Read more...
---
Approaching security differently
Issue 9 2020 , Integrated Solutions
The proliferation of multi-cloud environments and shadow IT systems is further driving the need to orchestrate, manage, and create security visibility.
Read more...
---
Smart means collaboration
Issue 9 2020 , Integrated Solutions
It is estimated that by 2050, 68% of the world's population of 9,8 billion will live in urban areas. Therefore, as economies rebuild, focusing on city sustainability will be crucial.
Read more...
---
Business gets savvy with 'livelier' AI
Issue 7 2020 , Integrated Solutions
There are three key trends in the AI arena that will contribute to its acceptance as a more effective way of deriving value from data.
Read more...
---
The new operator
CCTV Handbook 2020, Bidvest Protea Coin, Technews Publishing, Leaderware, Rhyco Risk Projects , Integrated Solutions
With technology doing more work in control rooms today, do operators need new skills to be able to add value? Are they still needed?
Read more...
---
The future of the VMS
CCTV Handbook 2020, Technews Publishing, Cathexis Technologies, Arteco Global, XtraVision , Editor's Choice, CCTV, Surveillance & Remote Monitoring, Integrated Solutions
Will AI-enhanced video analytic apps that can be downloaded and installed directly onto cameras take business away from the VMS market?
Read more...
---
Keep your distance with PeopleCounter and DistanceGuard
Issue 6 2020 , Integrated Solutions
Using 2D and 3D LiDAR sensors from SICK, people can easily uphold the recommended minimum distance in public and pre-defined spaces.
Read more...
---
Critical control management
Issue 5 2020, Horizon Risk , Integrated Solutions
The critical control management process is an excellent practical approach to ensure effective controls over potentially catastrophic events.
Read more...
---
Adjusting to a new reality
Issue 5 2020, Technews Publishing , Integrated Solutions
COVID-19 to accelerate adoption of technology-enabled smart city resilience approaches: robotics, digital twins, and autonomous freight.
Read more...
---