printer friendly version
Mobile Key Services integrated with SALTO
September 2015 Access Control & Identity Management, Entertainment and Hospitality (Industry)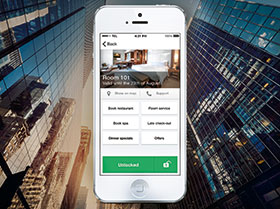 Zaplox, a developer of advanced Mobile Key Services for the global hospitality industry, has integrated its solution with SALTO Systems, providing hotels and their guests with convenience. This global partnership allows any property with SALTO BLE (Bluetooth Low Energy) enabled locks installed to easily implement mobile access functionality for their guests, while experiencing the operational benefits that Zaplox Mobile Key Services provide.
Through the new technology integration with Zaplox, guests of properties with SALTO access control systems will now be able to use their smartphones for guestroom access, while allowing hoteliers to offer and promote revenue creating smart services with full customisation and hotel branding on the Zaplox Mobile Key Services app platform. This wide range of ancillary services, which can be made available in the app, includes mobile check-in and check-out, room upgrades, restaurant bookings, room service, special offers and more.
The user-friendly Zaplox Mobile Key Services app is easily downloaded and available for all major smartphone platforms. With recent industry research indicating that more than 70% of travelers would opt to use their smartphones as a check-in alternative, Zaplox Mobile Key Services allow guests to bypass the front desk altogether, saving them valuable time.
Additionally mobile keys are highly secure, since a guest's smartphone is less likely to be misplaced than a plastic keycard and typically is password protected. Should a guest lose their phone, mobile keys can easily be revoked and reassigned in real time by hotel staff.
In less than 10 years, SALTO has become one of the world's top five manufacturers of electronic access control systems. SALTO has a strong tradition of delivering the latest in guestroom access technology and has launched a series of innovations since its founding, raising the bar of guestroom security to new heights. By combining SALTO smart locks with Zaplox Mobile Key Services, hotels benefit from enhanced cost efficiencies through streamlined operations and revenue opportunities, allowing front desk staff to focus on other aspects of guest service and communication.
"Research shows guest demand for the use of smartphones and apps as part of their hotel experience is increasing," says Jennifer Stack, vice president marketing SALTO Systems, "So this integration with Zaplox is perfectly placed to deliver an exciting range of benefits enabling them to enjoy all the advantages provided by integrated smart technology to maximise the flexibility and enjoyment of their hotel stay."
For more information contact SALTO Systems, +44 7787 153150, [email protected], www.saltosystems.com
Credit(s)
Further reading:
Powder coating provides durable finish
Turnstar Systems Access Control & Identity Management Industrial (Industry)
Turnstar's powder coating line provides corrosion resistance, high-quality surface finishing and a long-term environment-friendly impact for all access control components the company manufactures.
Read more...
---
Penguins enhance fan experience with smart camera applications
CCTV, Surveillance & Remote Monitoring Entertainment and Hospitality (Industry)
The Pittsburgh Penguins are implementing Azena's application platform for smart cameras in their home arena to provide analytics for heatmapping, queue detection and POS data integration to maximise the gameday experience for fans and stadium management
Read more...
---
Salient Systems manages campus security
Education (Industry) CCTV, Surveillance & Remote Monitoring Access Control & Identity Management
The University of Massachusetts Amherst relies on Salient Systems for video, access control operations for flagship campus as it standardises on IP surveillance.
Read more...
---
From physical to virtual IDs
Access Control & Identity Management
The future of sovereign documents (IDs) such as identity cards, passports and driver's licences is virtual, however, there are still some key challenges to overcome in order to get there.
Read more...
---
QR Code passwordless authentication method
News Access Control & Identity Management Products
LogMeOnce introduces a patented QR Code passwordless authentication method allowing users to scan a code with their mobile device for secure authentication.
Read more...
---
Improving biometrics to address privacy, scale and accuracy
Editor's Choice Access Control & Identity Management News
CryptoNets uses artificial intelligence and a new type of encryption; it is very fast, locating a face among countless others in milliseconds without the need to have any other data to narrow the search.
Read more...
---
Integration relieves PoPIA pressure for estates
Access Control & Identity Management
ATG Digital has announced that its flagship product, At The Gate, is available as an add-on to the EstateMate community management app.
Read more...
---
Web-based access control
Regal Distributors SA ZKTeco Access Control & Identity Management
Managed over the cloud, ZKBioSecurity is the access control solution that ensures total control over all entrances, exits, internal doors, gates and turnstiles, and more.
Read more...
---
The AI knows best
Access Control & Identity Management
RBA makes use of the vast computing power of machine learning to analyse thousands of data points to determine how risky a transaction may be.
Read more...
---
Enterprise identity fraud prevention
Access Control & Identity Management
Trustmatic brings government-grade facial 1:N search capabilities to the cloud, supporting face deduplication and identification against watchlists, and providing seamless integration via REST API.
Read more...
---