printer friendly version
Keeping fires at bay with detection and suppression technology
September 2015 Editor's Choice, Fire & Safety, Products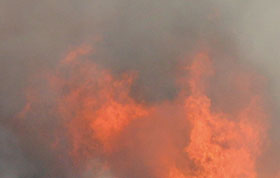 There's a wealth of technology available on the market that helps to detect fires and provide the necessary suppression required to halt the progress of a fire. Sadly not all of this technology is up to spec. Hi-Tech Security Solutions looks at a few of the brands that consider quality and compliance to be of prime importance.
G2 Security
G2 Security markets the ASD 535 high sensitivity aspirating smoke detector. This device consists of one or two independent sampling pipes, each having one or more sampling apertures and a sampling chamber. The air of the space being monitored is sucked in for precise analysis by the scattered-light smoke detector located in the sampling chamber. The ASD 535 has a smoke sensitivity of 0.02 to 10%/m.
The ASD 535 incorporates the most powerful fan on the market, which means that larger areas can now be monitored. Moreover, the new HD (High Dynamic) technology with which the smoke sensor is equipped, represents a step change in detection accuracy. Its alarm sensitivity can be fine-tuned to the specific circumstances and hazard potential of the area being monitored.
The Patol digital linear heat cable is an analogue LHDC designed to provide early detection of fire and overheating in circumstances where other forms of detection would not be viable, either due to inability to sustain the environmental requirements or through prohibitive costs. Detection is provided at alarm temperatures of 70, 90 and 80°C, well below flame point. The rugged construction makes this unit ideal for use in harsh environments and a stainless steel sheath is available for use in environments where corrosion is an issue.
The Fireray 50R/100R series conventional infrared optical beam smoke detectors provide economical and effective protection of large, open plan spaces with high ceilings, particularly if access to point type smoke detectors presents practical difficulties. Optical beam smoke detectors are ideally suited for protecting warehouses, factories, atria, shopping malls, leisure centres, churches, museums, power stations and industrial plants. Area coverage of 50 or 100 m is available.
Pinnsec
The two most popular products in the company's fire suppression portfolio are the Eckoshield 227 and the FireEater Inergen 300-bar system. All manufacturing is undertaken in accordance to ISO 90001 certification and SAQCC-Fire certified gas designers ensure conformance to all regulations and standards.
Having both inert and Halocarbon gas solutions available allows the company to offer customers a system that best fits their needs. The company also provides room integrity testing to SANS 14520 regulations which stipulate that the suppressant should be able to hold down the fire for 10 minutes at the design height. Since insurance companies base claim payouts on adherence to the regulations, room integrity testing is highly advisable.
The Eckoshield 227 is available as a pre-engineered modular fire suppression system with SABS and SANS 347:2012 approval. With the hardware manufactured in South Africa, and only the halocarbon gas imported, the system is geared towards South African conditions and represents substantial cost savings.
No hydraulic calculations need to be made as the cylinder is fully self-contained, with all engineering calculations performed in advance by Pinnsec. Since low pressure gas suppression systems need to be located close to the source of the fire, the modular construction of the Eckoshield 227 makes this the ideal solution. Suited to suppression in smaller floor and ceiling voids and rooms in general, in instances where rooms are larger than the calculated coverage, Pinnsec can custom engineer a system fit to purpose.
The FireEater Inergen system contains a very dry gas mixture (Nitrogen, Argon and CO2) with low conductivity, making it suitable for use in transformer and high-voltage rooms where non-insulated components are installed.
The 300-bar system requires 33% fewer cylinders than the 200-bar system, making it an economically viable option. During the extinguishing process, Inergen systems reduce the air humidity, minimising the probability of sparkovers. The systems work on the principle of oxygen displacement but distinguishes itself by furthermore maintaining an oxygen level that ensures the comfort of those remaining in the room. This is possible due to the 8% CO2 contained in the agent that assists with respiration should the person be trapped in the area during a discharge.
Other advantages of the FireEater Inergen are the system's modularity and the fact that by means of selector valves, a common bank of cylinders can be used to cover several risk areas, resulting in substantial cost savings. For this type of installation Pinnsec uses fully certified design software for the hydraulic calculations.
I-CAT
I-CAT Fire Solutions recently launched the TRT-VPS-FM product range to protect valuable production vehicles and assets against fire. Making use of The T-Rotor Technology, the TRT-VPS-FM system uses foam mist as the agent. The system creates a fine atomised mist, charged with kinetic energy to penetrate the heat radiation caused by a fire. It performs gradual cooling without causing thermal shock to the equipment. 0.5% Telesolv AFFF green foaming agent is added to the system to prevent any B class fire from spreading when fuel lines or hydraulic lines rupture, causing engine fires.
I-CAT Environmental Solutions is an official supplier of Telesto's EXTINGUISHmist – a handheld water mist fire extinguisher able to suppress all common causes of fire. With conventional equipment, only 5% of the water directed at the fire is actually applied to extinguish it. The remaining 95% floods the surroundings. With the EXTINGUISHmist, a superfine 'dry to the touch' mist is emitted that quickly vapourises in the fire zone.
For more information contact:
• G2 Security, +27 (0) 87 940 9322, ht@g2security.co.za, www.g2security.co.za
• Pinnacle Security Solutions, +27 (0)11 265 3335, brigittab@pinnsec.co.za, www.pinnsec.co.za
• Andro Gibhard, I-CAT, +27 (0)81 409 5578, andro@i-cat.co.za, www.i-cat.co.za
Credit(s)
Further reading:
The importance of XDR for cyber protection
October 2019 , Cyber Security, Products
35% of South African organisations are expecting an imminent cyberattack and a further 31% are bracing for it to happen within a year, according to local research conducted by Trend Micro.
Read more...
---
2020 Residential Estate Security Conference in KZN
November 2019, Technews Publishing , Editor's Choice
Meeting the residential security challenges in 2020 and beyond: Hi-Tech Security Solutions will host the Residential Estate Security Conference 2020 in Durban on 12 March 2020.
Read more...
---
Sentian secures funding from Imfezeko
November 2019, Sentian , Editor's Choice
Cape Town based smart security technology developer Sentian has recently secured a round of funding from Imfezeko Investment Holdings.
Read more...
---
A brighter future
November 2019, NEC XON, Technews Publishing , Editor's Choice
NEC XON hosted its annual summit in October 2019 at Sun City under the banner of 'Orchestrating a Brighter World'.
Read more...
---
What are the cybersecurity issues in video surveillance?
November 2019, Axis Communications SA , Editor's Choice, CCTV, Surveillance & Remote Monitoring, Cyber Security
he importance of the data captured by surveillance cameras – and what can be done with it – has led to a new breed of cybercriminals, looking for insights to steal and sell.
Read more...
---
Big data operational and management requirements
November 2019, Leaderware , Editor's Choice
Big data offers huge advantages in enhancing or augmenting data, giving it added meaning and context, creating a broader perspective in which to view things, and adding to the value of data.
Read more...
---
GUI for fire detection systems
November 2019, FDIA (Fire Detection Installers Association) , Editor's Choice
A graphical user interface for fire detection is a graphics program that makes it easier for the operator to access all the functionalities of the fire detection system.
Read more...
---
Determining and mitigating risk: Where to begin?
November 2019 , Editor's Choice
Managing risk means proactively reducing the severity or seriousness of that which has not 'yet' occurred, says Lesley-Anne Kleyn.
Read more...
---
Duxbury Networking launches Solar Switch
November 2019 , IT infrastructure, Products
Duxbury Networking has launched its Solar Switch with tailored capabilities for applications in less-accessible areas where electricity is not available or not reliable.
Read more...
---
A platform approach to innovation and value
CCTV Handbook 2019, Technews Publishing , Editor's Choice, CCTV, Surveillance & Remote Monitoring, Integrated Solutions, IT infrastructure
Moving to the platform model of doing business holds tremendous advantages for end users and smaller developers, but also for the whole technology supply chain.
Read more...
---