printer friendly version
4K boosts safety and security
August 2015 Healthcare (Industry), CCTV, Surveillance & Remote Monitoring
Hospitals are faced with a number of security challenges, from ensuring the safety of patients and staff to preventing theft, with the added complication of very limited budgets for security solutions. Surveillance solutions are a critical component of hospital security, particularly in high-risk areas such as maternity wards, pharmacies and parking lots. Implementing 4K or Ultra High Definition (UHD) surveillance can assist hospitals to ensure effective monitoring in essential areas while improving cost effectiveness, reducing management and maintenance fees and improving overall safety and security.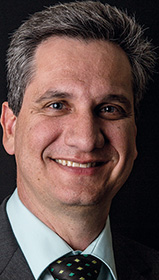 Laurence Smith, executive at Graphic Image Technologies.
One of the most significant security challenges in hospitals is their layout. Buildings are often large and sprawling, with many different floors and areas linked by corridors, as well as large hallways and reception areas, entrances, parking lots and more. Hospitals also operate 24-hours a day, seven days a week and 365 days a year, so there is no downtime and as such, security solutions must be constantly operational. People are constantly moving in and out of the various areas, from doctors and patients to visitors, deliveries, maintenance and cleaning staff and more, creating a complex and constantly busy environment.
The entire environment of the hospital needs to be secure, as hospitals, particularly in South Africa, are prone to a number of issues. The first of these is the unfortunate reality of baby snatching. In addition, there have been incidents of doctors and staff being attacked in parking lots when they leave late at night. Furthermore, as hospital pharmacies stock quantities of narcotic medicines, they are also at risk of robberies by those looking for drugs to use or sell.
While the need for security, particularly surveillance, is clear, hospitals often have very limited budgets for security. Centralised onsite monitoring is essential, as a rapid response to any situation is critical. In addition, surveillance needs to be scalable, able to integrate with existing security technologies, and should also allow for integration with solutions such as access control to deliver enhanced security.
Preventing theft is relatively simple, as cameras covering high risk areas can help to identify the perpetrators, who can often then be apprehended by security personnel before they are able to leave the premises. Within maternity wards, surveillance cameras can be linked to access control to verify that only authorised personnel are able to access areas where babies are kept. Both of these areas can benefit from the implementation of 4K cameras, which provide significantly increased video resolution. This enables people viewing the footage to zoom in with excellent clarity and identify people more accurately.
High-resolution 4K cameras can also be highly effective in parking lots and reception areas, as a single camera is able to cover a wide area with great levels of detail. One 4K camera can cover the same area as two to three high definition (HD) surveillance cameras, dramatically improving cost effectiveness by reducing maintenance and total cost of ownership (TCO). In addition, a single 4K camera with intelligent technology to scale footage can significantly reduce the amount of bandwidth required to transmit video footage, further improving the cost of running the solution. In order to further improve security, hospitals can also look at adding thermal cameras into the mix, particularly in outside areas, to enhance night surveillance.
Hospitals are an essential service to all communities, but the unfortunate reality is that they are also prone to a number of security threats. From theft of drugs and equipment to kidnapping, to incidents of doctors and staff being attacked, there are a number of threats that need to be protected against. Ultra high-definition 4K surveillance cameras are a cost effective solution to help hospitals bolster security without breaking the budget, ensuring that patients, staff and visitors are as safe as possible.
For more information contact Graphic Image Technologies, +27 (0)11 483 0333, laurence@git.co.za, www.git.co.za
Credit(s)
Further reading:
Platforms and community lead the future
May 2019, Milestone Systems , Editor's Choice, CCTV, Surveillance & Remote Monitoring, News, Integrated Solutions
Milestone Systems took a look into the future of open platforms and the power of community at MIPS EMEA in Copenhagen in March this year.
Read more...
---
The consequences of false alerts
May 2019, Leaderware , Editor's Choice, CCTV, Surveillance & Remote Monitoring, Integrated Solutions
Craig Donald discusses the impact of false alarm rates on the utility of intelligent security technology systems.
Read more...
---
Does your control room add value?
May 2019, Fidelity Security Group, G4S South Africa, Progroup , Editor's Choice, CCTV, Surveillance & Remote Monitoring, Integrated Solutions, IT infrastructure, Commercial (Industry)
Whether on- or offsite, control rooms are a critical aspect of security today and care must be taken in the design and rollout of these nerve centres.
Read more...
---
Graphic Image Technologies
Securex Preview 2019, Graphic Image Technologies , Products
Graphic Image Technologies (GIT) will be showcasing its latest range of FLIR and SerVision products and solutions as well as the latest cloud-based Surfsight dashcam at Securex 2019. Attendees will be ...
Read more...
---
Delivering greater control room value
May 2019, Cathexis Technologies , Editor's Choice, CCTV, Surveillance & Remote Monitoring, Integrated Solutions
A truly integrated security system requires that all aspects of the security system work seamlessly together, while being managed by the heart of the system, which is the control room.
Read more...
---
HD PIR camera with strobe light
May 2019, Hikvision South Africa , Perimeter Security, Alarms & Intruder Detection, CCTV, Surveillance & Remote Monitoring
Hikvision's Turbo HD passive infrared (PIR) camera uses advanced video surveillance technologies to capture infrared light given off by human bodies.
Read more...
---
AI enhances intruder detection
May 2019, Dahua Technology South Africa , Products, CCTV, Surveillance & Remote Monitoring
Dahua Technology launched its new XVR series, XVR5000-I/XVR7000-4KL-I featuring full-channel SMD Plus to benefit customers with an AI upgrade.
Read more...
---
The world's first surveillance camera day
May 2019 , News, CCTV, Surveillance & Remote Monitoring, Conferences & Events
As part of the National Surveillance Camera Strategy for England and Wales, the Surveillance Camera Commissioner is holding the world's first Surveillance Camera Day on 20 June.
Read more...
---
Combine technologies for effective intruder detection
May 2019, Vox Telecom , Perimeter Security, Alarms & Intruder Detection, CCTV, Surveillance & Remote Monitoring
One does not need to break the bank when securing valuables, but rather have the right mix of various layers of technology.
Read more...
---
Biometrics in future healthcare
May 2019 , Healthcare (Industry), Access Control & Identity Management
The idea of using biometrics in the healthcare sector is not new, but it is one that hasn't been explored or exploited to its full potential.
Read more...
---