printer friendly version
One size does not fit all
August 2015 CCTV, Surveillance & Remote Monitoring, Integrated Solutions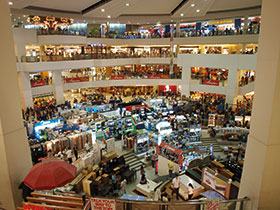 Video surveillance continues to play a vital role in the fight against crime as security and safety concerns rise. With network cameras and CCTV systems becoming essential for business, integrators and installers must ensure that they are able to position themselves as trusted advisors to their customers to help provide the best possible security solution.
With this in mind, there needs to be a shift in attitude away from considering network cameras as a commodity and more as a significant component of a solution that can add true business value to suit each customer's individual requirements. To accommodate this, system integrators must work closely with customers in the planning and pre-installation stage of a project in order to offer the best fit that can not only protect that customer's business, but also potentially offer enhanced benefits beyond security.
The video surveillance landscape is rapidly moving away from the tick-box approach of previous years. It has never been more important than it is today for installers and resellers to acknowledge this new reality.
The planning stage is key to building a fit-for-purpose video surveillance system. Close co-operation between the integrator and customer is vital at this point – when the purpose of the installation, security equipment specifications and technical requirements are confirmed. The eventual video surveillance solution will have several components: cameras, access control, network infrastructure, storage and VMS (video management software) for managing the systems. And there are a number of considerations that must be taken into account for the integrator to make the best recommendation for each of these. These include:
Defining the parameters
The first stage of the process will be to determine the primary purpose for the surveillance installation, as this will dictate the recommended solution. For example, does the customer need video surveillance in order to monitor movement of people, monitor for missing or moved objects, or as a business tool? Video surveillance is primarily used for crime detection or prevention, but we are seeing these systems increasingly used as a business tool adding more value to organisations.
A key example of this is in the retail industry, where more and more retailers are using video to map movement of customers in order to ensure optimum product placement and increased foot flow, which can help drive sales.
Where surveillance is in an outdoor environment such as a car park, an HD system with high quality zoom capability will be most useful, for example, when required to zoom in on vehicle licence plates.
Going digital for a digital age
Once the purpose of the video surveillance has been established, determining the type of camera system becomes easier. Businesses are increasingly opting for digital IP network cameras as opposed to analogue CCTV systems. These IP cameras have a number of benefits including remote accessibility, better image quality, more effective video management and no limit on the number of cameras on the system. Integrators should be in a position to recommend the type of IP camera that works best for the customer, determining how to balance the capability and functionality of the camera, with that of the VMS software or central network video recorder (NVR).
Adding a HD network camera system to a customer's existing network infrastructure can have a significant impact on bandwidth and network connectivity. The integrator must assess the impact this will have on the customer's network performance in order to ensure that it does not adversely affect the connectivity or interrupt business critical applications. Bandwidth will also be affected by whether the system is unicast (one-to-one) or multicast (one-to-many), which will depend on the number of clients monitoring the feed.
The integrator and customer should also consider the monitoring, recording and storage of footage prior to installation. How will the system be monitored, and will this be recorded 24/7? The recording and storage period will also be vital. Local legislation can affect how long data should be held for and what businesses can do with footage once they have it.
The importance of software
Integrators should work with the end-user to determine what level of product interoperability is required for the specific project. The capability of the software to integrate seamlessly with the whole system, not just the cameras, is extremely important in delivering the right solution for the client.
There is no such thing as a 'one-size fits all' approach to video surveillance anymore. The final surveillance solution should offer real business value rather than simply meeting compliance needs. Those resellers and system integrators that embrace this new landscape and opportunity will be the most successful in the long run.
For more information contact Braam Steyn, Canon SA, +27 (0)12 675 4910, braam.steyn@canon.co.za, www.canon.co.za
Further reading:
Reinventing network camera security
Issue 1 2020, Axis Communications SA , CCTV, Surveillance & Remote Monitoring
Now in its seventh generation and celebrating its 20th anniversary, the Axis ARTPEC chip was launched in 1999 designed to optimise network video.
Read more...
---
Cloud-based fleet and driver management
Issue 1 2020, Graphic Image Technologies , CCTV, Surveillance & Remote Monitoring
Graphic Image Technologies (GIT) has announced the availability of a cloud-based dashcam designed to improve on-the-road behaviour and assist in improving fleet management.
Read more...
---
Cathexis specialises in integration
Issue 1 2020, Cathexis Technologies , CCTV, Surveillance & Remote Monitoring
The integration of multiple systems is intrinsic and essential to the goal of creating an effective and efficient operational environment.
Read more...
---
Do wireless networks meet modern surveillance demands?
Issue 1 2020, Duxbury Networking, RADWIN , CCTV, Surveillance & Remote Monitoring
It is predicted that video will account for 15,1 zettabytes (1 zettabyte = 1 trillion gigabytes) of data annually, which is more than any other IoT application.
Read more...
---
Traffic doesn't have to be this way
Issue 1 2020, Dahua Technology South Africa, Axis Communications SA , CCTV, Surveillance & Remote Monitoring
More effective traffic management is something that would save us all a lot of frustration and wasted time, and it's one of the areas where AI and big data can have a significant impact.
Read more...
---
Dahua launches Hunter Series
Issue 1 2020, Dahua Technology South Africa , CCTV, Surveillance & Remote Monitoring
Dahua launches a new dual-PTZ camera that enables flexible and multi-scene panoramic monitoring.
Read more...
---
8 MP fisheye camera
Issue 1 2020, Dallmeier Electronic Southern Africa , CCTV, Surveillance & Remote Monitoring
Dallmeier's new 8 MP fisheye camera combines AI-supported object classification and H.265 in a compact design.
Read more...
---
Using ANPR to enhance security
Issue 1 2020, Duxbury Networking , CCTV, Surveillance & Remote Monitoring
Deep learning and AI-based algorithms enable ANPR cameras and their associated software to detect and recognise number plates with an extremely high level of accuracy.
Read more...
---
AI supercharges surveillance
Issue 1 2020 , CCTV, Surveillance & Remote Monitoring
The ability to analyse live video through AI techniques means that untapped footage from existing, passive cameras can be used to identify patterns, trends and anomalies.
Read more...
---
IDIS launches new cameras with on-board analytics
Issue 1 2020 , CCTV, Surveillance & Remote Monitoring
IDIS has launched a lineup of Edge VA bullet and dome cameras, featuring on-board analytics that will transform the efficiency of security operations.
Read more...
---