printer friendly version
Jasco launches body-worn security
August 2015 CCTV, Surveillance & Remote Monitoring, Integrated Solutions
Jasco has added a range of body-worn surveillance solutions to its security portfolio. Worn by security and guarding personnel in a number of South African deployments, the vest has been proven in the local market. The technology enables real-time tracking with geotagging and streaming of visuals, and has enormous potential to improve management, safety and cost and operational efficiencies in a number of industries, including security, transport and logistics, emergency response, law enforcement and facility management.
The solution combines GPS location and tracking technologies with a body-worn camera that sends real-time images, even in low bandwidth conditions, to a dedicated centrally hosted server. Clients who subscribe to the service are issued with the vests for their personnel and are enabled with their own client monitoring software. The vests are activated and the client is provided with a secure login to a securely hosted environment to view images and control each vest – i.e. activate audio, visuals or tracking as needed.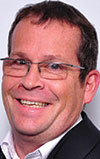 Eckart Zollner, head of business development at the Jasco Group.
Says Eckart Zollner, head of business development at the Jasco Group: "These integrated body-worn tracking and surveillance solutions offer the security and other industry sectors the capabilities they need to better manage personnel, improve service delivery, lower costs and meet service level agreements with their customers. The solution has been tested in the market over the last four years and has proven its efficacy in terms of the model and the technology being used. We believe this product has the potential to gain significant market share locally and in sub-Saharan Africa."
Differentiators
"The solutions portfolio presents a good fit with our security, networking, communications and other businesses. While there are similar products in the market, few are able to stream real-time visuals, provide geotagging and enable remote control of features," says Zollner. The differentiators in detail are:
• The real-time image and video streaming technology includes advanced compression algorithms that enable use even in low bandwidth environments. A copy of the footage is stored in the vest unit, but is simultaneously streamed live to the cloud, to a server on the client's premises, and to the data centre.
• The cameras on the vest can be controlled remotely by authorised personnel and managers. If the camera or tracking is switched off, an alert is generated at the control room. A number of additional functions are supplied as standard, such as a panic button, audio surveillance, geo-fencing and no movement alarms.
• The range of solutions are locally developed and locally manufactured.
• Full support is provided nationally by Jasco's sales and technical teams, covering activation and maintenance of the vests, technical support to manage the vests and access to the control room for live viewing. In addition, with a full software development team, Jasco is able to respond to customers' bespoke development requirements.
What's it good for?
In the security and guarding industry:
• Monitoring guards to ensure they stick to schedules and routes means the company no longer needs to deploy a supervisor to physically spot check personnel.
• In dangerous situations or when responding to an incident, activating the body cameras will provide real-time footage to provide irrefutable evidence of conditions at arrival, support actions taken and inform decision-making as the situation develops (e.g., potentially alert monitoring agents of the need for backup). This will minimise disputes (was the window broken at arrival, or not), ensure security staff abide by regulations in their actions and that staff are better protected.
In the transport and logistics industry:
• Drivers can be tracked via GPS to ensure scheduled routes are followed;
• That drivers take the required rest stops; and
• That no illegal passengers are in the vehicle.</i>
In the law enforcement:
• That police action meets legal restraints and rights are not abused;
• That police receive the backup they need; and
• The actions of perpetrators are fully recorded.
In facility management:
In shopping centres, railways, bus stations and terminals, the vests can be worn by security personnel to record actions and incidents, improve apprehension and identification of perpetrators, limit collusion and monitor traffic flows.
Industry, mines and utilities – maintenance and troubleshooting:
• Where oversight of sensitive or complex projects in the field is required, the vest provides a set of eyes to supervisors.
• Where maintenance needs to be performed remotely, the real-time visuals will enable engineers or other experts to provide informed, hands-free guidance. (Well, there would need to be a means to communicate added and potentially need to chat about sensitivity of the cameras – do they function well in low light, is there infrared?)
High-value goods transport:
• Security guards wearing these vests will, in the case of incidents, be able to record their view of events, potentially improving the quality of evidence.
• Vests will limit collusion.
Emergency rescue:
• Teams on the ground wearing the vest will provide co-ordinators with a first-hand view of the situation, helping to inform sub­sequent actions.
For more information contact Jasco, +27 (0)11 266 1500, eckart.zollner@jasco.co.za, www.jasco.co.za
Credit(s)
Further reading:
Reinventing network camera security
Issue 1 2020, Axis Communications SA , CCTV, Surveillance & Remote Monitoring
Now in its seventh generation and celebrating its 20th anniversary, the Axis ARTPEC chip was launched in 1999 designed to optimise network video.
Read more...
---
Cloud-based fleet and driver management
Issue 1 2020, Graphic Image Technologies , CCTV, Surveillance & Remote Monitoring
Graphic Image Technologies (GIT) has announced the availability of a cloud-based dashcam designed to improve on-the-road behaviour and assist in improving fleet management.
Read more...
---
Cathexis specialises in integration
Issue 1 2020, Cathexis Technologies , CCTV, Surveillance & Remote Monitoring
The integration of multiple systems is intrinsic and essential to the goal of creating an effective and efficient operational environment.
Read more...
---
Do wireless networks meet modern surveillance demands?
Issue 1 2020, Duxbury Networking, RADWIN , CCTV, Surveillance & Remote Monitoring
It is predicted that video will account for 15,1 zettabytes (1 zettabyte = 1 trillion gigabytes) of data annually, which is more than any other IoT application.
Read more...
---
Traffic doesn't have to be this way
Issue 1 2020, Dahua Technology South Africa, Axis Communications SA , CCTV, Surveillance & Remote Monitoring
More effective traffic management is something that would save us all a lot of frustration and wasted time, and it's one of the areas where AI and big data can have a significant impact.
Read more...
---
Dahua launches Hunter Series
Issue 1 2020, Dahua Technology South Africa , CCTV, Surveillance & Remote Monitoring
Dahua launches a new dual-PTZ camera that enables flexible and multi-scene panoramic monitoring.
Read more...
---
8 MP fisheye camera
Issue 1 2020, Dallmeier Electronic Southern Africa , CCTV, Surveillance & Remote Monitoring
Dallmeier's new 8 MP fisheye camera combines AI-supported object classification and H.265 in a compact design.
Read more...
---
Using ANPR to enhance security
Issue 1 2020, Duxbury Networking , CCTV, Surveillance & Remote Monitoring
Deep learning and AI-based algorithms enable ANPR cameras and their associated software to detect and recognise number plates with an extremely high level of accuracy.
Read more...
---
AI supercharges surveillance
Issue 1 2020 , CCTV, Surveillance & Remote Monitoring
The ability to analyse live video through AI techniques means that untapped footage from existing, passive cameras can be used to identify patterns, trends and anomalies.
Read more...
---
IDIS launches new cameras with on-board analytics
Issue 1 2020 , CCTV, Surveillance & Remote Monitoring
IDIS has launched a lineup of Edge VA bullet and dome cameras, featuring on-board analytics that will transform the efficiency of security operations.
Read more...
---