printer friendly version
GPS cellphone panic button
August 2015 Editor's Choice, Security Services & Risk Management, Products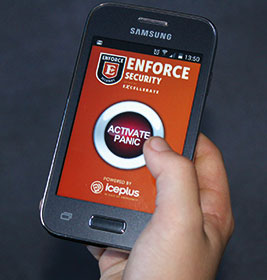 Two Durban-based businesses have launched Genie ICE, South Africa's first GPS cellphone panic button which is fully integrated into an alarm monitoring platform – essentially a geolocation enabled emergency notification system which acts as an extension of one's home alarm system.
The Genie ICE is free to download to any mobile phone or tablet. It works with either GPS (Global Positioning System) or LBS (Location Based Services), and in just two taps will send an alert message to Enforce's control room, where operators will assess the nature of the emergency and then dispatch the appropriate response to exactly where it is needed.
It is basically like taking your home alarm panic button with you whenever you leave home.
The brains behind the technology – Enforce Security and ICE Plus – have mastered the development of Genie ICE to ensure its stability and seamless integration into the Enforce emergency call centre.
The app can best be explained as a three-tiered emergency response system:
1. When the panic signal goes through to the Enforce control room, all of the client's details are presented to the operator, so Enforce knows who they are.
2. The GPS component then presents the operator with the client's exact location on Google Maps, so Enforce knows where they are.
3. Then between Enforce's own operational resources and its database of third-party service providers as well as SAPS and other emergency service agencies, they can dispatch a wide range of services to provide emergency assistance.
More advanced panic
Mobile panic technology is not an entirely new concept for either Enforce or ICE Plus, but the Genie ICE has taken previous technological capabilities to a more advanced level, ensuring GPS accuracy and immediate emergency response. Furthermore, it is available to anyone, regardless of which security company their home alarm system is contracted to.
Enforce director Gary Tintinger said the company has a long history with mobile panic systems, with speed-dial-type emergency capabilities first commissioned by it about 15 years ago. But with the advancement of technology and the increased use and accessibility of smartphones, this system needed to be upgraded to a global positioning system.
Enforce has a long history working with the ICE Plus team, and this, combined with the fact that they are both local companies and committed to this project, was the reason the two partnered on the Genie ICE app.
"It was not just about developing the app itself, but about doing so from the ground up, ensuring that it was customised for every type of phone or tablet. And ICE Plus was willing to do that," Tintinger said.
Loet de Swart, CEO of Always Active Technologies – the company behind the ICE Plus technology, said, "This, combined with their extensive industry experience, ensures that Enforce would be able to bring ICE Plus to the market and help us fundamentally change the status quo in the security industry. Enforce is also able to do what we never could on our own and that is grow a technology product into a real world solution that is perfectly positioned for the security industry in South Africa."
Direct integration
Although there are many apps on the market which one can use to notify friends and family if they are in need of emergency care, de Swart said this was the only app that integrated into the control room of an armed response security company. This allowed it to act as either a standalone alarm or an extension of a user's existing home alarm system.
"The primary difference between those apps and this is the direct integration into existing monitoring systems which, in simple terms, means that when you activate your Genie ICE service your panic is displayed and managed immediately by the Enforce emergency call centre. There is also the custom white labelling or branding for the Enforce Genie ICE product giving the customer the Enforce brand experience.
"Genie ICE can also be used on any cellphone, not just 'smartphones', and extensive effort that has gone into making the service as simple and seamless to use as possible so as to accommodate users of all abilities. An example of this is the actual sign-up which we have made available through a Web page on your phone's browser although it is also available over USSD should your phone not support Web browsing."
Further development in the pipeline
Although the app has just been launched, both companies are already looking at ways to make it even more cutting edge, although they will be holding off on any new development or major additions for now. Tintinger said the focus was currently on ensuring the app was stable and relevant as opposed to continually adding new capabilities.
"We may perhaps look at integrating things like first aid advice for medical emergencies, and will be keeping on top of technological advancements and changes in security needs, but for now, having a robust, stable system is key," he said.
Making the decision to offer the Genie ICE to all residents throughout the country, regardless of whether they were contracted to Enforce, was critical, Tintinger said, as the technology was a vital layer of backup security. And because security was for everyone, all role players needed to work together.
"Genie ICE is managed separately from all our other services, so there is no conflict of interest for a client of another security company to sign up for it."
Registration, download, and installation of the Genie ICE app takes about a minute and can be done directly from your mobile phone by going to http://m.scircl.es/enforce, or by dialling the USSD service at *120*25378*3636723#. For the dialling option, please note that network fees of 20 cents per 20 seconds apply.
Credit(s)
Further reading:
A platform approach to innovation and value
September 2019, Technews Publishing , Editor's Choice, CCTV, Surveillance & Remote Monitoring, Integrated Solutions, IT infrastructure
Moving to the platform model of doing business holds tremendous advantages for end users and smaller developers, but also for the whole technology supply chain.
Read more...
---
Open does not always mean easy integration
September 2019, VERACITECH, Technews Publishing , Editor's Choice, CCTV, Surveillance & Remote Monitoring, Integrated Solutions
Customers who opt for best-of-breed solutions will have to rely on their integrators to develop customised integrated solutions for them.
Read more...
---
The impact of AI on the surveillance industry
September 2019, G4S South Africa, Hikvision South Africa, Myertal Tactical Security, Technews Publishing , Editor's Choice, CCTV, Surveillance & Remote Monitoring
What the impact of AI will be on companies, the services and solutions they supply, as well as on the jobs people do.
Read more...
---
Video analytics and AI
September 2019, Axis Communications SA, Dallmeier Electronic Southern Africa , Hikvision South Africa, Technews Publishing, Dahua Technology South Africa , Editor's Choice, CCTV, Surveillance & Remote Monitoring, Integrated Solutions
Artificial intelligence has the potential to deliver real benefits in the world of video analytics and many companies are already delivering customer benefits.
Read more...
---
Cloudy with a chance of AI
September 2019 , Editor's Choice, CCTV, Surveillance & Remote Monitoring, Integrated Solutions
One local company has developed an AI solution that can be added to existing surveillance installations, offering 24-hour intelligence.
Read more...
---
Security surveillance architecture
September 2019, Technews Publishing , Editor's Choice, CCTV, Surveillance & Remote Monitoring
IP video surveillance solutions typically have two distinctive surveillance architectures: centralised and distributed. Dean Coleman explains the difference.
Read more...
---
Selecting the right surveillance storage
September 2019, Capsule Technologies, Technews Publishing , Editor's Choice, CCTV, Surveillance & Remote Monitoring, IT infrastructure
Storage is an integral part of a surveillance installation and the solution chosen can make or break the success of your project.
Read more...
---
Cyber-securing your surveillance infrastructure
September 2019, Genetec, Hikvision South Africa , Editor's Choice, CCTV, Surveillance & Remote Monitoring, Cyber Security
When it comes to cybersecurity, understanding the risks and the solutions as well as engaging in open communication helps everyone.
Read more...
---
Speak up with audio
September 2019, Axis Communications SA , Editor's Choice, CCTV, Surveillance & Remote Monitoring
Video surveillance systems are traditionally used as forensic tools, but what if you can use your surveillance system to proactively deter incidents before they happen?
Read more...
---
Arteco launches new management platform
September 2019, Arteco Global, Technews Publishing , CCTV, Surveillance & Remote Monitoring, Products
Arteco has released its latest management platform, Omnia, designed to be faster and more responsive to operators? needs.
Read more...
---