printer friendly version
Fail-proof perimeter security for Lukoil, Bulgaria
August 2015
Perimeter Security, Alarms & Intruder Detection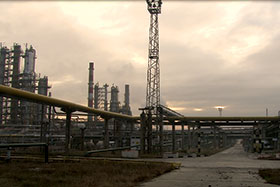 Lukoil Neftochim Burgas, based in Bulgaria, is the largest oil refinery in South-eastern Europe, processing 9.5 million tons of crude oil per year. The Lukoil oil production sites are vital to the Bulgarian economy, but also present a significant risk. To make sure its critical infrastructure is protected against unwanted intruders, the company called on Flir Systems for a fail-proof perimeter security solution centred around thermal imaging cameras.
Until recently, Lukoil had used two independent systems for perimeter security: two fences with sensor cable systems about five metres separated from each other. While they delivered quality results, the installation was quite expensive: digging, cabling, and visual cameras and lighting for visual verification of the detected target.
According to Lyubomir Dimov, project manager at Lukom-A, the company investigated alternative solutions: "We decided to try thermal cameras because they provide us with the opportunity to control the entire territory with a relatively small number of cameras. When a movement is detected, we receive an alarm in our control room. The difference is that, with the sensor cable system you need cables, lighting along the perimeter, a video camera at each 60 m position – all this is more difficult to implement and more expensive. With thermal cameras, we always see directly what happens, regardless of lighting, day or night."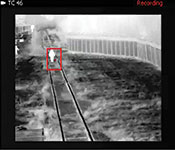 Better vision, night and day
Lukoil discovered the power of thermal imaging by testing a small set-up. The company learned that thermal cameras not only outperform visual cameras at night, they're also highly effective during the day.
Dimov adds: "Three years ago, we decided to install cameras to guard a torch, an installation with a high level of explosion risk. We were able to perform tests with a thermal imaging camera from Flir and discovered that even during the day, with a normal colour camera, intruders can get lost in the greenery, when they wear the same colour clothes. In contrast, thermal cameras can still follow them when they hide behind the bushes. This really convinced us that thermal imaging technology was the way forward."
Thermal imaging and video analytics
For its petrochemical plant in Burgas, Lukoil called on main Flir distributor for Bulgaria, Telelink EAD, a system integration company in south-east Europe, and its partner system integration company 2 Plus Bulgaria AD. Together, they proposed Flir's FC and F series cameras in combination with advanced video analytics software for achieving a higher level of perimeter protection.
Ivan Ilchev, systems technician at Telelink, comments: "The sensor cable system that Lukoil Neftochim is using has its merits, but it requires extensive maintenance and the system's false alarm rate is relatively high. Also, a visual CCTV camera system has its drawbacks.
"If you consider that the Lukoil site has a very big perimeter for surveillance, more than 22 kilometres, then you actually would need more than 400 standard CCTV cameras. However, we knew that with one thermal imaging camera, you can easily replace six or seven visual CCTV cameras. That's why we advised Lukoil to use thermal cameras from Flir Systems in combination with advanced video analytics.
"This is a so-called thermal fence, which is a very cost-effective solution. What is so amazing about thermal imaging cameras is that you can use them in almost any condition, at night, during fog, rain, hard environments, like here, with no clean surface and with bushes and trees."
An investment that pays off
The benefits are very clear for Lukoil Neftochim. The investment in thermal cameras is much less than for lighting and visual cameras around the entire perimeter. Petar Bakalov, executive director at Lukom-A, comments: "Thermal cameras have proven to be the best solution for us, because of the specifics of the secured area. The Lukoil refinery is located in an area where there is no lighting and most of our problems occur at night. That's why thermal cameras are extremely convenient for us.
"Shortly after we had installed the thermal cameras, we were already able to capture two groups of intruders who were trying to enter the Lukoil territory with the intent of stealing scrap metal."
For more information contact Flir Systems, +44 780 151 4810, theresa.turner@flir.uk.com, www.flir.com
Credit(s)
Further reading:
New alarm solutions
Issue 2 2020, Hikvision South Africa , Perimeter Security, Alarms & Intruder Detection
Hikvision has created a broad portfolio of alarm solutions that are sophisticated, automated, and fit for purpose.
Read more...
---
Video and audio convergence
Issue 1 2020, Hikvision South Africa , Perimeter Security, Alarms & Intruder Detection
Hikvision has introduced its video and audio convergence solution to the market, featuring an innovative real-time intrusion deterrent feature.
Read more...
---
Securing perimeters of secure locations
November 2019, Axis Communications SA, Modular Communications, Hikvision South Africa, Nemtek Electric Fencing Products, Technews Publishing, Stafix , Government and Parastatal (Industry), Perimeter Security, Alarms & Intruder Detection, Integrated Solutions
Hi-Tech Security Solutions asked a number of companies offering perimeter security solutions for their insights into protecting the boundaries of national key points.
Read more...
---
Affordable thermal camera
November 2019, FLIR Systems , CCTV, Surveillance & Remote Monitoring
FLIR announces its most affordable thermal imaging camera for first responders, providing them with the ability to see heat in total darkness and through smoke.
Read more...
---
Utility outages: Are you looking at the big picture?
October 2019 , Perimeter Security, Alarms & Intruder Detection
We have to start thinking about, and laying plans for, the real possibility that the whole grid is somehow compromised.
Read more...
---
Perimeter protection in Ghana
October 2019, AcoustAlert , Mining (Industry), Perimeter Security, Alarms & Intruder Detection
A gold mine in Ghana has erected a dual fence with AcoustAlert PIDS fence detection on both inner and outer fence lines.
Read more...
---
A committed service provider
October 2019, Elf Rentals - Electronic Security Solutions , Perimeter Security, Alarms & Intruder Detection, Residential Estate (Industry)
The theme Elf promoted through its sponsorship was that it offers clients its own financial commitment and willingness to accept the risk of equipment failure.
Read more...
---
Thermal cameras with artificial intelligence
October 2019, Dahua Technology South Africa , Perimeter Security, Alarms & Intruder Detection, CCTV, Surveillance & Remote Monitoring, Residential Estate (Industry)
Dahua Technology showcased solutions that are important to residential estates, namely perimeter protection.
Read more...
---
Securing estate perimeters
October 2019, Nemtek Electric Fencing Products , Perimeter Security, Alarms & Intruder Detection, Residential Estate (Industry)
Nemtek has a range of products designed to secure the perimeters of estates, however its display at the conference focused on its Network Energizer and its Dual-Action Tension Sensor.
Read more...
---
Using home security to provide home automation
October 2019, TPA Security Distributors , Perimeter Security, Alarms & Intruder Detection, Products
Making outdoor intrusion detection sensors an integral part of the security/home automation system is a reality with Texecom Connect and Ricochet technology.
Read more...
---