printer friendly version
Five Ds of perimeter security
August 2015
Perimeter Security, Alarms & Intruder Detection
Looking at security strategies in South Africa, when it comes to crime prevention, solutions based on controlling access are by far the most popular. When implemented holistically, access control strategies are very successful because they remove the opportunity to commit crime ... but only if your perimeter is able to prevent or detect unauthorised access.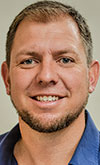 Adriaan Bosch
In some areas this has led to a tendency of throwing everything at this one aspect of security, instead of opting for a more broad-based approach to manage the security risk. If one element of the strategy is missing or not fully implemented the strategy is vulnerable. It is therefore very important to ensure that your perimeter security system design incorporates all the elements of perimeter defence.
When looking at the elements of perimeter defence, we tend to use a 5D perimeter security design. This design focuses on a key objective for each specific aspect of the perimeter and layers the perimeters from outside to inside the secured area. The 5Ds starting from the outside are:
1. Deter,
2. Detect,
3. Deny,
4. Delay, and
5. Defend.
So what physical elements create a 5D Perimeter? It should come as no surprise that the base of any perimeter security system is a physical barrier in the form of a fence. It is capable of Denying, Delaying and Detecting unauthorised access and therefore is a potent Deterrent. When adding a capable response to alarms on the fence and Defending it, you then have a 5D perimeter security system.
Perimeter defence
Very few things are created equal in life so what are some of the aspects we should be aware of when looking at a perimeter fence. A standard perimeter fence as a physical barrier should prevent anyone from gaining unauthorised access by either going under, through or over it. In other words, every fence has a bottom, centre and a top. A number of external aspects influence the make up of each section, but certainly the most prevalent is legislation and cost.
Legislation generally comes into play when a fence is energised and the legislation has good reasoning behind it, so it's important that the end user is aware of any aspects of the fence that might be illegal. Ignorance, unfortunately, is not an excuse. Legal specifications will take up an entire article on its own so for now we will focus on the cost element.
Questions of cost
When it comes to cost, it is usually the section underground or the base of the fence where costs are shaved off to the detriment of the perimeter security design.
A concrete base not only helps to prevent unauthorised access under the fence, but also helps to keep the fence clear of vegetation and to keep false alarms to a minimum. It is therefore a critical element that too often is omitted from the design and thus drastically decreases the effectiveness of the system.
Where a good fence is great at Denying and Delaying unauthorised access it does, however, lack in its capability to Detect. It is therefore important to add an additional layer of detection to not only ensure all attempts are detected, but to also manage nuisance alarms and save on response times and costs. The best way to do both is to add a good CCTV system that is monitored to the solution.
All that is required from the CCTV system are images to confirm if an alarm is a credible treat or just a nuisance. This is one of the reasons why thermal camera systems are becoming so popular in this particular application. The advantages of thermal speak for themselves, but at roughly R1 million a kilometre it comes with a price tag.
One way of saving costs is to have the CCTV monitored on a black screen basis off-site. Because of the tremendous Deterrent value of a good perimeter systems design, the amount of credible alarms are quite low and don't justify the costs of staffing an onsite control room. With affordable ground radar systems coming to the fore, problems with unconvincing video analytics systems might become something of the past. Vegetation penetration, at the moment, is a problem with some systems, but already new products on the market are showing some promising results.
If your security strategy is solely designed around perimeter access systems, do the 5D test and make sure you are not open to risk. A perimeter security system is a very costly asset with a number of components that depreciate very quickly. It's worthwhile making sure that you get it right the first time.
For more information contact Fang Fences & Guards, +27 (0)21 905 1204, fredo@fang.co.za, www.fang.co.za
Further reading:
Video and audio convergence
Issue 1 2020, Hikvision South Africa , Perimeter Security, Alarms & Intruder Detection
Hikvision has introduced its video and audio convergence solution to the market, featuring an innovative real-time intrusion deterrent feature.
Read more...
---
Securing perimeters of secure locations
November 2019, Axis Communications SA, Modular Communications, Hikvision South Africa, Nemtek Electric Fencing Products, Technews Publishing, Stafix , Government and Parastatal (Industry), Perimeter Security, Alarms & Intruder Detection, Integrated Solutions
Hi-Tech Security Solutions asked a number of companies offering perimeter security solutions for their insights into protecting the boundaries of national key points.
Read more...
---
Utility outages: Are you looking at the big picture?
October 2019 , Perimeter Security, Alarms & Intruder Detection
We have to start thinking about, and laying plans for, the real possibility that the whole grid is somehow compromised.
Read more...
---
Perimeter protection in Ghana
October 2019, AcoustAlert , Mining (Industry), Perimeter Security, Alarms & Intruder Detection
A gold mine in Ghana has erected a dual fence with AcoustAlert PIDS fence detection on both inner and outer fence lines.
Read more...
---
A committed service provider
October 2019, Elf Rentals - Electronic Security Solutions , Perimeter Security, Alarms & Intruder Detection, Residential Estate (Industry)
The theme Elf promoted through its sponsorship was that it offers clients its own financial commitment and willingness to accept the risk of equipment failure.
Read more...
---
Thermal cameras with artificial intelligence
October 2019, Dahua Technology South Africa , Perimeter Security, Alarms & Intruder Detection, CCTV, Surveillance & Remote Monitoring, Residential Estate (Industry)
Dahua Technology showcased solutions that are important to residential estates, namely perimeter protection.
Read more...
---
Securing estate perimeters
October 2019, Nemtek Electric Fencing Products , Perimeter Security, Alarms & Intruder Detection, Residential Estate (Industry)
Nemtek has a range of products designed to secure the perimeters of estates, however its display at the conference focused on its Network Energizer and its Dual-Action Tension Sensor.
Read more...
---
Using home security to provide home automation
October 2019, TPA Security Distributors , Perimeter Security, Alarms & Intruder Detection, Products
Making outdoor intrusion detection sensors an integral part of the security/home automation system is a reality with Texecom Connect and Ricochet technology.
Read more...
---
Not just intruder detection systems
October 2019, Elvey Security Technologies , Perimeter Security, Alarms & Intruder Detection, Products
The market is clamouring for the integration of traditional intruder detection systems with home automation, surveillance and access control solutions.
Read more...
---
Perimeter security in high EMF environments
October 2019, AcoustAlert , Perimeter Security, Alarms & Intruder Detection
Testing AcoustAlert PIDS on extra high tension sites like power stations and power generating gas turbine plants.
Read more...
---