printer friendly version
Asset management in healthcare
August 2015 Healthcare (Industry), Access Control & Identity Management, Integrated Solutions
Hospitals and other medical care facilities present unique challenges to the security professional. Keeping patients, staff and visitors safe is a constant concern that must be balanced while maintaining an open and comfortable environment. Tangible assets such as prescription drugs, medical supplies and other high value items that are critical to patient care require rigorous security, yet must be easily accessed by authorised staff.
Further, adherence to national/industry regulations and compliance codes presents additional issues for the facility's security management and must be folded into the overall operational security strategy. Working in tandem with video surveillance and access control, a combination of key control technology and guard tour systems is an effective solution, as illustrated in the following three scenarios.
Key control systems
Regardless of the size or type of medical facility, a physical key control and management system is a fundamental security technology for controlling perimeter doors and those throughout the facility. By securing keys in a tamper proof key cabinet, the facility can meet the Joint Commission on Accreditation of Healthcare Organisations (JCAHO) standards for performance that state, "the hospital controls access to and egress from security-sensitive areas."
Key control systems are a custom-tailored solution designed to record the access history of each key, including user, date and time of check-out/return. By releasing assigned keys only to users with the proper authorisation code, the system helps to ensure adherence to the hospital industry standardised policies and procedures.
Using minimal wall space, the key storage cabinet can eliminate outdated lock boxes, unreliable manual logs and messy key identification tags. Typically constructed of rugged stainless steel, the systems are designed to resist abuse and are alarm-protected against tampering.
User-friendly PC application software can complement the system and deliver
real-time polling transactions, status, alarm and reporting capabilities. Activity reports can be customised to trace key movements by time, date and user code or biometric access data.
Technology developments and new products have made it possible to integrate key control as part of a facility's networked security system. Open protocols enable connectivity to access control and other systems via RS-232 or networked via Ethernet to enable a comprehensive integrated security system.
Asset lockers
Medical devices, radios, cellphones, handheld computers and other equipment used by different personnel through the course of any given day represent potential security breaches if stolen or misplaced.
Test material or data from research labs must also be secured when not in use, with access by authorised users only. Even weapons that may have been confiscated from ER patients are potential safety risks if not properly secured. To accommodate these everyday situations, asset lockers that are part of a key control system can provide the necessary storage and safekeeping of these items.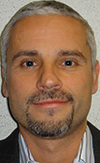 Fernando Pires, VP sales and marketing, Morse Watchmans.
Access devices such as magnetic cards or proximity devices can also be secured in specially designed asset lockers that can be configured into a key control system and used in any combination with standard key or locker modules.
Guard tour systems
Automated guard tour systems are tools that security personnel can use to do their jobs more efficiently and effectively, while helping to visibly reassure hospital staff that the premises are secure. Stations are set-up around the facility, and as the security guard walks by with the handheld device, the system reads and records when it was there.
The device can be programmed to prompt either sequential or random tours for the officers, and the officer can enter a standardised code at any station to report an incident or potential risk such as ice on a walkway or broken light fixture. In a medical environment, this can be a tremendous benefit to help counter liability issues.
For more information, contact Morse Watchmans, +1 203 264 4949, morse@morsewatchman.com, www.morsewatchmans.com
Further reading:
Time for a security health check
Issue 2 2020, Graphic Image Technologies , Healthcare (Industry)
Just like any other business or commercial property, hospitals, clinics and medical facilities need adequate surveillance measures in place for safety and security purposes.
Read more...
---
Access control for hospitals
Issue 2 2020, Secutel Technologies , Healthcare (Industry)
Leaders in healthcare always look for innovative technologies and solutions to improve patient care and enhance operational efficiencies.
Read more...
---
Converged security plus operational benefits
Issue 2 2020, Technews Publishing, Hikvision South Africa, Axis Communications SA, Bosch Building Technologies , Healthcare (Industry)
Hi-Tech Security Solutions looks at how security can defend open and accessible healthcare organisations while assisting in daily operations?
Read more...
---
Looking ahead with mobile access technologies
Access & Identity Management Handbook 2020, Technews Publishing, HID Global, dormakaba South Africa, Salto Systems Africa, Suprema, Gallagher , Access Control & Identity Management, Integrated Solutions
Given the broad use of smartphones around the world and the numerous technologies packed into these devices, it was only a matter of time before the access control industry developed technology that would ...
Read more...
---
Scalable access solution
Access & Identity Management Handbook 2020 , Access Control & Identity Management, Integrated Solutions
Bosch Building Technologies makes access management simple, scalable and always available with Access Management System 2.0.
Read more...
---
Visitor management for estates
Access & Identity Management Handbook 2020, Powell Tronics , Residential Estate (Industry), Access Control & Identity Management
Residential estates and business parks around South Africa have installed access control systems that aim to streamline access for both pedestrians and vehicular traffic.
Read more...
---
Securing perimeters of secure locations
November 2019, Axis Communications SA, Modular Communications, Hikvision South Africa, Nemtek Electric Fencing Products, Technews Publishing, Stafix , Government and Parastatal (Industry), Perimeter Security, Alarms & Intruder Detection, Integrated Solutions
Hi-Tech Security Solutions asked a number of companies offering perimeter security solutions for their insights into protecting the boundaries of national key points.
Read more...
---
A platform approach to innovation and value
CCTV Handbook 2019, Technews Publishing , Editor's Choice, CCTV, Surveillance & Remote Monitoring, Integrated Solutions, IT infrastructure
Moving to the platform model of doing business holds tremendous advantages for end users and smaller developers, but also for the whole technology supply chain.
Read more...
---
Open does not always mean easy integration
CCTV Handbook 2019, Veracitech, Technews Publishing , Editor's Choice, CCTV, Surveillance & Remote Monitoring, Integrated Solutions
Customers who opt for best-of-breed solutions will have to rely on their integrators to develop customised integrated solutions for them.
Read more...
---
Video analytics and AI
CCTV Handbook 2019, Axis Communications SA, Dallmeier Electronic Southern Africa , Hikvision South Africa, Technews Publishing, Dahua Technology South Africa , Editor's Choice, CCTV, Surveillance & Remote Monitoring, Integrated Solutions
Artificial intelligence has the potential to deliver real benefits in the world of video analytics and many companies are already delivering customer benefits.
Read more...
---