printer friendly version
Asset management in healthcare
August 2015 Healthcare (Industry), Access Control & Identity Management, Integrated Solutions
Hospitals and other medical care facilities present unique challenges to the security professional. Keeping patients, staff and visitors safe is a constant concern that must be balanced while maintaining an open and comfortable environment. Tangible assets such as prescription drugs, medical supplies and other high value items that are critical to patient care require rigorous security, yet must be easily accessed by authorised staff.
Further, adherence to national/industry regulations and compliance codes presents additional issues for the facility's security management and must be folded into the overall operational security strategy. Working in tandem with video surveillance and access control, a combination of key control technology and guard tour systems is an effective solution, as illustrated in the following three scenarios.
Key control systems
Regardless of the size or type of medical facility, a physical key control and management system is a fundamental security technology for controlling perimeter doors and those throughout the facility. By securing keys in a tamper proof key cabinet, the facility can meet the Joint Commission on Accreditation of Healthcare Organisations (JCAHO) standards for performance that state, "the hospital controls access to and egress from security-sensitive areas."
Key control systems are a custom-tailored solution designed to record the access history of each key, including user, date and time of check-out/return. By releasing assigned keys only to users with the proper authorisation code, the system helps to ensure adherence to the hospital industry standardised policies and procedures.
Using minimal wall space, the key storage cabinet can eliminate outdated lock boxes, unreliable manual logs and messy key identification tags. Typically constructed of rugged stainless steel, the systems are designed to resist abuse and are alarm-protected against tampering.
User-friendly PC application software can complement the system and deliver
real-time polling transactions, status, alarm and reporting capabilities. Activity reports can be customised to trace key movements by time, date and user code or biometric access data.
Technology developments and new products have made it possible to integrate key control as part of a facility's networked security system. Open protocols enable connectivity to access control and other systems via RS-232 or networked via Ethernet to enable a comprehensive integrated security system.
Asset lockers
Medical devices, radios, cellphones, handheld computers and other equipment used by different personnel through the course of any given day represent potential security breaches if stolen or misplaced.
Test material or data from research labs must also be secured when not in use, with access by authorised users only. Even weapons that may have been confiscated from ER patients are potential safety risks if not properly secured. To accommodate these everyday situations, asset lockers that are part of a key control system can provide the necessary storage and safekeeping of these items.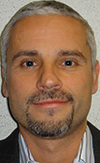 Fernando Pires, VP sales and marketing, Morse Watchmans.
Access devices such as magnetic cards or proximity devices can also be secured in specially designed asset lockers that can be configured into a key control system and used in any combination with standard key or locker modules.
Guard tour systems
Automated guard tour systems are tools that security personnel can use to do their jobs more efficiently and effectively, while helping to visibly reassure hospital staff that the premises are secure. Stations are set-up around the facility, and as the security guard walks by with the handheld device, the system reads and records when it was there.
The device can be programmed to prompt either sequential or random tours for the officers, and the officer can enter a standardised code at any station to report an incident or potential risk such as ice on a walkway or broken light fixture. In a medical environment, this can be a tremendous benefit to help counter liability issues.
For more information, contact Morse Watchmans, +1 203 264 4949, morse@morsewatchman.com, www.morsewatchmans.com
Further reading:
Platforms and community lead the future
May 2019, Milestone Systems , Editor's Choice, CCTV, Surveillance & Remote Monitoring, News, Integrated Solutions
Milestone Systems took a look into the future of open platforms and the power of community at MIPS EMEA in Copenhagen in March this year.
Read more...
---
The consequences of false alerts
May 2019, Leaderware , Editor's Choice, CCTV, Surveillance & Remote Monitoring, Integrated Solutions
Craig Donald discusses the impact of false alarm rates on the utility of intelligent security technology systems.
Read more...
---
Protecting people's money, and their data
May 2019, Cathexis Technologies, CA Southern Africa, IDEMIA , Editor's Choice, Integrated Solutions, Financial (Industry)
The temptations inherent to the banking sector, and financial institutions more generally, pit them in an eternal and increasingly high-tech battle to secure themselves against threats from within and without.
Read more...
---
Access authentication with a wave
May 2019, IDEMIA , Editor's Choice, Access Control & Identity Management, Integrated Solutions, Financial (Industry), Commercial (Industry)
Financial organisations are making the move to contactless fingerprint biometrics in order to meet the increasing burden of regulatory and compliance demands.
Read more...
---
Does your control room add value?
May 2019, Fidelity Security Group, G4S South Africa, Progroup , Editor's Choice, CCTV, Surveillance & Remote Monitoring, Integrated Solutions, IT infrastructure, Commercial (Industry)
Whether on- or offsite, control rooms are a critical aspect of security today and care must be taken in the design and rollout of these nerve centres.
Read more...
---
Face to face with Suprema FaceLite
May 2019, Suprema , Editor's Choice, Access Control & Identity Management, News, Products
Suprema has announced the launch of FaceLite, the new generation compact face recognition terminal designed for enterprise access control as well as time and attendance applications.
Read more...
---
ASSA ABLOY showcases latest digital access solutions
May 2019, ASSA ABLOY South Africa , Editor's Choice, Access Control & Identity Management, News
ASSA ABLOY hosted a breakfast at the Country Club Johannesburg in Woodmead on 2 April, to showcase the company's latest and greatest digital access solutions.
Read more...
---
Keyless access control launched in Africa
May 2019, FS-Systems , News, Access Control & Identity Management, Agriculture (Industry)
FS-Systems launches a cutting-edge keyless access control solution for the critical infrastructure environment across the African market.
Read more...
---
Augmenting surveillance video
May 2019, ISDS , News, Integrated Solutions
ISDS is moving from its previous business model to focusing on being a value-added distributor and supporting its channel partners.
Read more...
---
LunarX targets high-end security solutions
May 2019 , Editor's Choice, News, Integrated Solutions
LunarX Consulting and Projects, a new value-added distributor of high-end security solutions, was launched at an event at Serengeti Estate in March 2018.
Read more...
---