printer friendly version
Fighting counterfeit pharmaceuticals
August 2015 Healthcare (Industry), Asset Management, EAS, RFID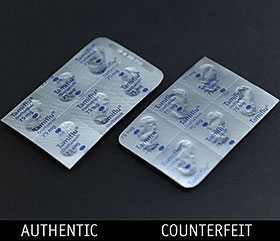 Can you say for sure that the medicine you supply or dispense is not being counterfeited? Would you even be able to tell the difference between an authentic or fake product by looking at the packaging?
The counterfeit industry is viewed as one of the fastest growing industries worldwide and the pharmaceutical industry is hard hit. According to the World Health Organization, approximately 10% of global medicine supply is counterfeit (United Nations Office on Drugs and Counterfeiting, 2014). Although it is reported that Africa, Asia and Australia represent less than 10% of the global market for pharmaceuticals, counterfeit medications in these regions is relatively high in comparison to the rest of the world. In some developing countries, it is reported that counterfeit pharmaceuticals range between 10% and 30% (United Nations Office on Drugs and Counterfeiting, 2014). This is a significant percentage, given that people's health is at stake.
Counterfeit drugs as defined by the World Health Organization, applicable to both generic and branded products, includes the following:
• Medicine which is deliberately and fraudulently mislabelled in terms of its identity and/or source;
• Medicines which may include products with the correct or incorrect ingredients;
• Medicine may have or not have sufficient active ingredients;
• Medicine which is packaged in fake packaging. (World Health Organization, 1999).
Not only does this illegal trade affect the direct health of the individual taking the counterfeit medication – which could even lead to death – but this problem also affects the efficacy of the genuine medication. When counterfeit medication has less than the acceptable dosage of the required active ingredient, microbes develop a resistance to the medication.
Vulnerable supply chain
Counterfeit medicines make their way into the market at any point in the supply chain. Even when legitimate drugs are delivered to their intended destination such as pharmacies, clinics or hospitals, consumers may still be at risk of taking fake medicines. Deviant clinicians, pharmacists or healthcare providers may swap legitimate medicines for fake look-a-likes in order to earn extra money.
Organised crime syndicates may approach individuals who are responsible for the safe-keeping and dispensing of medicines, and entice them to swap the legitimate, high in demand product for a copied product. In many cases, the fake product looks indistinguishable from the authentic product, so unsuspecting consumers would not know the difference.
There are solutions available that will help the consumer to differentiate between the authentic product and the fake product. In order to empower consumers to be able to differentiate between products, it is required that the solution implemented is found on the product itself. This requires the product to have some sort of mark or identifier.
For protection against counterfeiting, these marks or identifiers should either be hidden or inimitable as well as technologically advanced. A secure 2D code is suggested to achieve this. A 2D barcode is a machine-readable symbol, which encodes information that can be read by barcode scanning applications running on most smartphones. These barcodes are being adopted as the standard for serialised numbering schemes, pointers to content on the Internet, and connection to authentication databases on the network. In general, the 2D codes could contain any information required including expiry dates, date of manufacture and product numbers.
Secure authentication
In order to make this solution inimitable, the code marked onto the product should be made more secure. A patented digital authentication technology called Pelta is suggested to achieve this. The Pelta technology extends the capability of the 2D code by adding a second layer of information which is hidden and invisible to the standard 2D code reader.
The first layer of information is visible and includes information that can be read by scanning the code. The second layer of data encoded into the 2D barcode is encrypted in a proprietary format, undetectable by scanners and thereby enhancing security measures. Individuals are able to use their smartphones or code reader applications to scan and read the code, but not the encrypted message.
Only authorised personnel of legitimate pharmaceutical manufacturers have access to encrypted code information, which cannot be copied or reproduced if scanned by counterfeit pharmaceutical manufacturers.
For more information contact Traceability Solutions, +27 (0)11 704 4744, estie@tracesol.co.za
Credit(s)
Further reading:
Learn from their mistakes
October 2019 , Logistics (Industry), Asset Management, EAS, RFID
One of the cardinal rules of business is to learn from the mistakes you make during your journey, but sometimes another company's error can be just as instructive.
Read more...
---
SAP and Uber Freight join forces
September 2019 , Transport (Industry), Asset Management, EAS, RFID
SAP and Uber Freight announced a partnership to modernise the freight industry through intelligent process automation and better access to a network of connected and reliable drivers.
Read more...
---
Securing people, vehicles and cargo
September 2019 , Transport (Industry), Asset Management, EAS, RFID
The transport industry is under siege, not only with fuel price and legislation increases, but also with widespread unrest, looting and violence against drivers.
Read more...
---
Clear visibility into supply chain complexity
September 2019 , Transport (Industry), Asset Management, EAS, RFID
The Internet of Things is refining the capabilities of the supply chain to reduce theft, increase visibility and transform legacy complexity.
Read more...
---
Autonomous attendance
September 2019 , Products, Asset Management, EAS, RFID
The SACO RF attendance solution was developed with the focus on driving down costs without compromising functionality and ease of use.
Read more...
---
Addressing risks in the healthcare sector
August 2019, Secnovate, Condyn, Technews Publishing, ZKTeco , Healthcare (Industry), Security Services & Risk Management
The healthcare sector poses unique challenges and risks. Hospitals, for example, need to have a more-or-less 'open door' policy when it comes to people entering the premises and the main reception area.
Read more...
---
Patient critical – healthcare's cybersecurity pulse
August 2019, Wolfpack Information Risk , News, Cyber Security, Healthcare (Industry)
The healthcare industry has become one of the leading cybersecurity attack vectors worldwide for several reasons.
Read more...
---
Accommodating company growth
August 2019, Bosch Building Technologies , Healthcare (Industry), Integrated Solutions
Bosch equips two offices of Italian pharmaceutical company Alfasigma with a future-proof security and fire safety solution.
Read more...
---
Improving safety at healthcare facilities
August 2019, Active Track , Editor's Choice, CCTV, Surveillance & Remote Monitoring, Healthcare (Industry)
Active Eye transforms 2 MP IP cameras into virtual employees or controllers who are permanently on duty managing your healthcare facility.
Read more...
---
TAPA EMEA appoints Thorsten Neumann as president and CEO
July 2019, TAPA (Transported Asset Protection Association) , News, Asset Management, EAS, RFID
The Transported Asset Protection Association (TAPA) has appointed Thorsten Neumann as its first full-time president & CEO.
Read more...
---