printer friendly version
Keeping a watchful eye on Medupi
August 2015 Editor's Choice, CCTV, Surveillance & Remote Monitoring, Perimeter Security, Alarms & Intruder Detection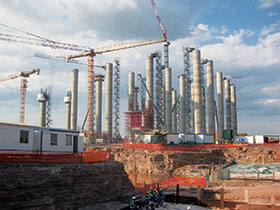 The Medupi power station has been in the news of late, most of it bad news. It's not all gloom and doom for the security industry though, as it is playing a significant role in the development of the site, expected by most to be a key element in Eskom's turnaround.
For an important site like this that needs protection both during construction as well as once up and running, Eskom implemented a thorough security plan to ensure the safety of the site and its ability to perform uninterrupted once in action.
Stallion Security won the tender to install the security systems for the site. In turn, Stallion obtained its products and services from various security distributors. Principle among these was Mass Solutions, which inter alia supplied 104 360-degree fixed cameras from Vivotek, which Stallion placed at specific points around the power-generating site.
Also on the product list from Eskom were three Panomera cameras from Dallmeier, also supplied by Mass.
The Panomera is a multifocal sensor system that offers a resolution of up to 51 megapixels and frame rates of up to 30 fps. The three systems installed at Medupi are used for site surveillance and are mounted at heights of over 200 metres. From this vantage point security operators can keep an eye on the whole site and zoom into any event and capture clear images.
These systems are mostly used to monitor industrial action and equipment damage claims at the moment. If, for example, a contractor tries to claim for damaged equipment from Eskom, the company can review clear video images of the event to determine if the damages are for Eskom's account or the contractor's.

Due to the speciality of the Panomera cameras, Mass and Dallmeier engineers were called in to assist Stallion in the setup and configuration of these systems to ensure their optimal functioning 24 hours per day.
Of course, the cameras are only part of the surveillance solution. Eskom also demanded that the video captured was stored for long periods of time. Mass's technical director, Ettiene Swanepoel explains that Mass also supplied the recording hardware for the solution.
Dell servers with iSCSI RAID storage were installed to cater for the video storage for the Vivotek cameras. To cater for the 12 months of storage required, each server was linked to a 112-bay RAID system. A total of 896 terabytes of Surveon storage and the associated management software was installed for this purpose.

Footage from the Panomera cameras had to be stored for two years, which meant 2 petabytes of Dallmeier storage was installed to hold the video footage of these three surveillance systems.
Mass supplied the storage as well as certain networking components to connect the surveillance system to the site's network. Thermal cameras were also supplied to allow security operators to maintain their surveillance coverage after dark.
To cater for perimeter protection for the large site, Medupi also installed five ground radar systems from Mass. Swanepoel says these systems are able to detect a human at a distance of 1,6 km.
At the moment all the systems delivered by Mass are installed and functioning as required. Due to the continued construction on site, however, they are not integrated into a single control room system yet. Once the site and its control room have been developed, they will all be configured to feed into the same control room to be managed centrally.
For more information contact Management and Supply of Security Solutions, +27 (0)12 142 0000, ettiene@mass-solutions.co.za, www mass-solutions.co.za
Credit(s)
Further reading:
Social media and intelligence-led surveillance
July 2019, Leaderware , Editor's Choice, Integrated Solutions, Security Services & Risk Management
Social media has become a major feature of most people's lives in the last few years and they can be invaluable as a source of information for companies and security organisations.
Read more...
---
Advanced integration and performance with NUUO
July 2019, Forbatt SA , CCTV, Surveillance & Remote Monitoring
Established in 2004, NUUO is a global security industry leader specialising in the manufacturing of open architecture video surveillance products, with deployments worldwide and an ever-growing base of professional industry-experienced staff.
Read more...
---
The 4th Industrial Revolution
July 2019, Wolfpack Information Risk , Editor's Choice, Cyber Security, Security Services & Risk Management, Industrial (Industry)
Most major industries have turned to and are reliant on technology to run their operations. This is a time of great promise, but also one of frightening peril.
Read more...
---
Data protection more challenging
July 2019 , Editor's Choice, IT infrastructure
The number of businesses unable to recover data after an incident nearly doubled from 2016, according to the Global Data Protection Index surveying 2 200 IT decision makers from 18 countries.
Read more...
---
Cyber-attacks target operational technology
July 2019 , Editor's Choice, Cyber Security, Industrial (Industry)
Focus on operational technology security increasing as around 74% of OT organisations come under attack in the past year, finds a new Fortinet report.
Read more...
---
Ingo Mutinelli moves to IDEMIA
July 2019, Technews Publishing, IDEMIA , Editor's Choice, News
IDEMIA, the security and identity management company has announced that Ingo Mutinelli will be taking on the post of regional sales director for the southern Africa region.
Read more...
---
Transom Capital Group Acquires Pelco
July 2019 , News, CCTV, Surveillance & Remote Monitoring
Transom Capital Group (Transom), an operations-focused middle market private equity firm, announced it has acquired Pelco from Schneider Electric.
Read more...
---
Residential Estate Security Conference 2019: Integrating man and machine for effective security and operations
July 2019, Technews Publishing , Editor's Choice, News, Residential Estate (Industry), Conferences & Events
The Residential Estate Security Conference 2019 will delve into how estates and their service providers can better integrate man and machine for more effective security and operations.
Read more...
---
Milestone appoints new VP for research and development
July 2019, Milestone Systems , Editor's Choice, CCTV, Surveillance & Remote Monitoring, News
Milestone Systems has appointed Tom Bjerre as its new VP for research and development. He will oversee planning, development, testing and release of Milestone Systems' video management software.
Read more...
---
Johnson Controls launches Technology Contracting in Africa
July 2019, Johnson Controls , Editor's Choice, News, Security Services & Risk Management
To address the growing challenge of planning, integrating and maintaining a multitude of different, highly connected systems, Johnson Controls is launching Technology Contracting in Africa.
Read more...
---