printer friendly version
Eskom secures mission-critical site
August 2015 CCTV, Surveillance & Remote Monitoring, Integrated Solutions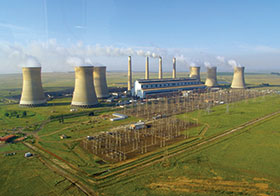 Eskom is a South African parastatal company tasked with providing electricity throughout the country and continent to industrial, mining, commercial, agricultural, and residential customer and redistributors. Due to the strategic nature of their sites, Eskom is classified as a National Key Point with security being of paramount importance.
Eskom faced several challenges in securing the perimeter of a critical infrastructure site. The original security system wasn't able to effectively cover the site's perimeter, which stretched for more than seven kilometres. Remote areas of the sites were surrounded by a zoned, full height electrified fence that set off many false alarms. Due to the long response time and cumbersome handling of events within the remote areas, frequent unwanted false alarms were highly resource intensive. Eskom needed a complete, reliable and fully integrated solution that addressed the shortcomings of the existing system and provided better situational awareness of the entire site.
DVTEL solution
C3 Shared Services (C3SS), provider of high-tech integrated security solutions for the South African and African market, partnered with DVTEL to provide Eskom with a robust and efficient security system built upon DVTEL's Latitude video management solution (VMS) integrated with its in-house thermal technology and ioi video analytics. The ioi video analytics detection provides early audible alerts of potential perpetrators in the vicinity of the boundary fence line. ioi's high probability of detection and minimal false alarm rates allows for a powerful and highly efficient perimeter detection system, especially for the site's remote areas. Video is continuously recorded and stored by Latitude for real-time monitoring and advanced forensic purposes.
The solution also includes several technology integrations that further enhance and optimise the security system. The Stentofon intercom integration allows the operator to visually verify the alarms and talk through the intercom via IP audio, achieving more efficient handling and control of the incident and greater collaboration with the responding staff. Electrical fences driven by Moxa input devices tied into the DVTEL system help provide better situational awareness of site entry points and further decrease of false alarms by combining sensual data with video analytics alarm data.
Since the implementation of the new security platform, the customer has seen tangible results. The solution has led to many foiled breach attempts and the expansion of security cameras on-site have allowed the customer to find and convict culprits who sabotaged power generators. Maintenance has been successful with system uptime of over 98%. Eskom plans to further scale and grow its DVTEL-based security system to maximise the security levels of this highly important, critical infrastructure site.
Quick facts
• Power utility site with large perimeter and remote areas
• Customer required integrated, efficient solution that provided better situational awareness
• DVTEL, together with integrator C3SS, provided a video surveillance solution based on Latitude VMS and integrated perimeter protection, built on thermal technology and ioi video analytics
• Technology integrations: Stentofon intercom and electric fences with Moxa inputs
• Solution has led to increased detection with lower false alarm rates
For more information contact C3 Shared Services, +27 (0)11 312 2041, [email protected], www.c3ss.com
Credit(s)
Further reading:
Antarctic surveillance
Dahua Technology South Africa CCTV, Surveillance & Remote Monitoring
Dahua Technology donated 15 security cameras to different scientific bases in the Argentine region of Antarctica; the cameras were especially developed to handle the harsh climate and extreme weather conditions in the area.
Read more...
---
31 percent of all IoT SIMs managed with third-party IoT CMPs
News Integrated Solutions
Berg Insight recently released new findings about the market for IoT connectivity management platforms (CMPs), a standard component in the value proposition from mobile operators and IoT MVNOs around the world.
Read more...
---
Deep learning engine set to supercharge end-to-end solutions
CCTV, Surveillance & Remote Monitoring
IDIS, manufacturer of South Korean-made video technology, will be displaying an exciting line-up of end-to-end video solutions that include the latest advances in AI-powered video analytics for businesses of any size, at this year's Intersec.
Read more...
---
Realistic image quality even in dark environments
Dahua Technology South Africa CCTV, Surveillance & Remote Monitoring
The 4K video surveillance market size is expected to grow at 9 percent CAGR (compound annual growth rate), which is primarily driven by the increasing demand for public safety and security services.
Read more...
---
Cloud-based forensic video searching
CCTV, Surveillance & Remote Monitoring
Arcules introduces Forensic Video Search to empower rapid event identification within its video cloud service, providing a critical tool to help businesses identify specific objects or events in seconds.
Read more...
---
Minimising fire risks in automotive logistics
Hikvision South Africa CCTV, Surveillance & Remote Monitoring Products Logistics (Industry)
Automotive logistics company uses thermal imaging solution from Hikvision to ensure its stores of lithium batteries for electric vehicles never overheat and cause a fire.
Read more...
---
Axis launches P3265-LVE dome camera
Axis Communications SA Products CCTV, Surveillance & Remote Monitoring
Based on ARTPEC-8 — the latest Axis system-on-chip (SoC) — Axis' latest dome high-performance camera includes a deep learning processing unit (DLPU), and cybersecurity features.
Read more...
---
Smart car parking solution eases traffic flow
Dahua Technology South Africa CCTV, Surveillance & Remote Monitoring Integrated Solutions Products
Ethiopia's first smart parking lot, designed to improve traffic flow and management efficiency, has been built and installed using Dahua Technology's smart parking solutions.
Read more...
---
VMS 7.2 supports the investigation process and adds cloud capabilities
CCTV, Surveillance & Remote Monitoring Integrated Solutions Products
Qognify has launched the second release of its VMS, including extended support for body-worn video, additional functionalities to support investigations, and a new web client architecture. VMS 7.2 addresses the increasing use of body-worn video (BWV) across many sectors.
Read more...
---
The future of AIoT
Hikvision South Africa News CCTV, Surveillance & Remote Monitoring
Hikvision hosted its 2022 Shaping Intelligence Summit in Bali, Indonesia, on 29-30 November, where the company, its customers, and technology and solution partners, looked into the future of AIoT and explored paths to shared success.
Read more...
---